R Kim Luff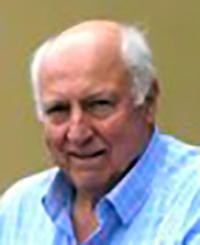 Yarra Yarra Rowing Club (VIC)
Kim was also a member of Banks Rowing Club and for one season, a member of Essendon Rowing Club (VIC)
Died January 2022.
Kim commenced his rowing at Wesley College Melbourne where he excelled.
Kim raced for Wesley in their first crew in both 1960 and 1961, finishing second in 1960 and first in 1961. He was the solid and strong four man in both crews.
He was a big lad and the heaviest rower at both the 1960 and 1961 regattas.
Victorious Wesley crew in 1961 with Kim in the four seat.
After leaving school in 1965, Kim rowed at Yarra Yarra Rowing Club under Jim Howden. He remained a member until 1971.
Kim raced in many successful junior crews with Yarra in 1965 including a Victorian Championships Junior Four, several other junior four races and the Christmas Regattas winning junior eight.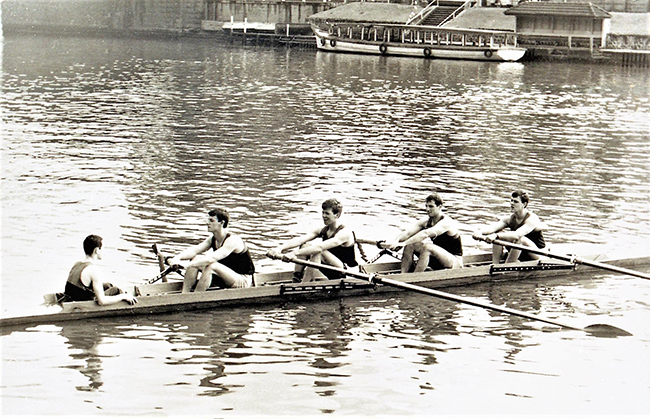 1965 Victorian Championship Junior Four with Kim in the two seat
Kim teamed up with Bob Lachal in the pair to gain selection into the Australian Trans Tasman team in 1967. They won the right to represent through a test race at Ballarat. The pair won all their pairs races on tour.
Bob Lachal recalls: Ironically our selection in the pair was by accident. We were emergencies for the [Australian] eight, but we happened to click in the pair. Our last hurrah was in Murray Bridge in the test race for Mexico. A crew of John Castle, Luff, me, David Boykett, coxed by Kevin Wickham and coached by Rob Jones was good. We had a clear length at the 1000 metre mark and got hit by a wind blast as we cleared the island. It was after that race, that the decision was made not to send a coxed four. Kim was good company and a good friend. Our rowing tour around New Zealand will remain as one of my happiest memories in rowing.
Bob Lachal added that Kim was incredibly powerful in the boat and that he maintained his rowing interest throughout his life.
Henley on the Yarra was a happy hunting ground for him winning the senior fours in 1968 and 1969.
1967 Australian team with Kim standing on the right in the second row.
Bob Lachal recalls that in 1968, there was a change of guard at Mercantile with the younger rowers being promoted into the senior crews at Mercantile. The disaffected rowers from Mercantile joined with other rowers such as Kim to race for the State Championships. David Boykett coached them and they raced under Essendon Rowing Club colours. They had good success initially but failed in the State Championships after Essendon's John Stuckey fell ill. It was a good crew.
As mentioned, Kim maintained his strong interest in the sport throughout his life. He was a keen follower of rowing events attending Barrington on 1990 and Sydney 2000. He was a member of the Victorian Oarsmen and Women's Association from retirement from active rowing through to his death.
Andrew Guerin
February 2022
Sources:
Author's records
Peter Gill and Jim Skidmore of Yarra Yarra Rowing Club, February 2022
Interview with Bob Lachal, February 2022
Wesley photo sourced from Wesley College Boatshed
1965 Junior Four from Yarra Yarra Rowing Club collection
Australian team photo from author's records