Ricky S Loveless
Mercantile Rowing Club (VIC)
Richard Shaw Loveless, died 14th March 1970 as a 12 year old as a result of an accident on his way to rowing.
Ricky Loveless joined the Mercantile Rowing Club as a coxswain at the young age of just 8 years old in 1966-67 season. He rapidly became a very good coxswain, happy to take a leadership role in the boat, was cheeky and mature beyond his years. He displayed all the characteristics of a great coxswain. He steered a Victorian Champion Lightweight Pair in his first season.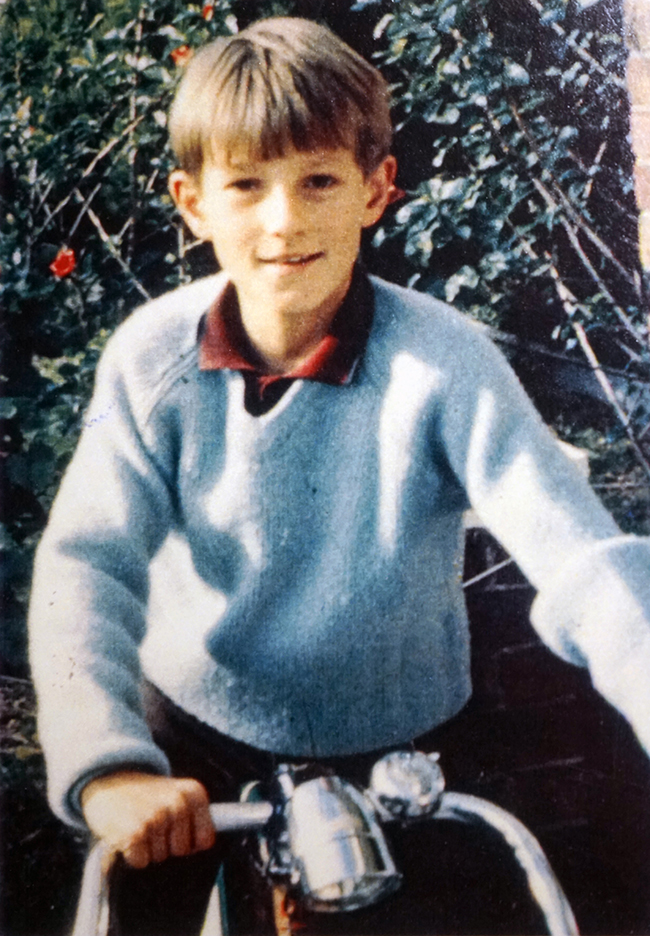 Above: Ricky in a usual pose on his bicycle
He was loved by all who had the pleasure to know him and all members took an interest in his progress. The Late Peter Philp called him affectionately "the little fellow".
In 1967-68, he was awarded the most improved coxswain. The annual report records that "we hope that he will continue his coxswain activities for many years." He was in good company that season with the coxswain ranks including Adrian Maginn, Mark Connolly and Martin Owen.
In the 1968-69 season, he won many trophies as a coxswain of pairs, fours and eights and became Champion Coxswain of the Club. In particular he steered a junior pair of Mike McKenna and Ron Griffiths to a victory at Scotch Mercantile regatta coming home with one their famed silver pots. He also steered a victorious Victorian Champion lightweight eight.
Simon Newcomb was Captain at that time and fast tracked this talented coxswain well.
And in 1970, amongst many other wins, he steered a junior eight to victory at Australian Henley taking home a Henley pot. Ricky also even tried his hand at rowing at the Christmas regattas.
All was going superbly for Ricky until 14th March 1970 when Ricky went to the river to train with his crew for the National Championships. Whilst riding down to the Club on his bicycle, he was clipped by a car and suffered fatal injuries. He died the next day.
Not only was his family devastated, but also all the Club members. Such a talented and superb person dead at the age of only 12 years old.
The Loveless family have remained close to the Club and great supporters of it. Ricky's mother, the Late Jay Loveless, was a strong supporter of the Club until her death in 2006. An annual trophy is awarded in her name for the most outstanding oarswoman. Ricky's brother Roger also raced for Mercantile and Ricky's sister Rosemary married club member Ian Duthie. The Loveless family remain one of the pillars of strength of the Club.
This is one of the saddest stories of the Mercantile Rowing Club.
Andrew Guerin Jan 2017