Geoffrey R Locke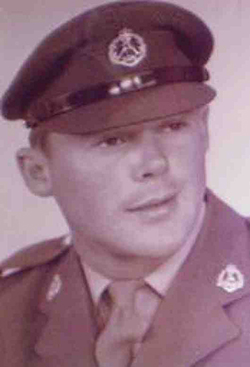 Mercantile Rowing Club (VIC)
14th October 1946 – 9th May 1969
Geoff was a man with a great future having been school captain of Launceston Grammar. Sadly he was taken whilst only beginning to realise his potential.
As his school indicates, he originally hailed from Launceston Tasmania before coming to Melbourne and Mercantile Rowing Club. His time at Mercantile Rowing Club was short but successful.
Geoff was to die on service in Vietnam aged only 22, the only Club member to die in that conflict.
Geoff joined the Club in 1965 and his first race win was in a novice four at the first winter regatta on 4th June 1966. He then went on to race in maiden crews. He raced seven in a first class maiden eight, winning the Nagambie, Yarrawonga and Rutherglen treble at Christmas 1966. This crew included Phil Batters and Peter O'Brien and was coached by Tony Cordell. As was the club custom in those days, the crew was awarded a 'niner', a nine gallon keg of beer for their success.
He was noted in one newspaper report as being a trainee executive in civilian life.
He then enlisted into the Australian Army on 6th January 1967 after being selected for training at the Officer Cadet School at Portsea, graduating in December 1967. Classmate Paul Asbury noted that Geoff was "a first-class young man and an excellent athlete whom his classmates still fondly remember." He later was posted to South Vietnam with 9th Battalion, Royal Australian Regiment.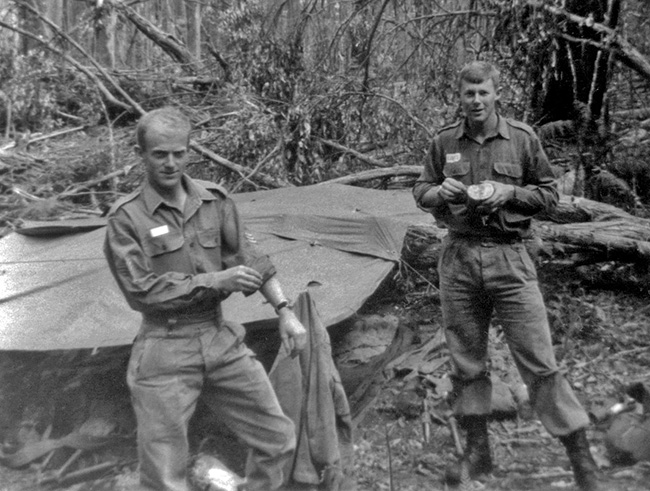 Officer Cadet Geoff Locke on the right with a classmate during field training in a Victorian forest in November 1967, just before being commissioned as Army Second Lieutenants
He had served 187 days in Vietnam when he died from a gunshot wound to the head on 9th May 1969 in Phuoc Tuy Province during Operation Reynella. Three other soldiers were wounded in this encounter. He had served as a platoon commander.
2Lt G.R. Locke was later awarded a Commendation for Distinguished Service Medal.
In March 2021, a statue was unveiled at the old Army Officer Cadet School at Portsea. As Geoff had died in Vietnam on active service and had graduated from this school, Geoff's name appears on the Roll of Honour fixed to the statue plinth.
In his short career with Mercantile, he showed his fellow Club members that he had the true Mercantile spirit. In the words of one of his crew mates Phil Batters, he was a wonderful fellow.
He will not be forgotten and like his fallen comrades of past wars, the name of Geoffrey Locke will also be heard within the Club he loved every ANZAC Day.
Andrew Guerin (based on his obituary in 1969-70 annual report and on material provided by Portsea class mate, Paul Asbury.)
January 2019, updated April 2021