John Linke
Mercantile Rowing Club (VIC)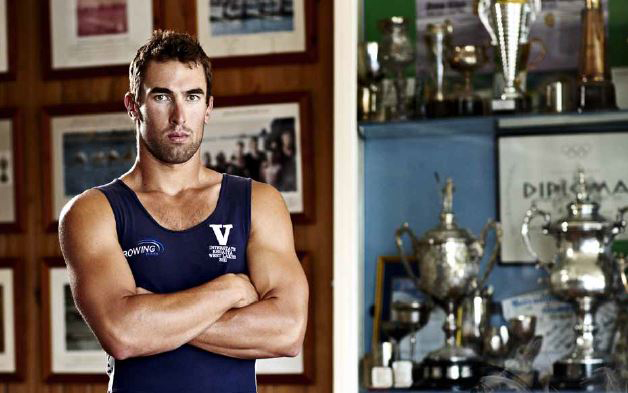 Above: John in the clubhouse in 2014
John commenced his rowing career at Geelong College where his was motivated to row after seeing his older brother Tim row. John rowed with fellow club member Josh Dunkley-Smith in the first crew of 2006.
2006 – APS Head of the River Geelong College first crew – Second
2007 – Under 23 World Championships men's Eight four seat – Bronze
2008 – Interstate Championships Men's Eight bow – Second
2008 – World Under 23 World Championships six seat – Seventh
2010 – Interstate Championships Men's Eight two seat – Second
2010 – World Championships Men's Four stroke – Seventh
2011 – World Cup Lucerne Men's Eight three seat – Seventh
2011 – World Championships Men's Eight bow – Fourth
2014 – Interstate Championships two seat – Third
2014 – World Cup Sydney Men's Quad Scull bow – Gold
2014 – World Cup Lucerne Men's Scull – 22nd
2015 – Interstate Championships Men's Scull – Second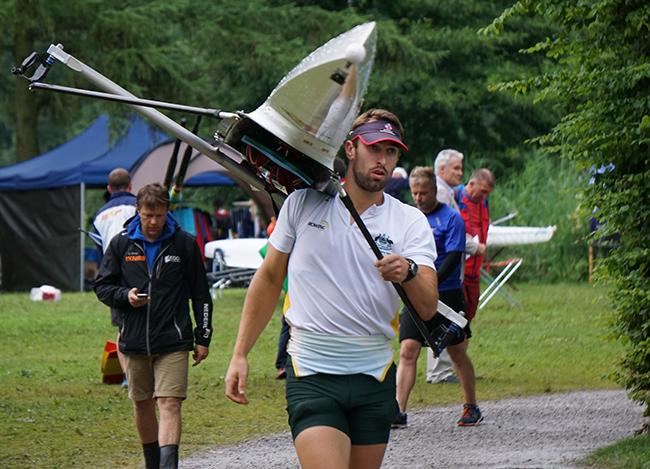 Above: John at Lucerne Regatta in 2014
John enjoys a successful rowing career but has also had more than his fair share of challenges. His story is amazing.
A series of superb videos directed and produced by fellow club member Lachlan McKinnon with the assistance of the Victorian Institute of Sport and Bike Now, chronicle his fight back from injury – https://www.youtube.com/channel/UCzF1-xzMSFGZAYl_OyweJfw. Titled "Unsinkable", it follows his "race to recovery" in which he offers insight into the surgery, rehabilitation, struggles and success of trying to be on the national team. John also had a web blog that went into greater details about his recovery: http://athleteinsight.blogspot.com.au/
Without taking too much away from the videos, John missed selection for the London Olympics due to a debilitating leg condition called popliteal artery entrapment. Linke had four surgeries between 2010 and 2013 until deciding in June 2013 to have his plantaris removed on both legs and a piece of his soles cut and folded on top of itself. Since the surgery, John has faced a huge uphill battle to rebuild strength in his legs and return to elite fitness with the ultimate goal of the 2016 Olympics. His determination, single mindedness and take no prisoners approach is inspiring.
Hopefully he can now cap off a remarkable return to the sport with selection in the Australian Olympic Team next year.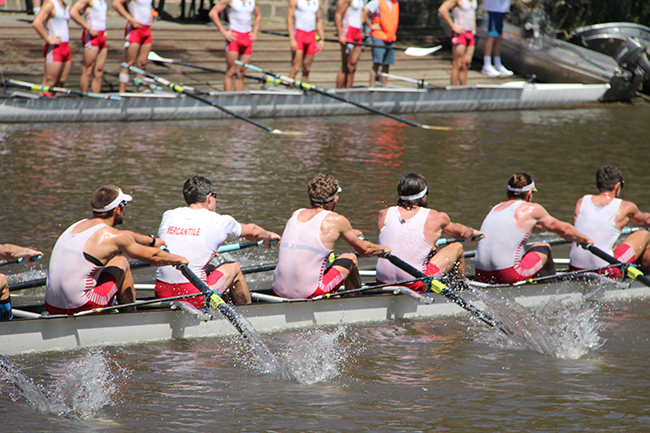 Above: John finishing the Head of the Yarra in 2014 - left hand side of picture
John is completing a master of teaching, while coaching schoolboy rowing. He also works as a motivational speaker with the Victorian Institute of Sport ambassador program, work he finds very rewarding.
Why rowing? I knew from a young age that I loved sport and had aspirations to be an elite athlete. During school at The Geelong College, rowing was the sport I excelled in the most. Growing up I wanted to follow in dad's footsteps and play football at Geelong however my skills as an 18 year old suggested I was better suited to rowing. Physically I was producing strong performances on the ergo and even regularly taking it to Josh Dunkley Smith who I rowed alongside with in 2006 in year 12. Josh is now sub 5:40 on the ergo. So for the simple reason that I was good at rowing during school led me to pursue elite rowing. Mercantile became the club of choice after following my older brother.
Best race? There are a few races which mean a lot to me, including the Presidents Cup at the interstate regatta this year. However, the one which I think most fondly of is the 2014 Sydney World Cup which I raced in the quad and won. My parents were there to see me and after the race they congratulated me in tears. They have been by far the biggest supporter of me and I wouldn't be able to be where I am now without them. Seeing them that day in Sydney was my way to say thanks for supporting me through the hardships [mentioned above] and occurred over the 3 years preceding this race. But, 2011 in the men's eight finishing 4th at Worlds has to get a mention as my greatest achievement in rowing!
Andrew Guerin October 2003