Susan Lee
Richmond Rowing Club (VIC) then Mercantile Rowing Club (VIC)
1984 – Interstate Women's Four Championship cox – First
1984 – Olympic Games – Women's Coxed Four cox – Bronze
1989 – Interstate Women's Lightweight Four Championship bow – Race not conducted due to a cyclone.
Susan was an active club administrator being Honorary Treasurer of the Mercantile Rowing Club for four years and was a key person in growing women's rowing at her club.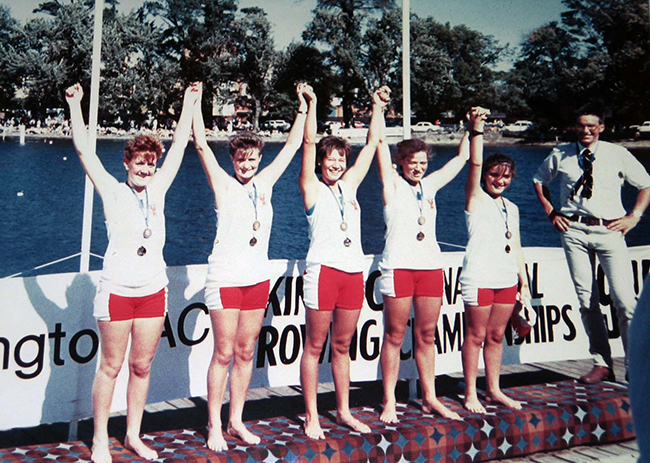 Susan in the middle taking an under 23 lightweight National Championships in 1985
Susan on the right at the 1984 Olympic presentation
Susan switched her interests from rowing to horses and cattle in 1992 joining Janet Holmes a Court's pastoral empire, Heytesbury Pastoral Company, initially at Yacamunda Station in Northern Queensland where she met her future husband Paul. She then moved to the Northern Territory to manage, with her husband, three property leases for the Heytesbury Group. They were Birrindudu, Wallamunga and Nicholson Stations all in the Eastern Kimberley region of the company holdings. The leases combined a holding of 9,000 square kilometers, just a fraction smaller than the area of metropolitan Melbourne.
In 2004 Susan left the Heytesbury Group and with her husband Paul and another partner started up the Ray White Rural Franchise in Katherine, selling rural and residential real estate and livestock. They successfully built and ran this business until the end of 2007 deciding to sell at the height of the property market in the Northern Territory and Katherine and started up their own Livestock Contract Mustering business. They are one of the largest operating contracting businesses employing a staff of up to 15 people, and conducting all aspects of ground mustering using Stock horses and motorbikes.
Susan continues to live in the Northern Territory and is involved in every aspect of their business, mustering for clients across the Northern Territory from the Barkly Tableland and into the Kimberley area of Western Australia during the dry season.
Susan is a keen competitor in the sport of Campdrafting which is a test of horsemanship and control over cattle where the competitor has to cut an animal out from a mob and guide it around a figure of eight course before putting it through a gate, all in the shortest possible time.
Andrew Guerin 2010