Keith "Sprock" Langley
West Australian Rowing Club (WA)
1929 - Interstate Men's Sculling Championship - second
The following is extracted from an article from David Bean in the Australian Rowing magazine in December 1982.
Keith Langley, one of WA's greatest scullers and a member of the West Australian Rowing Club for over fifty years, died recently at the age of 76. "Sprock" Langley, as he was universally known, was a wiry lightweight who revelled in the sculling contests over the then standard distance of 2ВЅ miles. Sprock, won the State Open sculling title for thirteen successive years from 1927 to 1939, a record that is still unbroken and is perhaps likely to remain so. Wests scullers won the Open sculls in WA for a remarkable forty-four consecutive seasons, from 1906 to 1950, and while Sprock's achievement was at the heart of that success, those halcyon days at Wests should not be recalled without mention of George Rogers, who rowed in countless open pair combinations with Sprock and who himself won eleven State sculling titles. [The 1929 President's Cup race was] one of Sprock's greatest races, paradoxically one of the few that he lost, against the then world champion Bobby Pearce, the Olympic Gold medallist of 1928 and 1932, and the Henley Royal Diamond sculling champion of 1931. Sprock lost this race by just 2ВЅ lengths over the 2ВЅ mile course.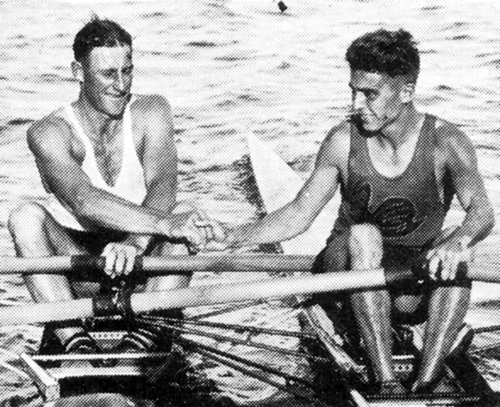 Sprock represented WA three times in the President's Cup, twice in the King's Cup, and won eighteen State titles. He is fondly remembered at Scotch College where he learnt to row and where he coached several generations of Scotch oarsmen, from 1954 to 1962, at the ARAWA, and of course at Wests where his name has long since become a byword for the greatest traditions of rowing.
Largely sourced from David Bean's article in the Australian Rowing magazine, December 1982. Compiled by Andrew Guerin.