Robert P Lachal
Mercantile Rowing Club (VIC)
Academics talk a lot about differing styles of leadership. The attributes that make Bob Lachal a great person and leader defy the text books. His humility, compassion, humour, ability to tell a story, appetite for learning, superb ability to relate to people, confidence in himself to solve problems and manage risks, have all enabled him to lead in very challenging situations such as on Macquarie Island and in local communities as a patrol officer in Papua New Guinea.
And on top of all this, he is an adventurer with several lifetimes worth of stories to tell. He is great company.
From an early age, the main topic of discussion around his dinner table was rowing. His father rowed in the Xavier College first crew for three years 1920-22 inclusive. His brother-in-law Brian Doyle stroked the Olympic crew in 1956.1
Bob started rowing at St Ignatius College Riverview in Sydney. During his final year at Riverview his family relocated to Melbourne and he remained as a border. He raced in the St Ignatius first crew in a most interesting race. The crew got off to a great start and took a commanding lead. Bob recalls that they then lost the seven man overboard and tried to complete the race one man down. The Sydney Morning Herald continues the story …. Riverview made a gallant attempt to lead throughout. They were a length, and then a length and a quarter in front, and in a desperate attempt to maintain the lead rowed themselves to a standstill. At the finish Ellis Murphy, No. 6, collapsed from exhaustion and tumbled into the water. The cox, Mark Raper, collapsed as the boat was taken from the water and 20 minutes later John Taylor (No. 4) and Bob Lachal (No. 2) also had to receive attention.2 The crew went from first to last.
His introduction to club rowing at Mercantile was typical of the day. During one school holiday I was introduced to Mercs by Brian Doyle who took me for a Sunday row in a scratch VIII, and afterwards to the barrel in the South West corner. [The reference to the South West Corner is the bar of the Club.]
Not long after I joined the club, the club captain, Bill Wallace ordered me to be at the club for the formation of a novice VIII. The crew included Ali McArthur, Pat Ryan, Mal McKenzie my brother Dick and John Bostock. It was coached by John 'Pops' Foley from the coxswain's seat who rowed us to Footscray every Saturday regardless of the temperature. We never won a race.
Until then I thought that rowing was just good fun and I enjoyed the atmosphere at the Club. Mercs at that time was full of characters including, Jimmy Sprigg, John 'Thumbscrew' Carr, Parker Menzies, Bob Fraser and many more.
Things changed for me when Dick Garrard arrived at the club. He would knock on my window at 6 am to row in a pair.
Dick was a serious oarsman and Bob recalls that when his junior VIII was selected, Dick would take the crew for training weekends at Torquay. We won every race after that.3
In 1962 a club eight was selected to train alongside the Empire Games crew which was to race in Perth. The crew included Jamie Pearce, Mal McKenzie, Pat Ryan. Tony Walker, Mike McKenna and coached by Lloyd Williams. Lloyd had rowed successfully at both Mercs and Oxford. He was a charming man with a more technical approach to coaching than other coaches at that time. This was a great learning experience and this preparation led to a successful 1963 season in junior rowing, picking up two State Championships.
The background to the 1964 season was the intense rivalry between two strong crews from Banks Rowing Club and Mercantile Rowing Club. In the State Championships, Banks prevailed over Mercantile.
Bob and the others who were not selected in the Mercantile crew, raced in a Yarra Yarra composite crew which finished third. Fortunately his performance was good and obviously caught the selectors' eyes. He recalls: I was extremely fortunate to be selected in the Kings cup crew in 1964 which went on to Tokyo for the Games. Suffice to say it was a heart-breaking journey, but much was gained from the experience of international competition. The basis of this last comment was that the equipment that they used was substandard and put the crew at a significant disadvantage. It was correctly calculated that the equipment amounted to a 25 second handicap over 2000m as is described on the 1964 Olympic page in this history website.4
1964 winning Victorian crew with Bob on the far left
In the following season, the Mercantile coach preferred to select a new group of athletes and so Bob decided to actively pursue a planned opportunity to serve for a year at the Australian Antarctic Mawson base. He regarded himself to be very lucky to be there at that time, spending 6 weeks with the Russians and being able to do activities that these days would not be permitted. One of his tasks was to be in charge of the dogs and he led a 600 mile dog trip to study penguin rookeries. He recalls fondly that there was never a cross word spoken amongst the 27 staff throughout that year.
One of the benefits of the base was an excellent gym. He returned a fit man at the end of the 1966 rowing season. The Victorian King's Cup crew had gained the right to compete for Australia at the World Championships in Bled. Bob was named as a reserve.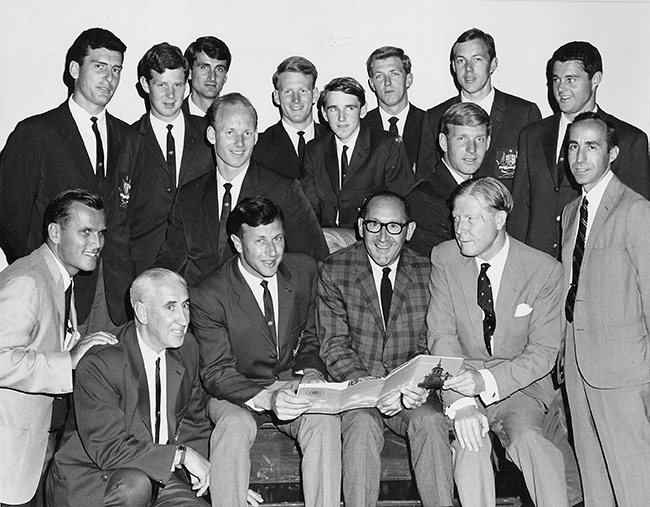 1966 at a civic reception for the Australian team in Philadelphia - the team has a training camp on the way to Bled
Back row: Martin Tomanovits, Steve Gillon, Paul Guest, David Boykett, Graeme Boykett, Tom Daffy, Bob Lachal, David Ramage, John Stuckey, Mal McKenzie
Front row: John Kelly (USA), Frank Craven (Mgr), Hubert Frederico, Mayor of Philadelphia, British Consul, A L Rosenburg (American coach)
The 1967 season brought a Victorian Championship eight win and a place in the King's Cup crew. He was selected into the Australian team which raced New Zealand in 1967. He raced the pair with Kim Luff and they were successful in both regattas.
In 1968, the Club saw a change of guard with a new group of young rowers elevated to the senior ranks. However, it saw a group of senior oarsmen left on the bank. Bob recalls that the decision was made to form a crew with Crockett [David Boykett] as coach. The crew of Palfreyman, Tomanovits, Ramage, Guest, Stuckey, Lachal, Luff, and McKenzie rowed under the colours of the Essendon Rowing Club. His crew won the first of the big races but failed at the Championships after John Stuckey fell ill.
The 1969 Mercantile crew, under new coach David Boykett, was good and were clear favourites for the Championship in Ballarat. However, on the way to the regatta, Martin Tomanovits crashed his car and he and his two passengers David Palfreyman and Jack Shanassy ended up in hospital. The crew needed some quick replacements. John Foley, who had returned to Australia on a visit, was at the regatta and filled one place. Jack Shanassy was recalled from hospital and Rob Connolly recalled from the pub The crew won!
Bob was therefore confident of a place in the State crew but coach David Boykett had other ideas. He recalled rowers such as David Ramage and Paul Guest to make a winning crew. Bob concluded that my time was up. I went to PNG as a patrol officer for 10 years.
Whilst not rowing related, Bob's time in Papua New Guinea is very interesting. The job of a patrol officer was to manage all local government matters, maintain law and order, attend to health needs of his area, find ways to improve their lives and in doing so, visit every village in the district. He loved the people and the country despite some very tough assignments. His own children were born there and he tells the story about his wife Carol giving birth to their son whilst he was on patrol. He learnt about her difficulties in giving birth via a message heralded by drum communication from village to village. Once independence was granted, he took over management of a fleet of trawlers that were the supply line for the outer island provinces operating out of Rabaul.
Bob's wife Carol came from Philadelphia and the time came to move there. As an aside, Carol was also a rower of distinction being a member the first US women's eight in 1966. This crew was coached by the Late and great Ted Nash.
He started rowing again with Penn AC and renewed friendship with some of the US crew from Tokyo. And before long, he rowed a quad with US Olympian sculler Jack Kelly, three time Diamond Scull Champion from Ireland Sean Drea, and former US sculling champion Gus Ignas. In 1980 they trained with the US Olympic team which contained fellow Mercantile member Sean Colgan. After such preparation, Gus suggested they race at Henley Royal Regatta in a double. They did, but sadly were not successful.
On returning to Australia in 1983, Bob took up the position of state director of the VRA.
In 1986 Bob was appointed Station Leader on Macquarie Island for a year. On return, he enrolled at the Maritime College in Launceston to complete a masters ticket. This took me to Singapore to crew as 2nd mate on an ocean going tug working in the South China Sea. It was at this time on one of my leaves that I got a call from Crockett inviting me to fill as a boatman at Scotch College. This fill in went for 20 years. It was a wonderful period.
He recalled how much he enjoyed his reconnection with rowing and youth. We know that Bob did some fine mentoring of future Olympians and Australian team members during his time at Scotch. He added that the rowing program had been revamped with excellent coaches and staff. There was a vibe at the shed that provided great success. It was a wonderful time resulting in many friendships.
When his friend Tony Walker was asked to suggest an attribute that sums up Bob, he went straight to the fact that he is a people person. He has an extraordinary ability to relate to people and has a genuine interest in other people. He added that he is a wonderful human being.5
Bob has thoroughly enjoyed his rowing life and contributed much to the strong fabric of the sport. His humble parting comment was - I owe Mercantile a huge amount for some of the happiest times of my life.
Some rowing details:
1960 – AAGPS Head of the River, St Ignatius School, first crew, 2 seat - Seventh
1962 – Victorian Championship Men's Junior Eight, bow – First
1963 – Victorian Championship Men's Junior Eight, seven seat – First
1963 – Victorian Championship Men's Junior Pair, bow – First
1964 – Victorian Championship Men's Eight - Third
1964 – Interstate Men's Eight Championships, three seat – First
1964 – Olympic Games, Men's Eight, three seat – Eighth
1966 – World Championships, reserve
1967 – Victorian Championship Men's Eight, two seat – First
1967 – Interstate Men's Eight Championship seven seat - Fourth
1967 - Australia New Zealand Test Series, Men's Pair - First
1968 – Victorian Championship Men's Eight –Second
1969 – Victorian Championship Men's Eight, five seat – First
1980 - Henley Royal Regatta, Men's Double Scull - unplaced
Andrew Guerin
July 2021
Sources include:
Most of the matters in italics come from an interview with Bob Lachal 15 July 2021
Alan Clarkson, The Sydney Morning Herald, 10 Apr 1960
The author can attest the veracity of the effectiveness and toughness of the training, having also raced with Dick!
Interview with Tony Walker 16th July 2021.