Harold G Kratz OAM, ASM
Lower Clarence Amateur Rowing and Sculling Club (NSW)
Harold's involvement with rowing began in 1948 as a competitor with Maclean Rowing Club (now Lower Clarence Amateur Rowing and Sculling Club). He has remained at that club throughout his life.
When Rowing NSW endorsed his nomination for an Australian Honour they highlighted that he has served on the Committee of his club, maintained their equipment and coached their crews. He has an enviable record of producing fine young scullers with a strong work ethic and a humble, down to earth attitude that sets them up well for not only their rowing careers but life after their competition days have passed. Harold's enviable record includes winning 5 National Championships as a coach or co-coach between 2006 and 2010. Between 2008 and 2011, he coached Rachael See, Riley Elvery and Leah Saunders onto Australian teams to compete at the World Junior Rowing Championships, with Leah Saunders having gone on to a successful career in the Australian Senior Team winning medals at World Championships.
Rowing NSW also noted that Maclean High School has been the recipient of many years of his coaching and much of their success is attributable to his work. Harold has also worked as a satellite coach with the North Coast Academy of Sport since its inception in the early part of this century coaching regularly at academy camps as well as mentoring other rowing coaches for more than 20 years.
He was awarded an Australian Sports Medal on 2000 and the Medal of the Order of Australia in 2021.
His enormous contribution to the sport was acknowledged when Harold was the recipient of the Rusty Robertson MBE Award from Rowing NSW in season 2010-2011 which is awarded to an individual or group of individuals who have made a significant and sustained contribution to the endeavours and objects of the Association."
The NSW Union of Rowers have recognised Harold's considerable impact on the sport in awarding him the Master of the Year Award for his outstanding contribution to Masters rowing and his dedication to the ideals of the sport over the decades."
His wife Hazel "inherited" the sport of rowing from Harold. In 2006, Tim Howard of Grafton's Daily Examiner asked Hazel how and when she took up the sport and she said "If I wanted to see him (Harold), I had to take up rowing."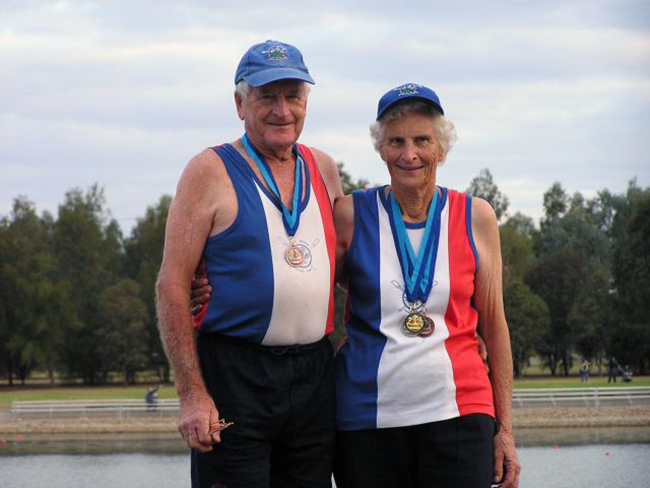 In 2011, Harold and Hazel at Sydney International Rowing Centre after winning more masters medals
2011 - Competing with John West - Photo John West
Harold was recognised for his services to rowing in the 2021 Queen's Birthday Honours List in the following terms.
For service to rowing.
Lower Clarence Amateur Rowing and Sculling Club
 Coach, current.
 Member, since 1960's.
 Life Member.
Other Rowing
 Volunteer Rowing Coach, Maclean High School.
 Coach, North Coast Academy of Sport.
 Life Member, NSW Combined High Schools Sport Association.
Awards and Recognition include:
 Daily Examiner Wall of Fame, 2015.
 Rower of the Year, New South Wales Union of Old Oarsmen, 2015.
 Master of the Year Award, New South Wales Union of Rowers, 2014.
 Rusty Robertson MBE Award, Rowing New South Wales, 2011.
Andrew Guerin
June 2021 (updated January 2022 with additional information and images from Owen Nix of Rowing NSW)
Sources:
Tribute to Hazel Kratz published on the Rowing NSW website on Wednesday 30th October 2019.
Images and information from Owen Nix of Rowing NSW January 2022
Rowing NSW endorsement of Harold's OAM nomination