Joseph Joyce
Mercantile Rowing Club (VIC)
Above: 1986 Penrith Cup win, Joe is on the middle
A summary of his extensive major rowing achievements follow:
1980 – Head of the River first crew St Kevin's College bow seat – Second
1981 – National Championships Men's Under 19 Four – Second
1982 – Interstate Men's Youth Eight Championship two seat – Second
1983 – Trans Tasman Under 23 Series Australian Men's Lightweight sweep
1984 – National Championships – second in the lightweight eight, third in the lightweight four and sixth in the lightweight pair.
1984 – Trans Tasman Under 23 Series Australian Men's Lightweight Sweep
1985 – National Championships – first in Men's Lightweight Eight and third in Lightweight four
1985 – World Championships – Men's Lightweight Eight Five seat – Fifth
1986 – National Championship – Men's Lightweight four Three seat – First, second in the Lightweight pair
1986 – Interstate Men's Lightweight Four Championship three seat – First
1986 – Commonwealth Games – Men's Lightweight Four bow – Silver
1986 – World Championships – Men's Lightweight Four bow – Fourth
1988 – National Championships – men's Lightweight Four – First
1988 – Interstate Men's Lightweight Four Championship three seat – First
1991 – World Championships – Men's Lightweight Eight five seat – Fourth
2017 to present – President Rowing Victoria
Joe started rowing in 1977 at St Kevin's College and finished his school rowing in 1980 in a crew coached by great club member Hubert Frederico. Seven members of that crew went onto to row at Mercantile.
He was recruited to Mercantile by the then Captain Andrew Guerin to row in a development lightweight crew which also raced as an under 19 four. Three of that four raced in Australian crews. The crew was fortunate to be coached by Brian Richardson and nearly defeated the more fancied heavyweight under 19 four from the Club which went onto be the Australian under 19 four.
In 1982 he had a very successful year in under 21 being selected for the Victorian crew which was defeated by a strong NSW crew stroked by Steve Evans.
In 1983 and 1984 Joe enjoyed under 23 rowing competing for Australia in both years in the Trans Tasman series, although in 1984 did some serious open lightweight racing. A young club lightweight crew including Joe in fact defeated the great Peter Antonie in one race during the season. However at the Nationals, the young Mercs lightweights finished second in the eight, third in the four and was finalist in the pair. Joe was now a serious senior lightweight.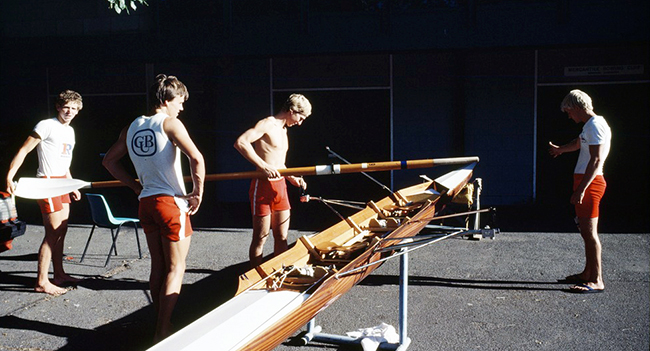 Above: A typical club scene, the young lightweight crew rigging their boats – Joe is holding the oar, Greg Pechan on the left, Derek Mollison with his back to the camera and Doug Scown on the right.
In 1985, he finished first in the lightweight eight and third in the four. Joe's performances through the selection regattas earned him a place in his first senior Australian team in the lightweight eight which finished fifth.
1986 was a big year for Joe and in some ways excellent, and in others, disappointing. He was either first or second in the pairs throughout the season and first in the lightweight four at the National Championship lightweight four and won the Penrith Cup. He was then selected in the Australian lightweight four. The crew was excellent and in their first race at Lucerne won against the best in the world. They also won a sprint event. Then the disappointments started. They then missed out on a Commonwealth Games gold medal and then the crew finished fourth at the World Championships.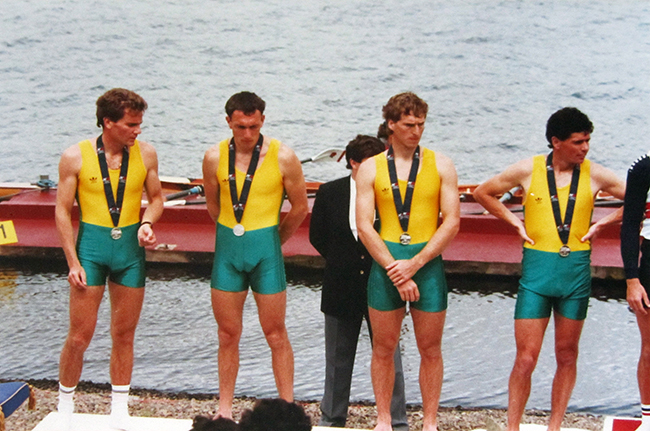 Above: A dejected Joe receives a Commonwealth Games silver medal
Joe took a year off in 1987. He had difficulty with his weight and after many years, it would have been telling.
In 1988 Joe made a comeback winning the National Championships lightweight four and Penrith Cup again.
After another break, Joe made his last come back in 1991. He was not selected for the Penrith Cup but won the National Championship lightweight four and made the final in the pairs. It was enough to gain him a spot on the national team again, this time in the lightweight eight. It was an all Victorian crew which sadly finished fourth.
Joe was perhaps one of the strongest, disciplined, solid and technically sound lightweight rowers of his generation. He was always sought after for key seat positions in great crews.
After a break from the sport but maintaining a strong interest in it, Joe became actively involved as his girl's rowed at MLC. He was of great support to the school's rowing program.
In 2016, Joe determined it was time to give more back to the sport and joined the Rowing Victoria Board. In the next year, he was elected it's President.
In response to the question of why did he join Mercs, it was because he was recruited by your correspondent to row in a lightweight development crew. He also added that the club was sponsored by Carlton & United Breweries and we had their emblem on our singlets. The barrel wasn't too bad either.
Joe relates that in his rowing career, he has been fortunate to have some of the very best coaches. As examples, he mentioned Hubert Frederico at school, Brian Richardson whilst rowing junior and as a lightweight Martin Owen.
On memorable races, he recalls the 1984 Victorian crew as it was a very well rowed race, winning from start to finish. His toughest races include 1986 World Championships as the crew was not quite rowing perfectly together and the conditions were challenging. He added that the other tough race was his Head of the Yarra race with the social rowers in a 2XS crew!
Joe went onto again mention Hubert Frederico as he taught him to enjoy his rowing. Quality training and racing in good crews are highlights of his life. This is no surprise given the many good crews in which he was a member. It is a common theme coming from interviewing rowers, the love of reaching that spiritual level described by George Pocock as "losing of self entirely to the co-operative effort of the crew". Working at maximum levels whilst seeming effortless and hearing the movement of the boat.
In parting, Joe left your correspondent with two great thoughts, Clubs are critical for the sport and rowing makes you a better person. Both are so true and as pertinent today as they have always been.
Andrew Guerin
October 2018