John Jopling
Wendouree Rowing Club (VIC)
Died 19th July 1948
1924 – Interstate Men's Eight Championship stroke – Did not finish
1925 – Interstate Men's Eight Championship stroke – Fifth
1924 Victorian eight stroked by Jopling
The following article was extracted from a Richmond Rowing Club newsletter in 1945.
"Victoria's most successful stroke over the past 25 years, Jack Jopling, died at Ballarat yesterday after a short illness. He stroked 10 pairs, fours and eights to Victorian Championships."
This brief announcement in the Herald of 20/7/1945 marked the passing of a great oarsman. Ray Todd of the famous Todd Jopling pair, enlarges on this for us.

Jack Jopling, who died at Ballarat on 19/7/1945 at 48 years of age following a short illness, was Victoria's most successful stroke since the last Great War.
With crews of the Wendouree club he had more than forty successes in the stroke seat recorded in seven years. In fourteen starts in State title events, he was successful on ten occasions, was second three times, and once unplaced.
He holds the record as a champion pair-oared stroke, having won the title five times.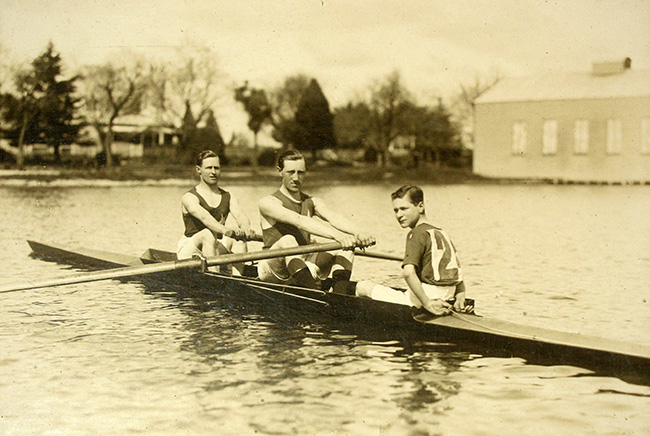 1922 Champion Pair - Jopling stroke and Ray Todd bow
Jack stroked the Victorian King's Cup eight in Adelaide in 1924 and in Victoria in 1925.
He was also the stroke of the Wendouree four-oared crew that represented Victoria in New Zealand in 1927. This crew was successful at the Wanganur and Wellington regattas.
One of his most important victories was in the Steward's Challenge Cup event at Henley-on-Yarra in 1923, when his Wendouree crew (Walsh, bow, Hutchins, Todd, Jopling, stroke) easily defeated the famous Murray Bridge four in the final of that event. The following year the Murray Bridge representatives rowed for Australia at the Paris Olympic Games. At the time of his death jack Jopling was President of the Wendouree Club and a very popular figure in the rowing world.
Ray Todd 1945