Sebastian Jenner
Mercantile Rowing Club (VIC)
Seb started rowing at Carey Grammar in about 1998. His first coxing task was in the year 10 A crew in 1999 and this was followed by the first crew in 2000. His first crew finished second at the Head of the River and won State Championships.
In 2001 he was exposed to Mercantile for the first time under coach Anthony Bergelin and competed at the Nationals in Queensland. Seb has never looked back and has been coxing Mercantile crews ever since.
In 2002 Seb coxed for Victoria in the Australian Youth Rowing Cup. Also in 2002, Seb started coxing the male masters at the World Masters Games in Ballarat in a crew which made finals. He has won State Championships a number of times including:
2004: Two State Championships
2010: ME4+ State Championship
After many years coming second or third in the Head of the Yarra, he finally he coxed a winning crew in 2014 – Masters F&G division. A goal of his for many years was achieved. Over this period, Seb has developed an excellent eye for steering and can take the big bend on the Yarra like no other. Like his current masters crew, he has become a specialist of the Head of the Yarra.
Seb always maintains a great sense of humour and demonstrates the focus and dedication required for winning crews.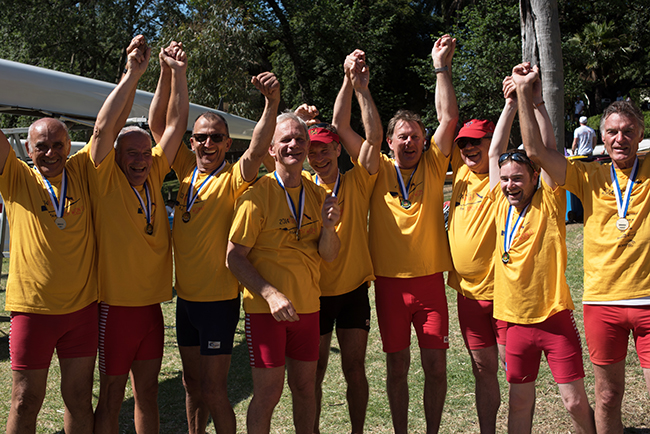 Above: Seb after having steered a winning crew at the 2014 Head of the Yarra
Why coxing? Seb was a rower before he was a cox. He started out rowing in year 9 as a rower, winning the junior head of the river in his division. When he realised that he was not growing any more and a spot came up for coxing the year 10 first crew, Seb took up the challenge and has been coxing ever since.
Why Mercs? Enjoy learning from the many Australian coaches, coxswains, Olympic rowers in the Club and building good friendships.
Seb has taken on boatshed maintenance responsibilities at his club Mercantile.
Andrew Guerin
March 2016