Kerry Jelbart
ANUBC (ACT), MUBC (VIC) and then Monash University (VIC)
Born 10 March 1944
Kerry is a member of the well known Jelbart rowing family. Over three generations, the Jelbart name has been well known in Victorian and Australian rowing circles. Kerry's father Peter raced in a four with his brother Ron and two cousins Norman and Lloyd which dominated four oared rowing in Victoria prior to WWII.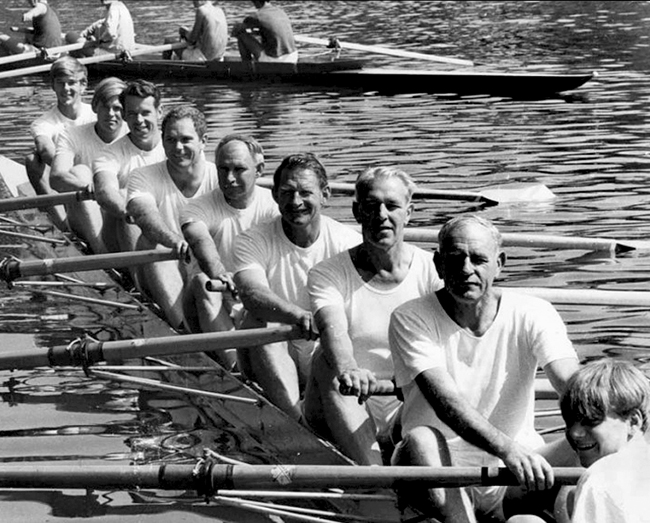 The Jelbart family eight: Bow: Stephen, 2: Max, 3: Kerry, 4: Kim, 5: Norman, 6: Lloyd, 7: Peter, Str: Ron, Cox: Tom
Photo: The Herald and Weekly Times

Kerry started his rowing at Scotch College, Melbourne where he excelled. In his penultimate year, he was a member of the winning second crew and in his final year, he won the Head of the River.
Tertiary studies drew Kerry to Canberra in 1964 and specifically to the Australian National University. Lake Burley Griffin was under construction at that time and was filled during that year. His sporting activities were centered around Australian Rules Football until he became a founding member of the ANU Boat Club. He recalls that they were a motley group of ex-public school students. The Canberra Times on Saturday 25th April 1964 took a more positive approach and noted Kerry as the inaugural Vice-Captain.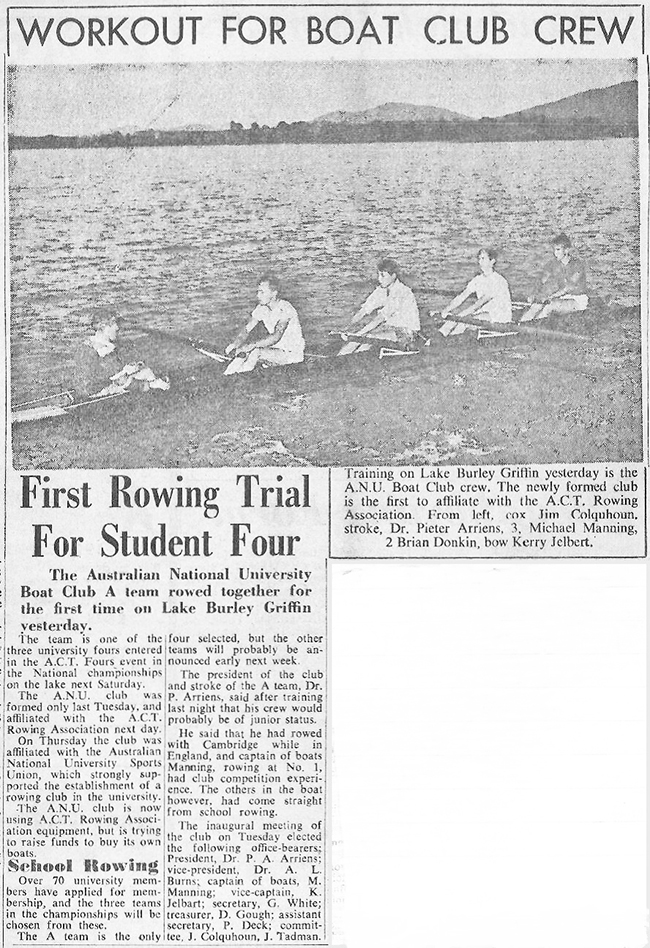 Canberra Times Saturday 25th April 1964 - photo from Nick Hunter, President ANUBC
The fledgling Club took some time to establish itself and Kerry recalls doing some good rowing work in his university vacations at MUBC in their junior crews in 1966 and 1967. It took until 1966 for the club to boat crews at the Australian University Championships with Kerry sculling together with a lightweight four. He was the inaugural sculling representative for ANU.
Meanwhile his Australian rules football career was flourishing. In 1965 alone, he was ANU Aussie Rules football club best player awardee and ACT representative ruckman, ACT versus Riverina (best on ground). He was awarded a double blue for football and rowing. Again in 1966, he represented ANU and ACT. In The Canberra Times on Saturday 23rd March 1968 page 28, Bob Rooks reported: "Last year he concentrated on his sculling and played football only for the second half of the season. He would most certainly have played in the CANFL team which won the Falkner Cup against NSW and Queensland if he played a full season. Instead, he won the handicap sculls in the Riverview Gold Cup Regatta in Sydney and was second in the inter-varsity sculls." Kerry also added that: "In 1967 I received an invitation from Melbourne Football Club to attend their 1968 recruitment trials…..which I declined to focus on rowing proceeding to first Kings Cup 1968."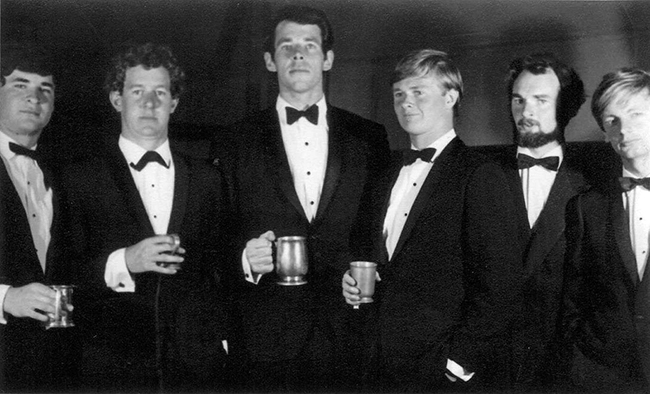 1966 inaugural ANU team at the University Championships with Kerry centre - looking a little too serious for the occasion
Photo from Nick Hunter, ANUBC President

Kerry returned to Melbourne after his studies completed in 1967 and immediately started rowing at MUBC. His rise through the senior ranks was outstanding making the Interstate Eight in 1968. It took only one more year for the Victorians to win with Kerry in the three seat.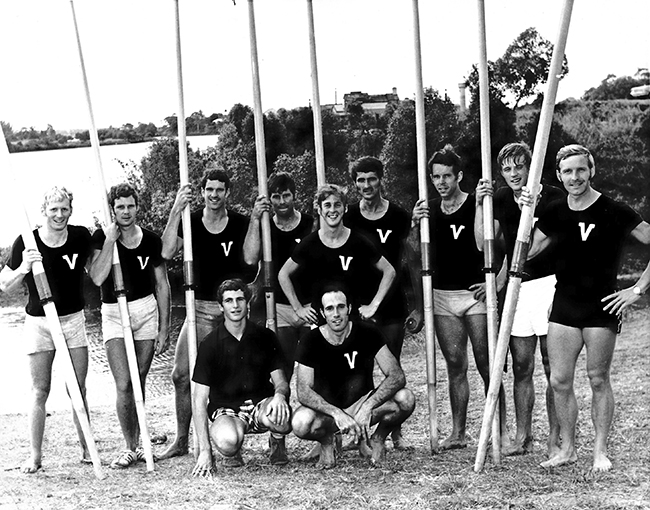 Winning his first King's Cup race in 1969, Kerry third from the right
Following two further solid seasons in fours and eights, Kerry was the only interstate representative to break into the very strong NSW winning eight combination to represent Australia at the 1972 Munich Olympic Games. Again he was in the three seat.
1972 Australian Olympic Eight with Kerry in the three seat
Kerry's career continued through the 1970s finishing as a reserve for the 1978 World Championships at Lake Karapiro New Zealand. He raced in the coxed pair at that event. During that time, Kerry enjoyed his rowing with a motivated group of rowers that raced for Monash University.
Most memorable races? "Without doubt my best crew experience was the 1969 Kings cup up against NSW members of silver medal 1968 Mexico Olympic crew…..the whole training and racing leading up to the race in Bundaberg was a breeze and full of enjoyment. The actual race was one of the best performances with everything going right. Unfortunately there were no overseas regattas or Championships available for the ultimate test. In addition Monash had a spectacular year in 1971 in eights fours and pairs capping it off with a Kings Cup win in Perth ….another year to remember." He added that the 1972 Olympic Games crew did remarkably well finishing mid way through the field. This team suffered tragedies with the loss of two team members.
Some details
1962 - APS Head of the River, Second Crew - First
1963 - APS Head of the River, First Crew - First
1965 - ANU Aussie Rules football club best and fairest player and ACT representative ruckman ACT versus Riverina (best on ground)
1966 - ANU and ACT representative Australian Rules football player
1966 – Australian University Championships, ANUBC Men's Scull - Third
1966 - Awarded double blue for both football and rowing
1967 – Australian University Championships, ANUBC Men's Scull – Second
1968 – National Championships Men's Pair, stroke - Third
1968 – Interstate Championships, Men's Eight, four seat - Second
1969 - Interstate Championships, Men's Eight, three seat – First
1970 – National Championships, Bicentennial Eights, Victoria, bow – Second
1970 – National Championships, Men's Coxless Four, bow – Second
1970 – National Championships, Men's Coxed Four, two seat - Fourth
1970 - Interstate Championships, Men's Eight, three seat - First
1970 – World Championships – Men's Eight three seat - Fifth
1971 - Interstate Championships, Men's Eight, stroke – First
1972 - Interstate Championships, Men's Eight, three seat – Third
1972 – Olympic Games, Men's Eight, three seat - Eighth
1973 - Interstate Championships, Men's Eight, six seat – Second
1974 – National Championships, Men's Coxed Four, stroke - Sixth
1975 - Interstate Championships, Men's Eight, stroke – Third
1976 – National Championships, Men's Coxed Four, stroke - Third
1976 - Interstate Championships, Men's Eight, six seat – Second
1977 – National Championships, Men's Coxed Four, bow - Second
1977 - Interstate Championships, Men's Eight, stroke – Third
1978 – National Championships, Men's Coxless Four, three seat - Second
1978 - Interstate Championships, Men's Eight, seven seat – Second
1978 – World Championships, Men's Coxed Pair, bow - Ninth
Andrew Guerin
December 2021