Tom Jack
We are saddened by the news of the passing of Tom Jack, a highly respected member of our sport.
Tom was an enthusiastic and energetic person who reveled in the development of young rowers. He never more at home than when he was coaching in a boat with his dog. They were as inseparable as was Tom was with rowing. He was a life-long member of the Toowong Rowing Club.
Tom commenced his rowing as a coxswain with Brisbane Boys' College in 1951and coxed their first four, the fours event being the Head of the River race at that time. He joined Toowong Rowing Cub in 1953 and started his 67 year association with the Club that he loved, and which in turn, loved him.
The highlights of his coxing career included his first State Championship coxing a men's lightweight four in 1953, sadly in a row over, followed a Champion Fours race at Rockhampton in the same year; a superb start to his club career. He went onto to cox many Toowong crews and in 1961, he coxed the Queensland eight at Interstate Championships.
Following his rowing career, he took up umpiring. He umpired with distinction at the Interstate Championships in 1963 in Brisbane. He also took up administration being Honorary Secretary of the Queensland Association in the years 1963-65.
He returned with passion and enthusiasm to the sport as a team manager and coach in the 1980s. He was Queensland team manager in 1985 and went onto be the Australian Trans Tasman Juniors manager for four consecutive year 1985-89.
In 1987 he managed the Australian World Juniors team which he repeated again in 1989.
1987 Junior tour
However his coaching was taking over as his passion. By 1987 he was coaching Queensland men's youth eights which he did again in 1988.
His coaching prowess was being sought after and he developed many a young Queenslander. His National Championship under 19 pair of John Pettigrew and Boden Hansen was just one example.
National Championship Junior 19 Pair - left to right, Alan Bromiley, Bo Hansen, John Pettigrew and Tom Jack
He willingly passed on his knowledge to both rowers and other coaches. His hard work was rewarded with National Championship wins and his crews being selected in national teams. He coached an Australian junior pair at the World Juniors in 1995 when team doctor Steve Hinchy identified the illness that would eventually take his life. He coached for one further season taking his coxed four to the 1996 World Under 23 Championships, then called the Nations Cup. His ailments, and the treatments of them, thereafter prevented the same level of rowing commitment.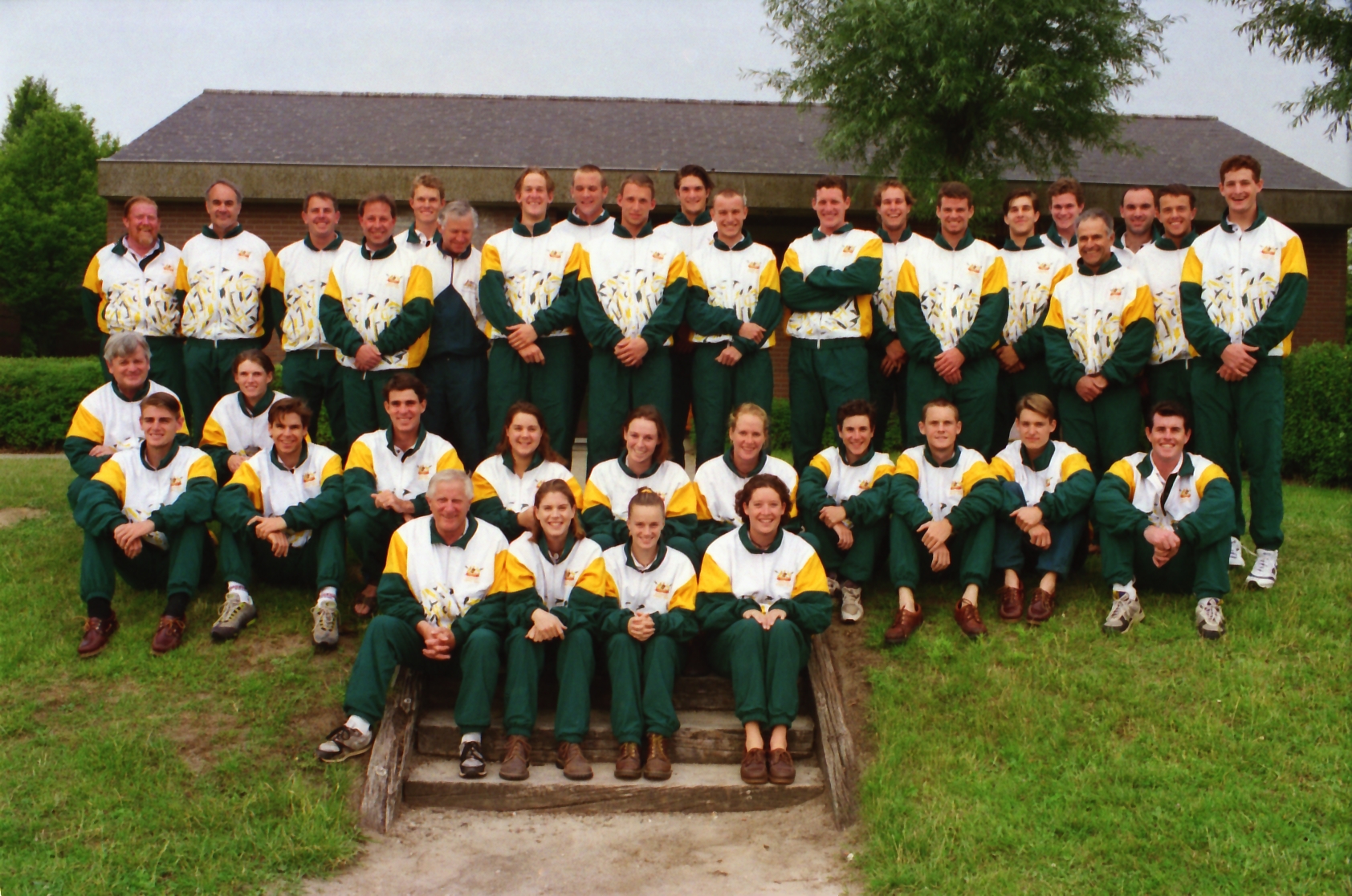 1986 Under 23 team - Tom front row left hand side
In recent times, Tom was the driving force behind the Toowong Octogenarian VIII. He maintained his good spirits until the end with regular visits from rowers.
Our condolences to his family and to his many rowing friends who were touched by his life.
Andrew Guerin
22 April 2020