Ken M Hume
Mercantile Rowing Club (VIC)
1939 - May 2022
Ken was an exceptional lightweight oarsman from Mercantile who reached the top of the then lightweight tree by winning the Penrith Cup in 1962. He remained a senior lightweight championship rower for five years.
He had a great time at Mercantile, and it was during a magic time for the Club with so many characters and good success. Mercantile was good for Ken but Ken was great for Mercantile.
Commencing his rowing at Scotch College, he raced in the College's first crew in 1957 with future Mercantile and Australian political luminaries. The crew comprised: bow: Anthony M Cordell, 2: Kenneth M Hume, 3: Andrew S Peacock, 4: Robert F Kent, 5: Anthony S Olsson, 6: Anthony A Staley, 7: Arthur O Cromie, Str: Neil C W Courtney, Cox: Francis P Newman, Cch: Laurence H Christie. As a matter of interest, this was the last time that the regatta was conducted on the Yarra River. Ten years earlier, the APS Headmasters banned the Yarra River as a venue for the race following unruly behaviour.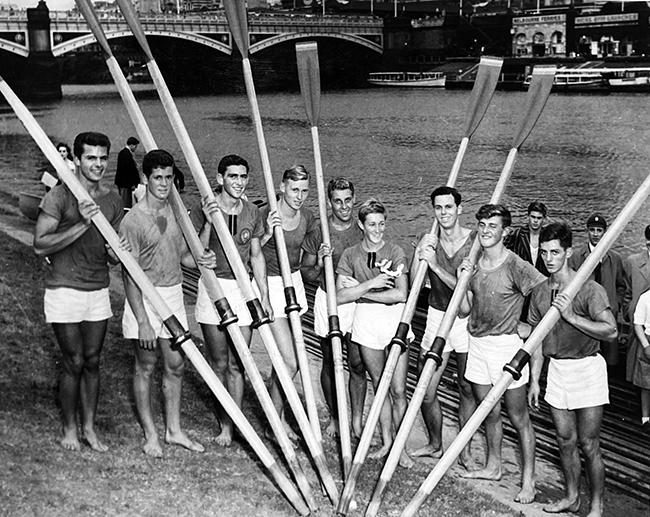 1957 Scotch College First crew - Ken is second from the left
Joining Mercantile in 1958-59 season, Ken immediately raced successfully in junior and senior lightweight events. It was in the following 1959-60 season that he brought home his first Championship win in the lightweight fours. This led to selection in the Victorian Penrith Cup crew which finished third. Through serious application to rowing and skill, Ken won a Penrith Cup in 1962.
1962 was a great season on another level. Ken stroked a winning Mercantile lightweight eight at the first National Championships. Ken's rowing slowed after this highly successful season as his work took him to Ballarat. However, he continued for another couple of seasons finishing with a Victorian Championship Lightweight Eight in 1965 alongside his cousin Mike Hume.
Ken may well put up that his greatest win was in the Bon Air crew of Warwick Hutchins, D J Hume, D H Hume, G Hume, with Ken as stroke at the Anglesea Regatta in 1971. The Anglesea Regatta is an annual event which receives great support from the Hume family. Whilst the support is legendary, also is the friendship and hospitality of the family to competitors.
Fellow rower at the time Tony Walker describes Ken as "the nicest person he has met, always doing the correct thing. He was genuinely polite and always willing to help others. He was a fabulous rower - pound for pound, the best." But most of all, he was given Tony's greatest accolade, "he was a wonderful human being."
Fellow member and engineer, Warwick Hutchins remembers working with Ken on several Club projects such as designing and building frames for boat transport sitting on flat tray trucks, the Club's first towable boat trailer and boat racking for the boathouse. Bob Lachal also has fond memories of constructing this first towable boat trailer. His fellow 1962 lightweight rower George Xouris remembers the help that Ken provided to him.
Whilst his rowing exploits were excellent, one of his greatest legacies to the Club was stepping in at a time of great need in 1974 after the boathouse fire. His company Hu-Metal Limited agreed, at very favourable rates, to fabricate and construct the steel frame for the new boathouse using club labour. Ken's great work along with others such as Ron Negri, Warwick Hutchins and Ted Sorani, enabled us to have the boathouse of the size we have today. It was a superb contribution.
Your author remembers vividly being part of the Club labour which was used to construct the steel frame, bolting together the steel pieces at frightening heights. I look up at the building with great pride thanks to the work of Ken.
Warwick Hutchins describes Ken as a serious character and a great engineer, whose mix of engineering knowledge and practical application of it, made him an industry innovator. But most of all, Ken was a very helpful person. When Warwick set up his own business in the late 1970s, Ken helped by providing him with an area at the back of his factory. Not only was the space and access to specialised equipment of great assistance, also was his collaboration of engineering issues. They were great friends.
As an active Scotch parent, Ken was a founding member and Committee member of the Scotch College Cardinal Club alongside fellow Club member David Boykett. Ken's company also supplied the steel frame for the Boykett Rowing Pavilion and Boathouse at Scotch College. This boatshed is one of the most significant rowing structures in Victoria. He would have been pleased when his son Richard also rowed in the Scotch first crew in 1986 and 1987 and then raced at Mercantile.
Mercantile named a four in Ken's honour in the 1980s. It was a revolutionary design with a strong but very thin skin. Geoff Barden recalls the boat well and commented as follows. "It was a lightweight coxless four and was always in demand, winning many lightweight State and National events. We used the Ken Hume as a Senior B Heavyweight 4- in 1989 racing in Canberra before leaving for Trans-Tasman events in NZ. The next year the Ken Hume was used by Mercantile to win the 1990 National Heavyweight Senior A 4 – at Lake Barrington.
1990 Mercantile National Championship Men's Four - an original Oarsome Foursome in the Ken Hume after medal presentations
Str: James Tomkins, 3: Sam Patten, 2: Mike McKay, Bow Geoff Barden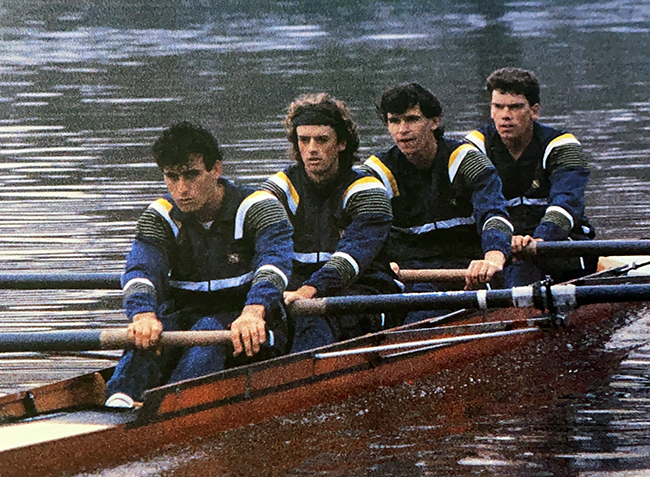 This is an image of a scratch crew training in the Ken Hume with Rob Scott (Olympic medallist, current President of Rowing Australia and CEO of Westfarmers), Nick Green (Dual Olympic gold medallist), Peter Somerville (Mercantile coach and Australian representative rower) and Geoff Barden (Past Mercantile Captain and Australia representative rower) for a PUMA sports promo.
The 1984 Mercantile lightweight four winning the State Championship in the Ken Hume.
Str: Derek Mollison, 3: Alan Borger, 2: Joe Joyce and Bow: Greg Pechan
Ken was a great supporter of rowing and a generous, helpful and kind man. Our condolences to his wife Ann and sons Chris, Richard and Jonathon.
1962 Penrith Cup crew stroked by Ken.
Cox: David Palfreyman, Str: Ken Hume, 3: Tony Walker, 2: George Xouris, Bow: Rodney Smith
A recent reunion of the 1962 crew
David Palfreyman, Ken Hume, Tony Walker and George Xouris
Some rowing highlights
1957 - APS Head of the River, First Crew, two seat - Second
1959 - Victorian Championship Men's Lightweight Four, stroke - unplaced
1960 – Victorian Championship Men's Lightweight four, two seat - First
1960 - Interstate Championships, Penrith Cup, bow - Third
1961-63 - Mercantile Committee member
1961 – Victorian Championship Men's Lightweight four, two seat - First
1961 – Interstate Championships, Penrith Cup, two seat – second
1962 – Victorian Championship Men's Lightweight four, stroke - First
1962 – Interstate Championships, Penrith Cup, stroke – First
1962 – National Championships, Men's Lightweight Eight, stroke – First
1963 – Victorian Championship Men's Lightweight eight, six seat - First
1963 – Victorian Championship Men's Lightweight four, stroke -Third
1964 - Mercantile Vice-Captain
1965 – Victorian Championship Men's Lightweight eight, six seat - First
1965 - Mercantile Committee
Andrew Guerin
May 2022