John (Jack) F Howson OBE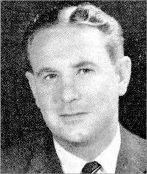 Swan River Rowing Club (WA)
Bill Cooper in his book Home and Dry announced the arrival of Jack as follows: The new star on the horizon was a young fellow named Jack Howson, who was a member of the Swan River Rowing Club's Champion Maiden Eight in 1937. Two years later, when he represented his club on the Association Committee for the first time, he began an increasingly complex involvement in rowing administration which was to last for almost 30 years. One of a new breed, he shared neither the Swan River Rowing Club's traditional coolness toward its immediate neighbour on the Perth foreshore, nor the longstanding warm attachment to its Fremantle counterpart.
Again we call upon Bill Cooper's history on page 155: Meanwhile, back in Perth the rowing community's attention was increasingly focused upon the forthcoming Seventh Empire and Commonwealth Games, which were to be conducted there in November 1962. Despite an earlier boast by Adelaide's town clerk W C D. Veale that his city "was almost certain to be the venue of the 1962 Empire Games,"196 when a vote was taken immediately following the Cardiff Games in 1958, South Australia was found wanting. According to Ron Polglaze
"Easily the most important event concerning Western Australia this year was the granting to Perth of the right to stage the 1962 Empire Games, due mainly to the untiring efforts of the Lord Mayor [Sir Harry Howard] and our own President Mr Jack Howson in his capacity as Honorary Secretary of the Empire Games Council of Western Australia."
Howson was later appointed Organising Secretary for the Games, Polglaze was chosen by the Australian Rowing Council as its representative on the Organising Committee, and Ken Carrick was elected by the local rowing association to serve on the Sports Subcommittee.
At the beginning of 1960 the Association appointed a committee consisting of Carrick (chairman) Howson, Polglaze, Jim Pannell, Gordon Barratt-Hill, Stan O'Brien and Gra Rosser, with Swan River Rowing Club captain Bruce Semple as secretary, to be responsible for planning and administering the rowing section of the Games.
And on page 219:
A man of tremendous ability, boundless energy and enormous powers of persuasion, Howson had a threefold claim to fame. After his massive contribution to the sport of rowing, he served as secretary of the Royal Agricultural Society of Western Australia between 1965 and 1982. He successfully transformed that organisation and its showground from a sleepy provincial affair to a vibrant enterprise willing and able to serve the needs of both rural and metropolitan Western Australia.267 As mayor of Melville between 1965 and 1988, he would guide that city through a period of massive residential and civic growth.
In the late 1930s, the young man had been deeply involved in both rowing and swimming. On his return from war service, he held a variety of executive positions, first at the Swan River Rowing Club and later in the Association. He was president for all but one year between 1957 and 1965, and rose to international prominence over his masterly directorship of the 1962 Empire Games.269 After his retirement, the Association saw fit to devote the sum of £20, which at that time was the equivalent of almost two-thirds of a working man's weekly wage, to purchase a parting gift for him.
Howson's final year in office was marred by a crisis in the Association's financial affairs. In February 1965 treasurer Bob Brealey had to report debts totalling £270 1s. 0d. against a current bank balance of only £15 19s. 10d. A temporary solution was found in the issue of bonds to the value of £200, but a proposal to impose a two-shilling admission fee at pennant regattas was not pursued.
Some details:
1952 – Interstate Men's Championships manager
1953 – Interstate Men's Championships manager
1957-65 (except 1961) - ARAWA President
1962-65 – Councillor for WA on AARC
1964 – Olympic Games – Grading Committee
1976 - General Manager of the Australian Olympic Team
Andrew Guerin
July 2021
Sources include "Home and Dry - A history of rowing in Western Australia" by W S Cooper, published by Rowing WA in 2008.