W Neville Howell OAM
Preston Rowing Club (VIC) then Banks Rowing Club (VIC) in about 1952

1951 – Interstate Men's Eight Championship two seat – Second
1952 – Interstate Men's Eight Championship six seat – First
1953 – Interstate Men's Eight Championship six seat – First
1954 – Interstate Men's Eight Championship six seat – First
1955 – Interstate Men's Eight Championship six seat – Second
1956 – Interstate Men's Eight Championship six seat – First
1956 – Olympic Games –Men's Eight six seat – Bronze
1957 – Interstate Men's Eight Championship six seat – First
1959 – Interstate Men's Eight Championship six seat – Second
1960 – Interstate Men's Eight Championship six seat – Third
1960 – Olympic Games – Men's Coxed Pair stroke – eliminated in repechage
1962 – Interstate Men's Eight Championship stroke – First
1962 – British Empire & Commonwealth Games – Men's Eight stroke – Gold
1962 – World Championships – Men's Eight stroke – fifth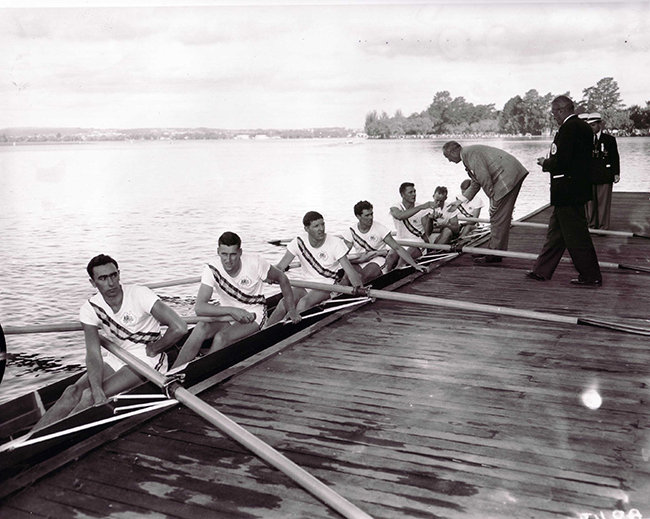 1956 Olympic medal presentations
Neville is second from left in six seat
Neville is still rowing today and has not yet retired from work. His rowing career is outstanding and one of the few rowers to compete at a high level for over a decade. He won 6 King's Cup races and won two medals in international competition. He was a superb rower as a young man and still is today as a senior masters rower. Since rowing masters he has won 50 Gold medals won three world titles and probably his most memorable would have been winning the world masters sculling race in Sydney in 2010.
The following biographical notes were provided in the Queens Birthday Honours list in 2020 when Neville was awarded a Medal in the Order of Australia.
Rowing
Former Rower, state, national, international, Masters Games, since 1951.
Member, Rowing Team, Commonwealth Games, 1962 (Perth).
Member, Rowing Team, Olympic Games, 1956 (Melbourne) and 1960 (Rome).
Crew Member, Ancient Mariners.
Nagambie Rowing Club
Former President.
Member, current.
Bendigo Rowing Club
President, 1971-1982.
Former Vice-President.
Former Coach.
Life Member.
Banks Rowing Club
Former Rower, 1951-1962.
Former Committee Member.
Life Member.
Rotary District 9800, Rotary International
Former Committee Member, Rotary Youth Leadership Awards.
District Governor's Representative, Chartering, Rotary Club of Kangaroo Flat, 1983.
Rotary Club of Bendigo South, Rotary International
President, 1969-1970.
Former Secretary.
Former Director of Club Service.
Member, 1964-1983.
Bendigo Branch, Sportsmen's Association of Australia
President, 1974-1977.
Former Committee Member.
Member 1965-1981.
Strathdale Branch, Bendigo Branch, Sportsmen's Association of Australia
Committee and advisory roles
Member and Mentor, Advisory Committee, New Enterprise Incentive Scheme (NEIS) Business Program, current.
Member, Board of Directors, Central Victoria Division, Regional Enterprise Network, current.
Former Member, Fundraising Committee, Victorian Olympic Council, 15 years.
Former Member, Kangaroo Flat Technical School Council.
Former Member, Golden Square High School Council.
Former Committee Member, Anti-Cancer Council, Bendigo.
Awards and recognition include:
Inducted into Victorian Rowing Hall of Fame, 2015.
Awarded, Order of the Oar (for people over 80 who have competed in a World Regatta).
Gold Medallist, Men's Eight, Commonwealth Games, Perth, 1962.
Bronze Medal, Stroke of Australia's Men's Eight, World Championships, 1962.
Olympic Bronze Medallist, Men's Coxed Eights, Olympic Games, Melbourne, 1956.
Winner, 6 times, Crew Member, Victorian Kings Cup, Australian Interstate Eights Rowing.
Winner, 50 Australian Gold Medals and 3 World Titles.
Andrew Guerin 2010, updated 2020 with Australian Honours award details.