Erik N Horrie OAM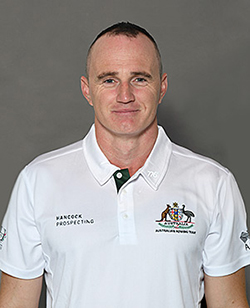 Sydney Rowing Club (NSW)
2011 - World Rowing Championships PR1 M1x Third
2012 - London Paralympic Games PR1 M1x Second
2012 - Munich World Cup PR1 M1x PR1 M1x First
2013 - World Rowing Championships PR1 M1x First
2014 - World Rowing Championships PR1 M1x First
2015 - World Rowing Championships PR1 M1x First
2015 - World Rowing Cup Ii, Varese PR1 M1x First
2016 - Rio Paralympic Games PR1 M1x Second
2016 - World Rowing Cup 3 PR1 M1x Third
2017 - World Rowing Championships PR1 M1x First
2018 - World Rowing Championships PR1 M1x First
2019 - World Rowing Cup 2 PR1 M1x Second
2019 - World Rowing Championships PR1 M1x Third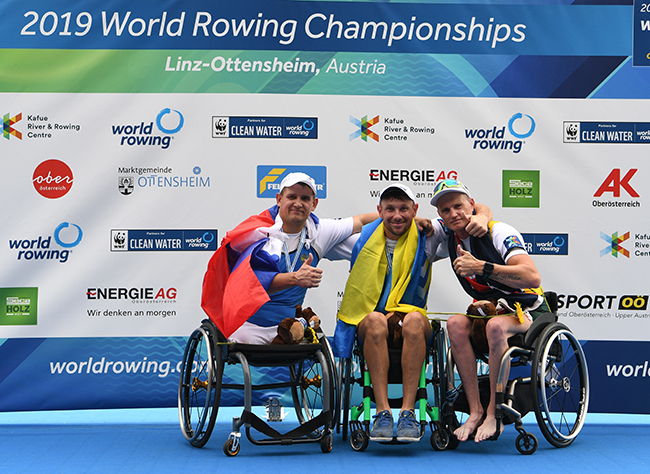 2019 World Championships - Erik on the right - Photo copyright Rowing Australia
The Rowing Australia website on 30th May 2020 advised:
Erik Horrie had a truly eventful Games campaign when he competed at his first Paralympic Games in London. The day after his first heat, he suffered a seizure which saw him admitted to hospital. Having made a promise to himself years earlier that he would race and win a medal in London, he pushed on and made the final, where he won silver and then learnt the news that his fianceé had given birth to a baby boy. When he was 21, Horrie was involved in a car accident that left him with paraplegia. He began to play wheelchair basketball and in 2009 he made his debut for Australia and with the Rollers won gold in a World Cup qualifier and gold at the 2009 IWBF Oceania Championships. He made the transition to rowing in 2011 when he won a bronze medal in the single sculls at the World Championships in his first year in the sport. Since London, Horrie won back to back World Championship titles in 2013, 2014 and 2015 and represented Australia in the 2016 Rio Paralympic Games where he picked up another silver medal in the PR1 (Arms and Shoulders) Men's Single Scull. The Penrith local, who originates from the Gold Coast in Queensland, is currently studying Youth Work and Public Speaking. In 2017, he was named in the Australian Rowing Team for the 2017 World Rowing Championships, competing in the PR1 Men's Single Scull. He went on to win gold at the event, racing over 2000m for the first time and setting a World's Best Time. In 2018, Horrie will once again race in the PR1 Men's Single Scull at the World Rowing Championships.
His sporting achievements include:
Senior Member, Australian Rowing Team, since 2011.
Member, Athletes' Commission, Rowing Australia, since 2017.
Member, Athlete Advisory Commission, New South Wales Institute of Sport, since 2018.
Former Member, Australian Para-Basketball Team, 2009.
Ambassador, New South Wales Premier's Sporting Challenge, since 2013.
Mentor, Back on Track program, icare/Australian Paralympic Committee, 2018.
Sydney Rowing Club
Member, current.
Most Outstanding Oarsman, 2014-2015.
Honorary Life Member.
Community
Lifeline Community Custodian, current.
Australia Day Ambassador, since 2013.
Motivational speaker at schools and sports events, ongoing.
Awards and recognition include:
Para Rower of the Year, Rowing Australia, 2018.
Male Athlete of the Year, Rowing Australia, 2015, 2013, 2012.
Male Athlete of the Year, New South Wales Institute of Sport, 2015.
Paralympic Silver Medallist, Rio Paralympics, 2016, London Paralympics, 2012.
Para Rower of the Year, World Rowing Federation, 2014.
Winner (five times), World Champion PR1 Men's Single Scull, 2013-2018.
Australian Champion (seven times), PR1 Men's Single Scull.
Compiled by Andrew Guerin, May 2020
Sources:
Australia Day Honours List 2020
Rowing Australia website