Seventh Earl of Hopetoun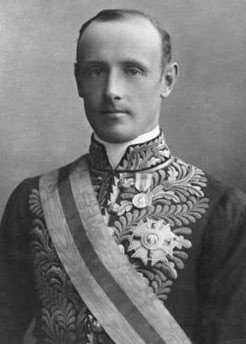 (25 Sept 1860 - 29 Feb 1908)
Born: John Adrian Louis Hope, son of Sixth Earl of Hopetoun
Later: First Marquess of Linlithgow, First Governor General of Australia
The Earl of Hopetoun was the first Patron of the Victorian Rowing Association. He was at the time, the Governor of Victoria.
Not only was the first Patron of the Association, the Governor of Victoria had a genuine interest in rowing. He rowed at Eton whilst at school and kept a sculling boat on Albert Park Lake.
It was this scull that was used by Cassie McRitchie when she won the sculling race from Elizabeth Messenger of Sydney at the Federation regatta in 1901.
The Australian Dictionary of Biography adds: His governorship coincided with important years of the Federation movement of which he was a fervent supporter. After an extension of his term he left Melbourne in March 1895.
In 1895-98 Hopetoun was paymaster-general in Salisbury's government. In 1898, having declined the governor-generalship of Canada, he became Lord Chamberlain. On 13 July 1900 it was announced that the Queen had approved his appointment as first governor-general of the Commonwealth of Australia. He was made Knight of the Thistle and G.C.V.O.
In October 1902, he was created Marquess of Linlithgow and hence the name given to Linlithgow Avenue.
Largely sourced from the Australian Dictionary of Biography
Andrew Guerin 2016