William (Billy) A Holtham
Ballarat City Rowing Club and Hawthorn Rowing Club (VIC)
1913 - Ballarat City Rowing Club and Ballarat Agricultural High School
1913 - Henley Regatta, Bow: W. Holtham, 2. J. Cross, 3. P. Cross, Str. C. Manners, Cox W. Gribble
1914 - Ballarat Regatta, Schools race. BAHS No.1 crew first - D. Davies, J. Cross, P. Cross, W. Holtham.
1919 - Unveiling BCRC honour board, Ballarat 18/01/1919. Rev. W. H. Holtham spoke at the unveiling ceremony
1922 - Henley Regatta, Maiden eight. Stroked the Diggers Eight for Hawthorn R.C. W. Holtham, K. Mathews, W. Hill, W. McLaren, W. Kneebone, A. Atkins, L. Worn, G. Binnie.
1926 - Interstate Championships, Victorian King's Cup eight, bow seat - 3rd.
William Arthur Holtham was born on the 31st of July, 1897 at the Wesleyan Parsonage in Frankston. His parents were (Rev) William and Adeline Holtham. William preached at South Richmond Methodist Church for about 4 years before moving to the Skipton St. Methodist Church, Ballarat, in April 1913. William Junior went to Ballarat Agricultural High School and as a schoolboy rowed from Ballarat City Rowing Club, representing both the club and the school. He joined the Citizen Forces and became a 2nd Lieutenant with the 71st "City of Ballarat" Infantry Battalion.
William was two weeks away from his 18th birthday and still a student when he enlisted in the 17/7/1915. He was living with his family in Skipton Street and his parents gave their permission for him to enlist, as he was still underage. In October 1915 he became engaged to his sweetheart Emma Navin, who also lived in Skipton Street.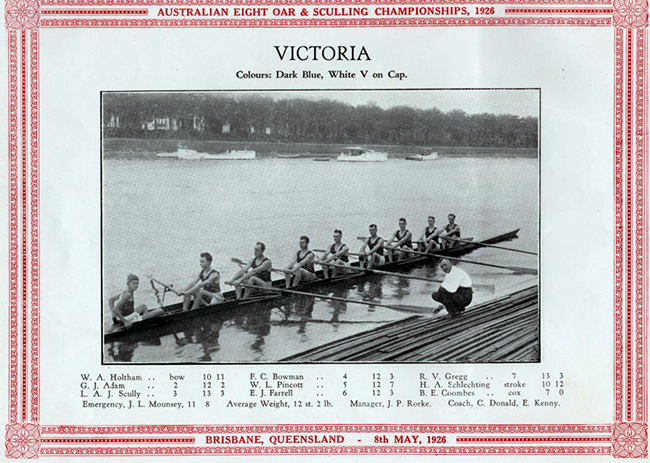 Image from the program
Bow: W A Holtham, 2: G J Adam, 3: L A J Scully, 4: F C Borrman, 5: W L Pincott, 6: E J Farrell, 7: R (Bob) V Gregg, Str: H A Schlichting, Cox: B E Coombes, Emerg: Jack L Mounsey, Cchs & selectors: Charles Donald & Edward Kenny, Mgr: Jimmy P Rorke
Ballarat Agricultural High School, Henley Regatta, 1913.
Bow: W. Holtham, 2 J. Cross, 3. P. Cross and stroke C. Manners, cox W. Gribble
By the time he embarked, his family had moved to the Methodist Parsonage in Long Gully, Bendigo. He embarked on the A18 Wiltshire with the 15th Reinforcements of the 8th Battalion for Egypt. On arrival in Egypt he was transferred to the 60th Battalion at Ferry Post 20/4/1916, and promoted to Lance Corporal on the 26/4/1916. He sailed from Alexandria on 22/6/1916 for France. He had been there less than a month when he was wounded in action on the 19/7/1916 at Fromelles, receiving a gunshot wound to his right shoulder. He was sent to England and admitted to the Reading War Hospital on 23/7/1916.He was discharged to furlough some three months later on the 27/10/1016.He then transferred to the 15th Training Battalion, Codford 14/11/1916 and was promoted to Acting Sergeant 12/1/1917.
He attended the Machine Gun Training Centre at Grantham 15/4/1917, before being sent to the No.1 Machine Gun Company Officer Cadet Battalion at Bisley 1/5/1917, where he received instruction in, and gained a thorough knowledge of both Lewis and Vickers machine guns. He was appointed 2nd Lieutenant and posted to the Machine Gun Company Reinforcements 25/9/1917.He returned to France on 9/10/1917, where he was taken on strength with the 8th Machine Gun Company 17/10/1917. He was then promoted to Lieutenant 10/1/1918 and went back to England on 22/1/1918 on being selected for training as a Pilot.
On 5/4/1918 he was seconded for training with the Australian Flying Corps (AFC), joining the Royal Flying Corps No.1 School of Military Aeronautics at Reading. On the 25/7/1918 he was certified by his Flying Instructor as having passed Category "A" and was fit to Graduate.
Two weeks after he graduated William was injured in a flying accident on the 8/8/1918 "when his machine crashed to earth from a height of about 200 feet. His principal injuries were severe concussion, a fractured upper jaw and loss of teeth, broken finger, dislocated ankle and numerous abrasions." He was admitted to the 2nd Southern General Hospital on the 9/8/1918, and convalescent from the 11/10/1918 to the 25/10/1918, at which time he was passed fit for flying duties and instructed to report to the 1st Wing Headquarters, before being taken on strength of the 8th Training Squadron, Leighterton 26/10/1918.
He returned to Australia on the Kaiser-i-Hind, disembarking in Melbourne on the 16/6/1919. On his return home, he lived with parents at the Methodist Parsonage, 6 Oxford St, Box Hill, and became a member of the Hawthorn Rowing Club from September 1919 and continued his rowing career with distinction representing Victoria in the King's Cup in Brisbane, 1926. In 1920, he married his fiancé Emma Sophia Navin and they had a family of four children William, Earle, Stuart and Joyce.
He was killed in a flying accident on the 1st of July, 1926 aged just 28. He was taking a student pilot on a training flight in a De Haviland 9A from Pt. Cook. When they were about 12 miles from Pt.Cook, nearing Werribee, the plane appeared to get in to trouble and it corkscrewed to the ground from about 200-150 feet up. It hit the ground exploding on impact and burst into flames that were about 30 feet high. It was a tragic end to an incredible young man.
Weekly Times (Melb, Vic), Sat 10 Jul 1926 (p.83): Rowing W. HOLTHAM'S CAREER – By "Rudder"
The news of the death of Flying Officer W. Holtham, one of the victims of the aeroplane crash at Point Cook last week, has cast a gloom over the rowing community, and especially in the Hawthorn Club, of which he was a popular member. "Billy" Holtham was one of the most prominent of our junior oarsmen. For several years he has been particularly prominent in regatta racing, almost as much at country fixtures as those in the metropolis. On the journeys to country regattas he formed many friendships. Consequently the news of his untimely death will be keenly felt in country as well as city rowing circles. He first took up rowing at Ballarat, where he was a pupil of Ballarat College. During the Great War he enlisted with the A.I.F. before he was 18 years old. His rise was rapid, and he gained his captaincy before he was 21. In England he joined the Royal Air Force, and by the time he returned to Australia in 1919 was an accomplished pilot. In July, 1925, he joined the Australian Air Force as a permanent officer, and was engaged principally in instructional work. He was considered an excellent instructor, and his death means a severe loss to our Air Force. Holtham became a member of the Hawthorn Rowing Club in September 1919. His ability as a "stroke" has been largely responsible for the successes gained by that club in recent years. He had to his credit more wins in junior races than any other man in Victoria. At Henley in 1920 he stroked the club's maiden eight. Misfortune attended them on this occasion. A clash against the booms put them out of the race when they were in a good position. A week later, at the V.R.A. regatta, the crew won. This started Holtham on his run of successes. His first season saw many wins, including maiden four and double Junior four. He had a quiet time in the 1922-3 and 1923-4 seasons, the reason being that he had won his maiden and junior races, and the men with whom he had been associated dropped out for the time being. This left him without comrades with whom to advance to senior class. He did useful work coaching, in the hope of building up a new crew. His reward came with the passing of an amendment of the rules governing junior racing, and from then on he scored many wins. This year Holtham rowed bow in the Victorian interstate crew. He had remarkable stamina. Most of his successes were due to his knack of getting the best out of his crews in a hard finish. The best illustration of this was on the occasion when he won the junior four at Upper Yarra in 1925. In this race Hawthorn were badly left at the post owing to Holtham's oar slipping through a loose poppet string. They lost several lengths, and one of the other crews crossed into the Hawthorn course, giving them a bad "wash." Nothing daunted, Holtham gave chase so successfully that he had got his crew into second position only two feet behind the leaders by the time the winning post was reached. The disqualification of the offending crew gave Hawthorn the race, which they richly deserved. This gift of stamina made Holtham a useful man in the interstate crew, which put up a fine race at Brisbane. Apart from actual racing Holtham served his club in the capacity of vice-captain, in 1921-2 and 1924-5, and in 1923-4 was committeeman and selector. In the large gathering at the funeral were many rowing men from all clubs.
NOTE: This article is states his education was at Ballarat College. This is incorrect. He was educated in Ballarat at Ballarat Agricultural High School.
Kate Elliott
November 2021