Tim J Hogan
Mercantile Rowing Club (VIC)
Timothy John "Lube" Hogan, 16 Apr 1943 – 13 Feb 2019
Tim commenced his rowing at Xavier College. In 1961, he raced in the bow seat of their fourth eight.
Not being the tallest rower in the Club, he was destined to be a lightweight. But more importantly, his height meant that he had to be a highly effective rower. For those who raced with him, found him to be a gutsy and reliably good rower: the type of rower that you want in your crew, rather than in the opposition crew.
Tim joined Mercantile in the 1962-63 season from Xavier College, but probably after a break of a year from rowing after school. He was a junior member in his first year at the club but was a senior (21 years old) in his second year at the club.
He recorded his first win at Scotch Mercantile on 23rd March 1963 in the bow seat of a lightweight four with Tony Wimble, Tony Fox and Graeme Smith, coxed by Chris Fordyce and coached by Keith Bilney.
In the 1963-64 he raced as a senior lightweight rower winning a National Championships lightweight eight in Canberra on the newly created Lake Burley Griffin. Tim also won the State Lightweight Eight Championships in the same event, but only after a re-row. The crew dead heated with Richmond the first time, but easily won the re-row.
The 1964-65 season was also successful with another State Championship lightweight eight win. Tim also raced at the Christmas regattas winning at the first two, but not the third. Perhaps he fell for a trap of many Mercantile members whose enjoyment of the locally produced wines tends to catch up with them? He obviously learnt his lesson at the Easter regattas winning at Wentworth. He also picked up other lightweight four and lightweight eight wins.
The 1965-66 season saw the third National Championships but sadly Tim was unsuccessful this year in both the National and State Championships. However, he picked up a Henley pot in the lightweight eights and Scotch Mercs pot in the lightweight fours.
Tim continued into the 1966-67 picking up both the lightweight four and eight State Championships as well as many other regatta wins in fours and eights. More often he is seen in the stern end of crews. The Club easily won the lightweight premiership. It was in this season that the combination of Hogan and "China" O'Brien commenced and they raced successfully together for many seasons. From looking through the race results, they seemed inseparable. They were a combination to be feared and respected. Little wonder that they remained lifelong friends. Peter's respect for his rowing is captured by Tim's self-description, "Lightweight Lube the Legend".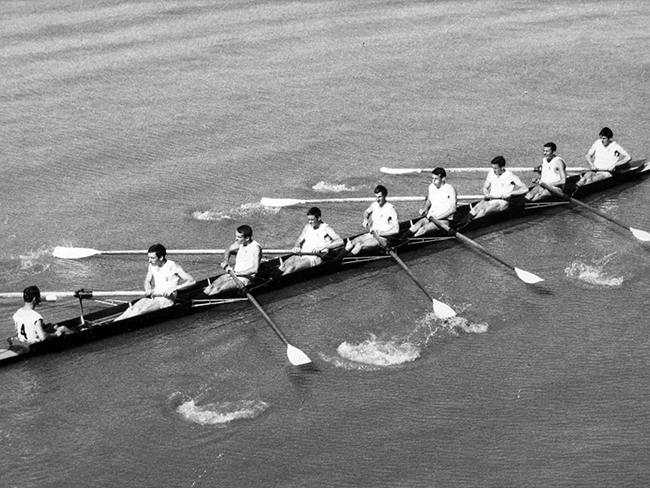 1967 State Champion Lightweight Eight – Tim in the two seat
In the 1967-68 season, Tim avenged his 1966 National Championship loss at the fourth National Championships in 1968 with a win in the five seat of the Championship lightweight eight. He again won the State Championship lightweight fours and eights and added to his pot collection in other races.
In the 1968-69 season, he was selected in the Penrith Cup crew alongside club members Peter O'Brien, Rob Connelly and Martin Owen (cox) and coached by Peter Downey who also was the emergency. The strong NSW crew which included the inform Carmody brothers took the honours that year. Tim also recorded yet another lightweight eight State Championship. In addition to other regatta race wins, Tim also won the Guinn Memorial Pairs, an intra Club race in tub pairs on the Princess Bridge course: not an ideal race for lightweights.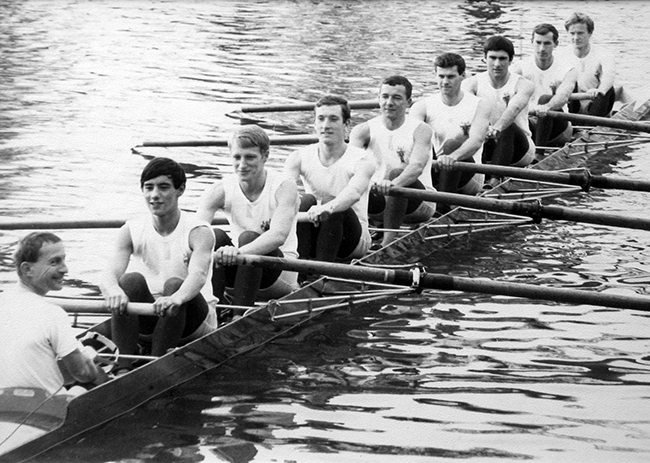 1968 National Championship Lightweight Eight with Tim in the five seat
By the 1969-70 season, Tim appears to have only been successful in a junior race. In the following two seasons, Tim raced but again unsuccessfully. He appears to have been quite happy to leave the lightweight rowing to a new generation of lightweights.
Tim was a respected and knowledgeable art dealer in Melbourne having run the Malvern Fine Art Gallery, then a gallery in Block Arcade before becoming a freelance art dealer and valuer. He had an excellent and loyal client base.
Tim lived with cancer for seven years and as all good lightweights do, survived far longer than any other person with his condition. He was survived by first wife and friend Helen, his lifetime partner Ami, his three children and seven grand-children.
Andrew Guerin
February 2019