Dr Stephen Hinchy OAM, ASM
Commercial Rowing Club (QLD)
One of the greatest contributors to the sport.
Jack Pritchard succinctly and aptly sums this up in his book Rowing in Queensland published in 2004: In his spare time he operated a flourishing medical practice.
The following description of his activities provides an outline of that superb contribution. It is an understatement to say that his award of an OAM for services to rowing and his Australian Sports Medal are richly deserved.
However it does not record the numerous problems which he solved, the stress of pulling Rowing Australia back from the abyss in 1996 when the high performance area was taken over by Sport Australia and the Australian Olympic Committee, the personal financial and time contribution to the detriment of his family and personal well-being, his contribution to Australian teams, the delightful and friendly way in which it was done and most importantly, all his decisions were taken with the sport's and the athletes' best interests at heart.
His story is remarkable.
Reinhold Batschi, John Boultbee and Stephen at Seoul Games in 1988
1957 – Commenced rowing with Brisbane State High School and Commercial Rowing Club
1959 (Dec) – Queensland Eight Oared Championship – four seat – First
1961 - Queensland Eight Oared Championship – Second
1962 - Queensland Eight Oared Championship – seven seat – First (brother Roy in two)
1962 – Interstate Championships – Queensland - seven seat – Eliminated in heats
1964 to present – Queensland umpire
1965-69 – Honorary Treasurer Rowing Queensland
1969 – Honorary Treasurer Australian Championships Organising Committee
1970 – Australian umpiring licence awarded
1971- present – An official at every Australian Championships except one
1974-76 – Chairman Rowing Queensland
1975 – Member of the organising committee of 1975 Australian Championships
1981-83 – Deputy Chairman of Rowing Queensland
1981 – Hon Treasurer Australian Championships Organising Committee
1984 – Trans Tasman under 23 series – team doctor
1984 – World Junior Championships -team doctor
1984-1989 – Queensland team doctor
1985 – Trans Tasman under 23 series – team doctor
1985 – World Junior Championships – team doctor
1985 – World Under 23 Championships – team doctor
1986 - AIS Tour Mannheim-Vichy-Duisburg – team doctor
1986 – Commonwealth Games – team manager including a stint of also being team doctor
1986 – World Championships – team manager
1987 – World Championships – team manager
1987-1993 – Chairman of Rowing Queensland
1988 – Olympic Games – section manager
1988- 1996 – Queensland Councillor to Rowing Australia
1990 – Elected life member of Rowing Queensland
1990 – World Championships – technical official (aligning)
1991- 1999 – Queensland team doctor
1991 onwards – Chairman Queensland umpires committee
1992 – Pre Olympic tour – team doctor
1993-96 – President of Rowing Queensland
1993 – Chairman of the Organising Committee for 1993 Australian Championships
1993 – World Championships – team doctor
1993 – World Masters Games Brisbane – team doctor and member of the anti-doping Tribunal
1994 – World Junior Championships – team doctor
1994 – World Under 23 Championships – team doctor
1994 – Appointed a FISA umpire
1995 – World Junior Championships – team doctor
1996 – World Senior and Junior Championships – team doctor
1996 – Pre-Olympic tour – team doctor
1996-98 – FISA Congress – Australian delegate
1997 – World Junior Championships – team doctor and member of the jury
1998 – World Junior Championships – team doctor
1996-2000 – President Rowing Australia
2000 – Elected to life membership of Rowing Australia
2000 – Pre-Olympic tour – team doctor
2000 – Olympic Games – jury
2001 – Elected to life membership of Commercial Rowing Club
2001 – World Junior Championships – team doctor
2001 – Rowing Queensland – President
2001 – Australian Championships - Chairman of the organising committee
2004 - Pre-Olympic tour - team doctor
2006 - World Masters Games Sydney - President of the Jury
2007 onwards – Queensland umpiring and technical official duties at Australian Championships
2015 – Rowing Australia Volunteer of the Year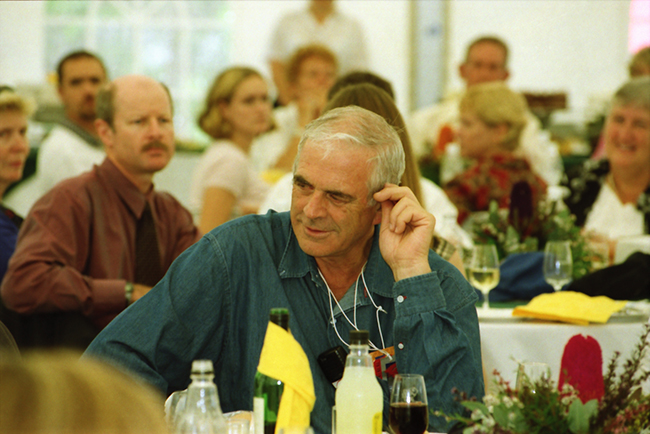 Stephen at a luncheon in his honour in 2001 to acknowledge his service to Rowing Australia
Compiled by Andrew Guerin
May 2020
Sources:
Ian Mathieson
Peter Huggett
Australian Rowing History website
Regatta programs
Rowing in Queensland 1880-1995 by Jack Pritchard