MAJ Alan M P Henry
Mercantile Rowing Club (VIC)
Alan Mark Percival Henry was born in Melbourne on 30th March 1889, son of Dr Louis Henry of Alma Road St Kilda and mother Alice, nee Moss. He died in 8 Jan 1961 aged 71 years in Malvern Victoria. He was cremated at Springvale on 11 Jan 1961. He does not appear to have married or had issue. He had one sister Vere Marjory Moss Henry who first married Alfred Henry Weedon in 1912. Her second marriage was to Evelyn Frank Bourke Davies in 1925. He died in 1972 and Vere died in July 1976.
He was educated at Melbourne Grammar from 1902-06 and was in the first cricket team in 1906. He did not row at school which makes sense since cricket was also a summer sport and he was slight in stature.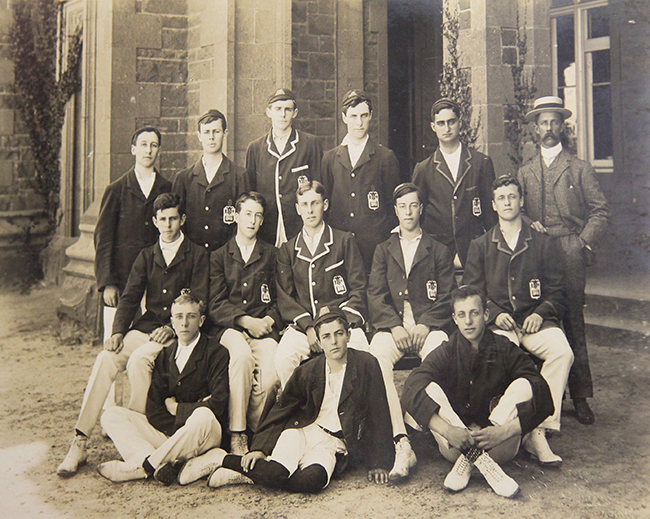 He was a merchant by profession and this is probably why he came to Mercantile. Rowing clubs in those days were primarily occupationally based or regionally based clubs. For example the big clubs of that time were Mercantile which drew its members from the merchants of Flinders Lane, Banks Rowing Club which drew their members from the banks and Albert Park which was regionally based.
The Club annual reports from 1906-07 and 1907-08 do not note him racing at all.
However he did race and win an intra-club race on 24 July 1909 sponsored by Messrs Benfold and Wickham. The winning crew was bow: Alan Henry, 2: Richard A Cooper Jnr, 3: G Millist, stroke: George Logan.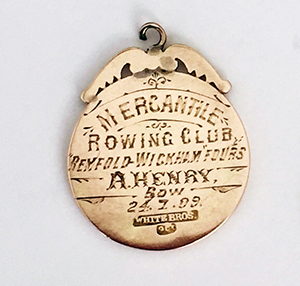 The year after, he won another intra club race on 5th February 1910, this time the trophy donors were Messrs Cooper and Fogarty. Again he was in the bow seat of that winning crew.
He does not appear to have raced in any subsequent inter-club races and does not get mentioned after the 1910 win until he is noted as having enlisted. Whilst noted as a member who enlisted, once the war finished, his membership is not shown.
In summary, probably a short term member of the Club pre WWI and recognised for his service in WWI by the Club.
His war service is both a sad and an interesting part of his life. He was obviously interested in the military as he passed his 2nd Lieutenant course in 1910 and undertook a map reading course in 1911, well before he enlisted in 1914.
His enlisted early in WWI as a single man in October 1914 at the age 25 years 7 months. Alan Henry embarked as Captain and O.C. "H" Company, 14th Battalion, on 22nd December 1914. After arrival in Egypt he was invalided sick to No. 1 A.G.H. at Heliopolis in May 1915. He arrived at Gallipoli in June 1915 and took part in the August operations against Hill 60, being appointed T/Major of his Battalion for a week. The battle for Hill 60 was the last major offensive at Gallipoli before the withdrawal and resulted in some 1,100 allied casualties.
He was invalided to Hospital at Alexandria in September 1915 and on 7th November to Hospital in London, being struck off strength of his unit. He returned to Australia in December 1915 and in May and June 1916 was T/Major commanding Williamstown Musketry Camp.
Alan received a good reference from General Monash. He was however medically discharged suffering from acute neurasthenia, effectively a type of nervous breakdown from war, and sometimes known as shell shock. He returned to Australia. In a letter back to his father, Monash advised: It will perhaps reassure you to know that he is being sent back to recuperate entirely under superior orders and has no option whatsoever in the matter. Indeed I know that his having to do so grieves him and his comrades severely. Such a necessity may come to any one of us at any time during an arduous campaign. Whilst his health held out, your son has worthily performed his full share of training those entrusted to his charge and has served his country and his cause no less effectually and earnestly than those others of us who are still capable of going further with the task in hand.
After a short break of about four months in Australia, he re-embarked in August 1916 and after being re-posted to his Battalion on 20th October took part in the operations on the Somme.
However he appears to got into trouble in France and was censured by a Court of Inquiry in 1917. It must have been serious as he was considered for a court-marshal before intervention by General Cox, who reduced it to a Court of Inquiry. He appears to have had a part in allowing secret papers to be lost after giving them to another officer who returned to the front. Details of the Court of Inquiry are not known but the following extract is available: Captain Henry O.C. "B" Company having received the documents, should not have allowed them out of his possession, and must accept responsibility of allowing Lieutenant Appleton to take them to his platoon headquarters at the front line. It was a case of negligence which may have had far reaching implications.
It is author's opinion that the Lieutenant Appleton was Lieut W T T Appleton (Lieutenant, 14th Battalion) and was probably a friend of Alan Henry. Appleton was also an Old Melburnian (OM 1901). Appleton was killed in action 2 July 1916 and the offending papers, the subject of the Court of Inquiry, may have been with Appleton at that time.
An attempt by Alan Henry to be discharged by reason of being medically unfit failed but he was allowed to resign his commission in 1917.
This is sad story of someone who was mentally damaged by his war service and through one mistake, lost his commission. There is no record of him returning to the Club once he returned from service.
Andrew Guerin
June 2019
______________________________________________________________________________
Sources
Mercantile annual reports
Melbourne Grammar School archives for information and cricket team photo. Thank you Luisa Moscato, MGS Archivist.
Service records – National Archives of Australia
Photo of 1909 medallion – Alison Marshall
ancestry.com.au