Tim L Hawkins
Lindisfarne Rowing Club (TAS)
One of the saddest stories in Australian rowing. Tim was a man of great talent both on and off the water who was senselessly killed in the tragic Bali bombing in October 2002. He was a great loss to not only his family and friends, but to Australian rowing and to Australia generally.
He was in real estate, qualified as a carpenter, worked as a builder and the sailed through a double law-commerce degree - all by 28. But far more than these achievements, he was an engaging and funny person to whom people from all walks of life gravitated. He was a well-grounded individual who had a gift for friendship.
Both he and his brother Stephen were best of mates, they would laugh, jog, row and surf together. He is quoted as calling out to Stephen sitting on the back of a break on his surf board: "You know, people would pay to do this."
He was a man using his enormous potential.
Tim in the stroke seat off the start at the 1994 World Championships with Sam Golding
The National Championship Men's Under 19 Double Scull trophy is named in his honour. Beneath the trophy is the following summary of his life.
Timothy Leigh Hawkins
(Juper)
14/11/1973 - 12/10/2022
Tim commenced his rowing career at the age of 10 as a coxswain with the Lindisfarne Rowing Club and Geilston Bay High School in Tasmania. He represented Tasmania on several occasions winning the Australian Junior Double Scull Championship in 1991 and went on to represent Australia in the Double Scull at Under 23 and Senior Rowing Championships. He retired from competitive rowing at the age of 23 having been to 16 National Championships, to concentrate on doing Commerce/Law Degrees at the University of Tasmania which he successfully completed with Honours in Law. Tim remained a keen supporter of rowing and an active member of the Lindisfarne Rowing Club giving many voluntary days work to help rebuild the rowing club after it was burnt to the ground in 1997. He would help the younger rowers at the club and local schools with coaching and advice whenever he could. He was tragically killed at the age of 28 by a terrorist bomb in Bali on 12th October 2002.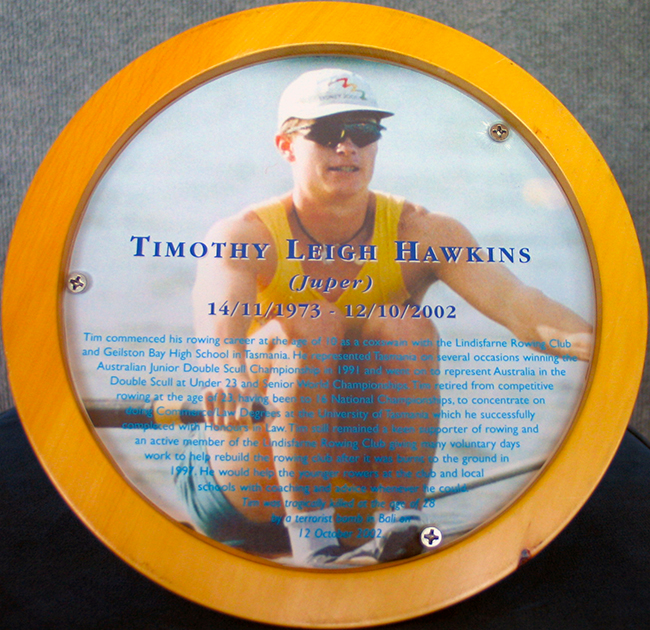 Rowing summary

1989 – Interstate Men's Eight Championship cox – Race not conducted due to a cyclone.
1991 - National Championship Under 19 Scull - Fifth
1991 - National Championship Under 19 Double Scull, stroke - First
1992 - National Championship Lightweight Double Scull, stroke - Second
1992 - National Championship Lightweight Quad Scull, two seat - Third
1993 - National Championship Lightweight Quad Scull, two seat - Second
1994 - National Championship Lightweight Quad Scull, bow - First
1994 - National Championships Under 23 Lightweight Scull - Second
1994 – World Championships – Men's Lightweight Double Scull stroke - Thirteenth
1995 - National Championships Lightweight Eight, five seat - Third
1995 – Nations Cup - Men's Lightweight Double Scull bow - Bronze
1995 – World Championships – Men's Lightweight Single Scull - Thirteenth
1998 - National Championships Lightweight Eight, two seat - Second
Andrew Guerin
January 2023