Otto Hauser
Ballarat City Rowing Club (VIC)
Captain 1933-1935. Vice-president 1948-1973, Life member 1950, coach, committee, boatman and maintenance.
Otto Hauser was possibly one of Ballarat's most dedicated, long serving sporting identities. He was a quiet man who worked tirelessly behind the scenes to keep Ballarat City afloat for over 50 years. His two sporting loves were rowing and in later years bowling. His immense loyalty to the rowing club meant that he could only join one bowling club - the Ballarat City Bowling Club.
Otto Hauser began rowing as a twenty year old in 1922. He had been involved with the club prior to that, when, as a young boy, he would go up to the shed with his cousins Carl and Otto Ehms who rowed at the club from about 1905. There is a photo of the club members from 1911 which include some children and dogs. Quite possibly Otto is one of those children. He rowed with great success from 1922 until 1934 when he moved over to coaching. In 1937 he coached the winning St. Patrick's College Head of the Lake crew. He also coached Ballarat Grammar to a win in 1944.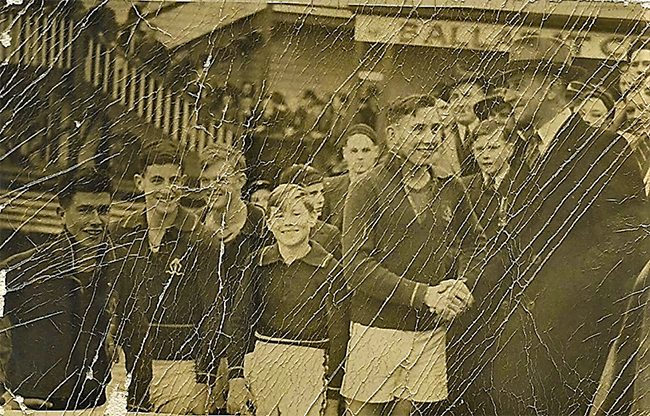 From right to left: Otto Hauser, coach winning 1944 Head of the Lake crew, Ballarat Grammar shaking hands with stroke of the crew on Ballarat City jetty.
He was awarded a Life membership of the club in 1950. Otto remained a familiar figure at the club right up until the early 1970's. He was also a vital contributor to the re collection of the club's history. Many of the early Annual Reports and memorabilia came from Otto's personal collection. When Otto married in the early 1920's he bought a house at 14 Lake Street which was only a block from the Lake and 5 minutes' walk from the Ballarat City boatshed. He lived in that house for over 60 years and given his proximity to the shed, the club became Otto's second home. When the shed burnt down in October 1950 Otto was devastated. He was one of the first on the scene and broke down when he saw the extent of the loss. He, along with Ted Edwards, Stan Wilton and Bob Lawrie picked up the pieces and began the long and arduous rebuild - a task that would have daunted a much younger man. When it was time to buy new boats for the fleet, Otto flew to Sydney to personally arrange the purchases from George Towns. The club still has the original brochures that Otto kept and handed onto the club.
During the 1920's Otto was stroke of many winning crews in lightweight fours, pairs and eights. He won through to junior level and raced at senior level. Back then there were not the regular almost weekly regattas and racing that existed in the 1970's -1990's. To attend a regatta in Melbourne or Geelong was a huge task. Otto remembered having to load boats on to a specially built hand trolley and wheel the boat down Webster Street to the railway station and load it on the train. At the other end in Melbourne the boat had to be taken off the train and carried across Princes Bridge to the Yarra. Otto continued to race in club races in the 1930's and became club Captain from 1933 to 1935. He continued serving on the committee from 1935 both as an ordinary member and later as Vice-president. In his 25 years as Vice-president he was attended nearly every committee meeting held. In some years this meant 16 or 17 meetings. In 1937 the club christened a new practice four the "Otto Hauser" in recognition of his contribution to the club.
In 1937 Otto also coached the winning Head of the Lake crew from St. Patrick's College. His crew not only won but set a course record which existed until 1944 when it was bettered by Ballarat Grammar who won that year. They were also coached by Otto! This second race record existed until the race distance was changed. The 1937 winning St. Pat's crew was one of only 3 wins that the school had between 1930 and 1990, the others being in 1955 and 1961. The long drought was broken by the 1990 crew that was stroked by Anthony Edwards who went on to become a Ballarat City member!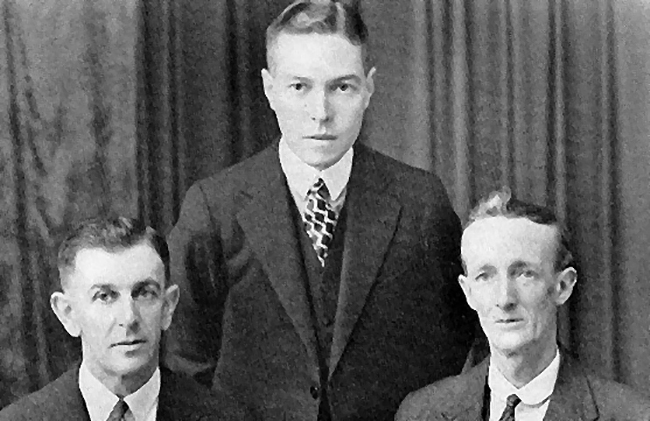 L-R: Otto Hauser, A.J.C.Desnoy, Acey Wilson of Ballarat City Rowing Club who coached St. Patrick's College First, Seconds, Thirds and Fourths crew to victory in Head of the Lake 1937
Otto worked at the Railway Workshops and was a very skilled carpenter and craftsman. He maintained and repaired boats for a period of over 40 years. When Danny Elliott started rowing in 1972 Otto was still attending weekly working bees in winter and doing the endless repairs that wooden boats and oars of the day required. Danny would often talk to him about the early days and learnt a lot of the club's history working alongside Otto.
In 1950 tragedy struck on Otto's birthday. The club that he had spent so many hours working for and all the boats and oars he had meticulously maintained were burnt down in the biggest fire that Ballarat had seen for many years. Over ninety thousand gallons of water were poured onto the blaze but to no avail. Everything was lost-building, boats, oars, tools, photographs, trophies and most importantly the minute books and records of the last 80 years.
In the Courier, Monday October 30th it was reported that with "…… tears welling in his eyes, a pyjama clad Otto Hauser turned and winced and sighed - I was a foundation member here and now look at it."
The President Mr. Frank Findlay said "One of our greatest losers will be Otto Hauser, who spent the greater part of his life at the club. It was his baby. He lived for it. His efforts in the past could not be estimated and certainly he will be a driving force in replacing the building."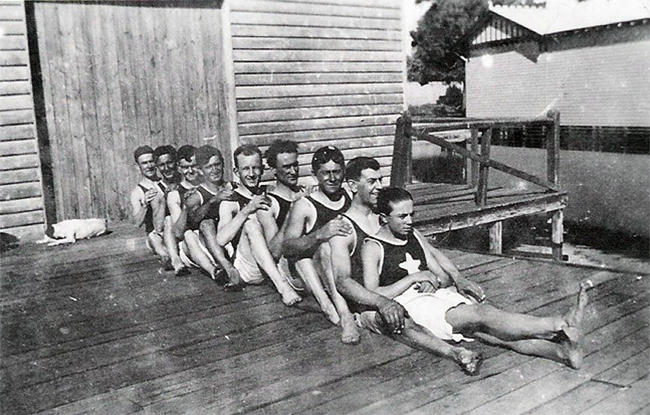 Shannon Cup, Maiden 8, Barwon Regatta 1924-25. Front to back. Cotter James (cox),Otto Hauser(stroke) Carl Ehms, H. Skilbeck, W. Mansfield, H. Gronn, G. Crompton, J. Woods, Tommy Stevens
Otto was indeed on the Building Committee charged with rebuilding the club. With much hard work and borrowed money the shed rose from the ashes in time to host crews for the 1956 Melbourne Olympic Games. Otto was also given the responsibility of replacing the boats and oars. So at age 54 never having been on a plane before, he flew to Sydney to order two new boats from George Towns.
Otto continued to be a regular at the club until the early seventies. He then became more active in bowls and went on to win many bowls Championships. He was still a regular attendee at Ballarat Regatta until he moved to the Queen Elizabeth Nursing Home in 1988. Albie McGuire, also a Life Member of the club used to regularly visit him and let me know when it was Otto's ninetieth birthday. The club bought a silver cup and had it engraved and I took it up to present it to Otto. While he had dementia, I like to think he recognised and appreciated the gesture. Otto had been custodian of the club through the Great Depression,WW2 and the fire of 1950 and he had kept the tradition alive just long enough to see his beloved club Ballarat City Rowing Club, have unprecedented success with wins at state, national and international level. He got to see the club be the most successful club in the state. It was something he had dreamed of in his coaching days and he got to see the club achieve this goal because he had kept the dream alive.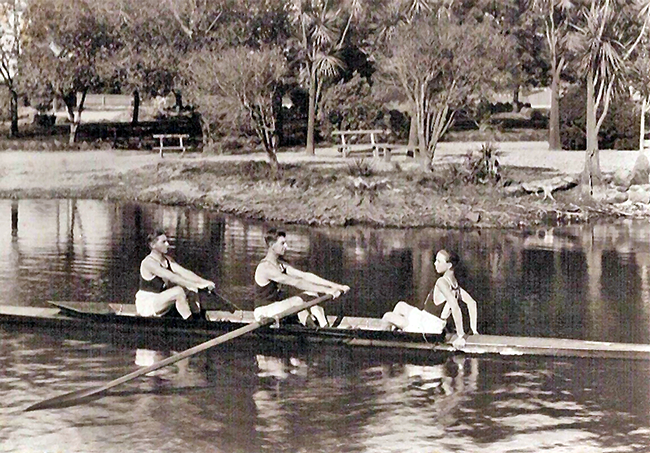 Maiden pairs, Albert Park Regatta 1924-25.Carl Ehms (bow), Otto Hauser (str), Cotter James (cox)
1922 - Maiden pairs Ballarat Regatta - Otto Hauser, H. Skilbeck –first regatta start
1922 - A. A. O'Dea club Scratch pairs - Otto Hauser, Len Johnson – first
1922 - Jack Walker club Trial fours - Otto Hauser, E. Lister, Alf Dixon, Tommy Stevens
1923 - Ballarat Regatta and Barwon Regattas, Lightweight fours - Otto Hauser, J. Stoddart, Frank Findlay, Len Johnson
1923 - Bairnsdale and Sale Regattas, Maiden fours double-J. Blakeley, H. Walker, Otto Hauser, B. Messenger
1924 - Albert Park Regatta, Maiden pair - Carl Ehms, Otto Hauser
1925 - Barwon Regatta, Shannon Cup for Maiden eight
1925 - VRA Regatta-Junior pair - Otto Hauser, H. Skilbeck
1925 - Colac Regatta-Junior pair - Otto Hauser, Carl Ehms
1926 - C. Marks and Co. club Scratch pairs - R. Budge, Otto Hauser
1927 - Footscray Regatta-Junior pair-Alf Dixon, Otto Hauser
1927 - Warrnambool Regatta - Junior four - J. Beattie, Frank Findlay, V. Thomas, Otto Hauser
1927 - Colac Regatta, Junior eight
1929 - Warrnambool Regatta-Junior four Robert Budge, A. Aley, Lew Zillies, Otto Hauser
1929 - Ballarat Regatta-Otto raced in a Senior eight. Although unsuccessful, this was the first senior eight for the club since the 1870's!
1933 Club Challenge pairs race-Otto Hauser, I. Hare
1933 - Pairs Championship of Victoria - Otto Hauser, I. Hare- fifth out of seven crews
1933 - Built workbench at new shed and with Ted Edwards repaired and revarnished all the boats
1934 Started coaching. Ballarat Regatta Maiden pair - F. Moon, Charlie Pennant, Warwick Ehms (cox)
1934 - Otto and Ted Edwards completed plastering of inside of upstairs in new boatshed
1935 - Coached club's winning Maiden eight at BRA Novice Regatta
1936 - Club Trial fours - G.Slattery, Alf Bannister, Otto Hauser, A. Hayes
1937 - Coach of St. Patrick's College, Head of the Lake, First crew
1937 - Club christened boat "The Otto Hauser"
1944 - Coach of winning Ballarat Grammar School Head of the Lake First crew
1947 - Elected as Vice President and is Vice-president continuously until 1973
1950 - Elected as Life Member. Boatshed burns down.
1972 - Last year as Vice-president
1973-74 - Annual Report President thanked Otto Hauser, Alf Bannister, Graeme Angow, Danny Elliott for undertaking repair and maintenance of boats for the season
1974-75 - Annual Report President thanked Otto Hauser, Alf Bannister, Graeme Angow, Danny Elliott for undertaking repair and maintenance of boats for the season.
1975-1985 - Otto attending Annual Meetings and usually Ballarat Regatta.
Kate Elliott
October 2021