John Y Harrison
Leichhardt Rowing Club (NSW)
1956 - Olympic Games - Men's Coxless Four bow - eliminated in semi final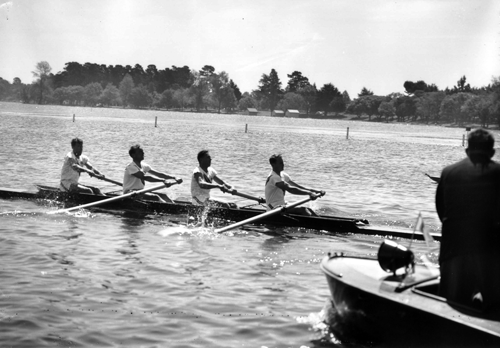 John was also 1948 Australian beach sprint champion and together with Prof Cotton and Ted Curtain designed early rowing ergometers. Robin Poke interviewed John in 2004 and wrote about John's endeavours. The following is an excerpt from his report:
Leichhardt oarsman Ted Curtain, a boilermaker and welder, had meanwhile asked John to inspect a rowing machine he was developing. Curtain's machine incorporated an oil-filled hydraulic loading device. Harrison's assessment was that it was useful for general exercise but could not adequately measure the power expended by a rower. He therefore devised a piece of equipment comprising an oar, sliding seat and foot stretcher attached to intricate machinery. The oar connected to a horizontal flywheel, and to scales that could be adjusted so that those using the equipment could be tested against their own weight. The machine also contained a spring at the end of the oar acting as a form of brake to which constant torque was applied. This reproduced the flexibility found in an oar. A вЂrev' counter and a stroke rate monitor were also incorporated into the machine. A rower's power output could now be measured. A further key facet of the new design was that separate stroke side and bow side machines were produced.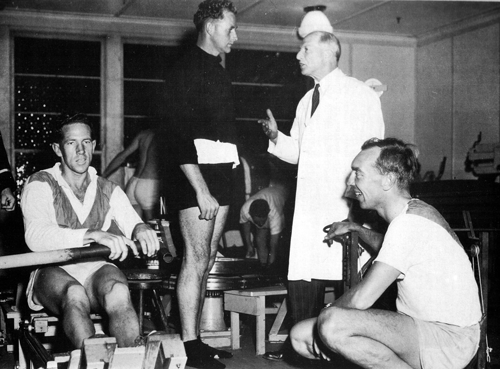 Those in the picture - Geoff Williamson, Ted Curtain, Prof Cotton and Peter Evatt
Harrison and Curtain began building the new machines, which were largely donated to Leichhardt but sold to other Sydney clubs, including Sydney University, Glebe and Haberfield. Given their size and the costs involved in building them, however, production was limited to approximately a dozen pairs.
The two machines acquired by the River and Rowing Museum [at Henley-on-Thames] were found at Nepean Rowing Club at Penrith, venue for the Sydney 2000 Olympic regatta, by noted Australian oar maker Howard Croker. They were lying on the grass, the club having decided it had no further use for them. But Croker knew better, and arranged their transportation to Henley.
Poke concluded in his report that: John Harrison has therefore made significant and diverse contributions, not only to Australian rowing but also to industry and the medical profession. There is little doubt, though, that it his ergometer, the forerunner to the Concept and Rowperfect machines used nowadays by countless thousands of rowers around the world, that is the most significant.
Steve Roll has added some further information:
At a health exhibition at the Sydney Town Hall in 1948 John tried himself out on Professor Frank Cotton's rowing machine and was told that he should come down to Leichhardt Rowing Club. He did this and became one of the Prof's "Guinea Pig" crew which won both the NSW Junior and Senior Fours championships but were narrowly defeated for the 1950 Empire Games by Haberfield.
In 1955 Peter Evatt and John decided to have a crack at the 1956 Olympic trials for coxed pairs but they didn't have a boat.
John had a degree from Sydney University in Electrical and Mechanical Engineering so he designed and built a boat which had no nails, it was entirely glued together.
Peter found Ampol Petroleum willing to sponsor the crew (I think, but I don't know, that maybe Doug Donohoe from Sydney RC had something to do with this) so John found premises in Newtown and commenced building the boat himself. He had no previous experience in boat building although he had designed and built a very substantial bridge across the creek near his property on Halls Creek road east of Manilla in northern NSW. He also built a large concrete tank way above the homestead so that he could pump water from the creek to the tank to supply running water for the property.
Unfortunately John developed boils shortly before the test race and was replaced by Peter Waddington. It was after their defeat in the test race for coxed pairs that the Leichhardt coxless four came together and competed at the Olympics. [AG: There was no coxless four race at the Olympic trials so the option of adding this crew came after other boats had been settled.]
After the Prof died John re-designed the Prof's ergometer (as it had become known) and Ted Curtain built them at his factory in Padstow.
Andrew Guerin, Steve Roll and Robin Poke, Jan 2018