Paul Harding
Mercantile Rowing Club (VIC)
20 December 1931 – 20 June 2018
Paul Harding was one of the Club's lightweight champions of the very early 1960s. He died in June 2018 after a long illness and was buried in his Mercs blazer in a beautiful country setting. His family noted that "Paul never stopped talking about his days at Mercantile and rowing. It was the highlight of his life."
Above: Christening of the Tub Pair the "Paul Harding" in 1961
Left to right: Master G Thursfield, Mrs J G H Sprigg, Mrs Harding, R W Thursfield, Dr R A Cooper, D J R Morgan, P Harding
Paul commenced his rowing at Mercs in 1955 and he maintained his connection throughout his life from an active and successful young oarsman, to a masters rower, to a club administrator and active participant at Club functions, particularly attending Sunday barrels until later in life. He was introduced to the Club by fellow club member Garth Manton.
Paul's first race was in the stroke seat of a novice four in October 1955 at the novice regatta. He raced in novice , maiden and lightweight races throughout the season, albeit, without success.
It did not take long for his administrative abilities to shine through with Paul being appointed Assistant Secretary in January 1957 after the resignation of W J Pell. The annual report also notes how he along with Deane Morgan and Garth Manton organised regular barbecues and dances during the year.
1956-57 season. Paul started this season with great success stroking wins in novice pairs and fours in the winter regattas followed by stroking a winning novice eight at the novice regatta in September. He then moved to stroking various maiden crews for the main part of the season. His first lightweight win came in a four at the Christmas Nagambie Regatta. And his first Club regatta win came in the Harlequin Time Trial in crew stroked by Ron Richardson and also including Hubert Frederico.
As an aside, Rosemary Richardson recalls Paul as one of Ron Richardson's close friends. Paul addressed Thrasher as "Dad" and so in return he was called "Son". Paul loved the Club and lightweight rowing. Thrasher and Rosemary Richardson enjoyed happy holidays with Paul and Verna Harding.
1957-58 season. Paul was elected to the Committee of the Club for this season and continued his progression through the Club ranks with his first appearance at the Victorian Championships in an unsuccessful lightweight four. However he stroked successful maiden eights at VRA and Upper Yarra regattas, maiden fours at Ballarat, Barwon and Henley and lightweight fours at Albert Park, Footscray. It was a good season for Paul.
1958-59 season. Paul was again elected to the Committee and won his first Victorian Championships in the junior fours. Paul also stroked a lightweight four for the test race for Victorian selection but was unsuccessful. Paul stroked winning junior eights at VRA, Upper Yarra, Barwon, Henley, Mildura, Wentworth and Scotch Mercantile regatta as well as a lightweight four win at Albert Park. Winning was becoming a habit for Paul.
1958 winning junior eight stroked by Paul
1959-60 season. Paul's progression through both the rowing and administrative ranks continued. He was elected Vice-Captain and he won his second Victorian Championship, this time in the lightweight four and his crew was selected to represent Victoria at the Interstate Championships. During the season Paul stroked various winning junior and lightweight fours. This was the height of Paul's career this season with consistent winning crews and a Victorian blazer.
Above: Paul Harding as stroke of the 1960 Victorian Lightweight Four
Whilst Paul continued on the Committee for the 1960-61 and part way through the 1961-62 season, he did not race again with any seriousness. For example he raced at the Easter Regattas in 1961. He was transferred by his employer Myer Emporium to Hobart at that time and so his rowing at Mercantile ceased.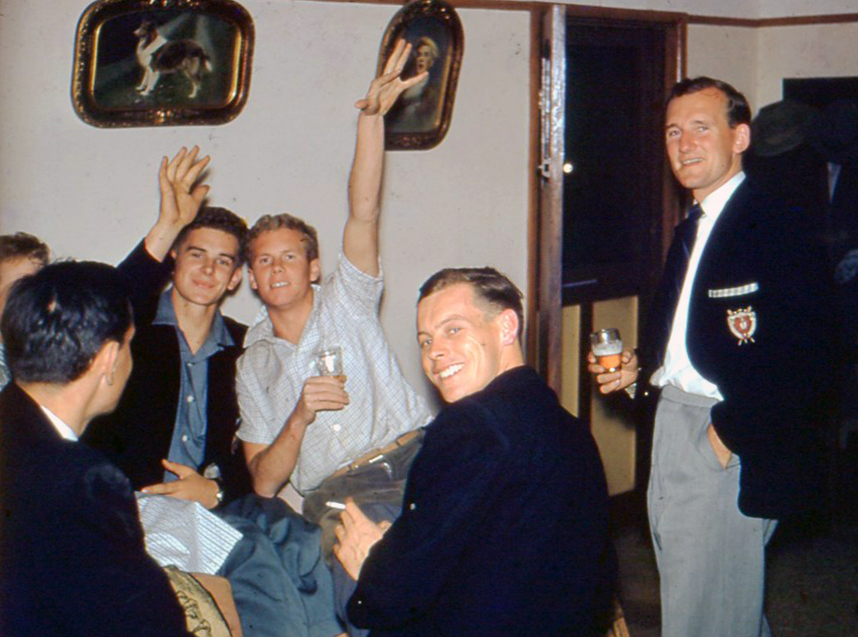 Above: Paul centre front in a lighter moment at country regattas with Dave Oliver
Paul continued his strong involvement with the club throughout his life as a masters rower and as a member who just enjoyed the company of other members and the Sunday Barrel. He was a member who always assisted in his own way at times of need. For example, where the new front of the shed was built in 1969, he donated the curtains. He was one of our great club members.
Andrew Guerin
September 2018