Rasmus R Hansen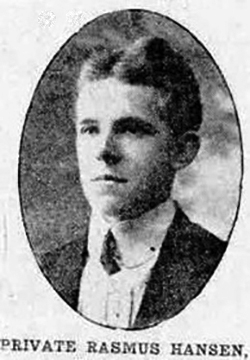 Ballarat City Rowing Club (VIC)
RASMUS ROBINSON HANSEN
Rasmus (Ras) was born in 1889 in Clifton Hill. He was the eldest son of Christian and Sarah Hansen. His grandfather was also Rasmus Hansen who came to Australia from Denmark in 1859. His grandfather died in 1909. He was a well-known pioneer of Bendigo. Rasmus completed his education at St.Mary's College Bendigo winning an award in third grade class for "neat exercise and drawing" so he obviously had an artistic streak. Rasmus also worked in Bendigo when he left school. He was employed at Myers department store for a time and was well known member of the Bendigo Harriers. His mother Sarah died in 1912 and it seems the family then left Bendigo. He then moved to Sydney and was employed by Farmer's Department Store. In August 1913 he applied for a position as head window dresser at Snow's Drapery Store in Ballarat. He was successful obtaining the position from the 20 applicants. His salary was to be 300 pounds per annum! After moving to Ballarat he lost no time in becoming involved in sporting activities joining both Ballarat Central Cricket Club and Ballarat City Rowing Club. In October 1913 he was listed in the club fours where 13 crews were set to battle for club honours. He was racing with C. Williams, Alan Scott and Arthur King. This entire crew would enlist in 1914 and Ras and Alan would both be killed in action.
Ras enlisted on the 4/12/1914, aged 25, in Ballarat and embarked on the 4/4/1915. According to his war record his father Christian who was living in Church Street, Richmond at this time, was unaware of where and when Ras had enlisted. He was listed as next of kin and so when Ras was killed he sent a poignant letter requesting information as to when and where his son had enlisted.
Ras was killed in action 7 August 1915 during the attack on the Turkish trenches at The Nek. Having only arrived on Gallipoli two days earlier, Private Hansen was a stretcher bearer in Monash Gully when he emerged from a shelter into the full blast of an exploding shell. He died instantaneously from shrapnel wounds to his neck and head.
Staff Sergeant John Walker, also a Ballarat City man who would have known Ras, wrote to his father J.T. Walker about his arrival on Gallipoli :"…….. I was very sorry to hear of Ras' death, as were all who knew him, he being one of the finest fellows about. He was killed doing his best to help a wounded mate - just what one would expect of him……..he died gloriously in an endeavour to save his mate's life - a hero's death."
His brother Leslie Hansen also enlisted as a sailor in WW 1 and was a member of the crew of the H.M.A.S. Australia. Les Hansen was also a promising boxer in Bendigo and won several contests there.
Ras is listed on the Arch of Victory and also commemorated by Tree No. 2042 on the Ballarat Avenue of Honour.
Lest we forget.
Kate Elliott
September 2021