Ray Hammon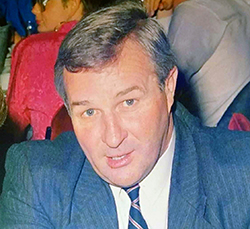 Ray was a great servant of the sport through sound administration, clear thinking and passion for rowing. He was respected by all parts of the sport.
Ray hailed from the Essendon Rowing Club, joining in 1964 and by 1971, was a mainstay of their administration. He held almost all administrative roles including a term as President. He oversaw significant changes to the Club setting it up as both a rowing and community Club. This enabled it to have a sound financial basis. His work at Essendon was acknowledged with a life membership in 1985.
It was natural that his talents would be sought out by Rowing Victoria and later Rowing Australia.
In 1976, he was elected to the Executive Committee of Rowing Victoria, initially for a two-year term. At this time he also served with distinction as an umpire both at the Victorian and Australian levels.
He returned to Victorian Executive Committee duties in 1990 and was the Councillor for Victoria on Rowing Australia.
But his Rowing Victoria duties were short lived as Rowing Australia urgently required his services. In 1991, he was appointed Director of Finance for Rowing Australia at a difficult time for that organisation. He undertook those duties with great acclaim for a three-year term.
Throughout his rowing administration days, he could always be relied upon for good and practical advice. He was a great enthusiast who loved both the sport and his Club.
He died on 8th March 2020.
Andrew Guerin
March 2020