Dr Allan G Hahn ASM OAM
Australian Institute of Sport (ACT)
Allan is a leading Australian-sports scientist who was a key player in the development of rowing. he joined the Australian Institute of Sport in 1984 and worked closely with rowing, demonstrating the value of sports science.
At this time, the rowing Head Coach was Reinhold Batschi who knew the value in such work in keeping rowing at the leading edge of elite performance. he worked closely with rowing's coaches to produce some outstanding work. He is revered within the sport of rowing.
A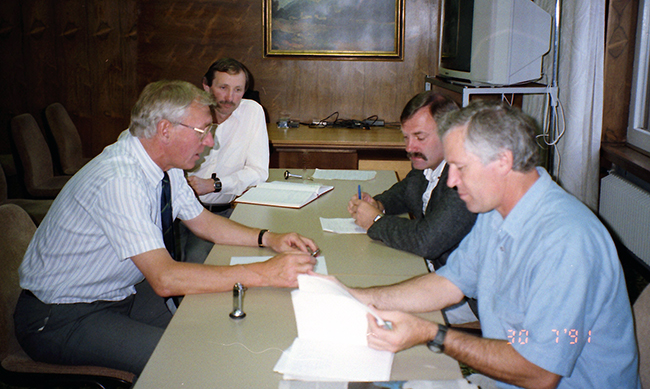 Allan with rowing coaches assessing altitude training results in Switzerland 1991
Thor Neilsen front left, Bob Bleakley front right and Brian Richardson back right
The following article appeared in The Bulletin on 29th October 2003 highlighting Allan at the head of their list of the smartest, most creative and innovative people in Australia and how they have changed the world. Sadly the author is unknown. His work with rowing is highlighted as is his work in wearable technolodgies which is now so commonplace.
Champion team beats a team of champions
The captain of the physiology department of the Australian Institute of Sport has led by example, and that's helped us maintain our winning edge.
Anyone who has been around sport long enough to have it characterised as more than a passing acquaintance knows the value of teamwork. Quite simply, if you work as a team, you cover more ground and in science the ability to aggregate and assess information collectively is a crucial part of gaining insight and understanding in the physiology department of the Australian Institute of Sport, they're big on teamwork - whether it be studying lactic acid tolerance, how physiological capacities compare in the laboratory and in the field, or establishing a new procedure that helps detect erythropoietin (EPO) abuse in athletics.
The30 or so staff who work there enjoy the benefits of the collegiate approach but, should they encounter a problem, should research efforts enter a scientific cul-de-sac or suffer a bureaucratic buffeting, there is one person they turn to, one person who is- in that term beloved by sporting commentators everywhere - the "go to" man.
Professor Alan Hahn is there for the coach and he's there for the athlete - and he's certainly there for his staff, who would "follow him anywhere', according to one of them. Most of all he's just there, so often, in fact, that his staff and his family had to prevail upon him recently to take holidays.
But when you dealing with a preeminent sports scientist who has built up an achievement-studded CV only slightly thinner than the average regional telephone directory, leisure time is always going to be notional. Hahn quite simply is one of the key reasons Australia has maintained its edge in sports science, overseeing breakthroughs in altitude training, setting up talent identification programs aand stablishing, in conjunction with several universities around Australia, a sports based PhD program that was initially intended to have four students but already boats nine.
It all started quietly enough. As a boy, Hahn played Aussie rules and later took up cycling and cross country running. A diploma in physical education seemed a natural choice, followed by a couple of years as a physical education teacher.
However, a clue to his future direction was provided by the title of his bachelor honours thesis when he passed his bachelor of phys­ical education degree in 1977. "The relative merits of two different exercise programs in the treatment of hypertension" sug­gested mental that, beyond sport, Hahn's funda­mental interest lay in understanding how the body worked. In one way or another, he has been tinkering and tweaking ever since and, at the AIS, he has the perfect environment in which to do so.
Although professionally engaged with the full panoply of sports catered for by the AIS set up, it is his involvement with rowing that has probably provided him with his greatest personal satisfaction. In his early institute days, he became involved with a talent identification program and was allocated rowing by Dick Telford, who was then his boss. The program began in 1987, "got serious in a big way" the following year and eventually culminated Olympics in gold medal success at the Atlanta Olympics in 1996 for the success women's coxless pair of Megan Still and kate Slatter. The fact that the winning boat was named the "Allan Hahn" really says it all.
What is currently exciting Hahn is the establishment of the Co-operative Research Centre for of the Microtechnology - an initiative he has driven - which will allow sports scientists to move the assessment of athletes from the lab out into the field, thanks to advances in "wearable technologies". "We have the advantage at the AIS of working with top-level coaches who will tell us exactly what they need to achieve", he says, conceding that it may be an advantage that does not last long.
Yet "the edge" is always shifting in sport, and in science you need to keep experimenting to keep building knowledge, to keep tinkering. Hahn is used to that and nominates persistence as his best attribute. "I like to try and see something through. Often getting something done is about just sticking at it - especially in science".
When it comes to sticking at it, Hahn has no peer. And you hope, for his family's sake at least, that the forests around Canberra regenerate quickly so they can get him away from work and out doing some of the bushwalking that he says he likes doing. Occasionally.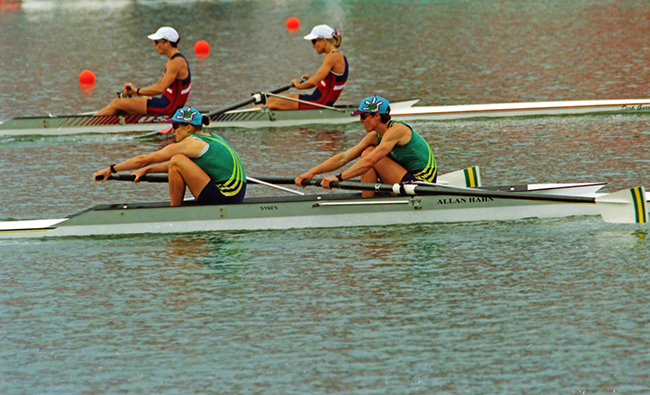 Kate Slatter and Megan Still power to victory at the 1996 Atlanta Games in the Allan Hahn
Allan retired from the AIS in 2011 and was appointed it's Emeritus Professor in the same year. He is not idle. His Wikipedia entry records that:
In 2011, he was appointed to part-time positions as Research Leader for Coaching at the Queensland Academy of Sport, Professorial Fellow at the University of Canberra and Professor of Sport Partnerships, Institute of Sport, Exercise and Living, Victoria University. In 2012, he became an honorary Adjunct Professor at Griffith University.
Andrew Guerin
January 2023