F A Stanley Guinn
Mercantile Rowing Club (VIC)
Stanley Guinn joined Mercantile Rowing Club in 1903, and it is interesting to recall he shortly afterwards introduced that great man of rowing, the late Archie Dobbie, to the Club.
Stan was a successful oarsman and among his victories was a Maiden eight at Henley 1905, junior four Henley 1907, junior eight Hen­ley 1908 and he then graduated to a Senior oarsman. He appears to have raced up 1913.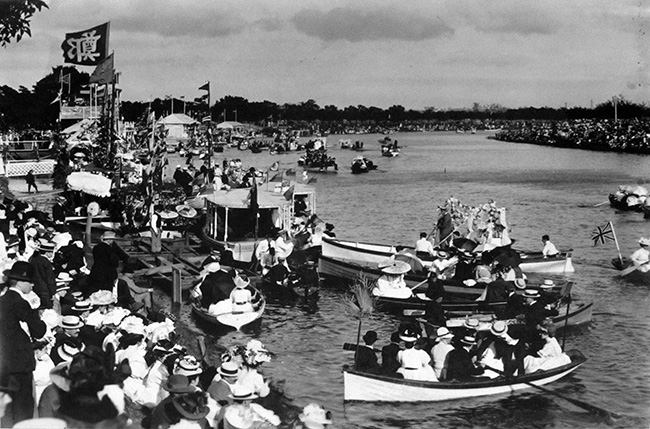 Above: Henley on Yarra in 1907
On the administrative side of the Club he proved a capable treasurer between 1908 and 1914.
He enlisted on 20 Aug 1914 at the age of 30 and went overseas with "Pompey" Elliott's 7th (Sportsmen's) Battalion. He rose through the ranks very quickly. Promoted to driver 5 Sept 1914, Sergeant on 1st January 1915, Staff Sergeant 1st May 1915, second Lieutenant 20 Feb 1916, Lieutenant 1st June 1918 and then Captain 22 November 1917.
He landed at Anzac on 25th April, 1915, and afterwards acquired Commissioned rank.
He was a gallant soldier and highly regarded by all who served under him.
He was twice mentioned in Sir Douglas Haig's Despatches of both 7th November 1917 and 8 November 1918 for gallant and distinguished services and devotion to duty.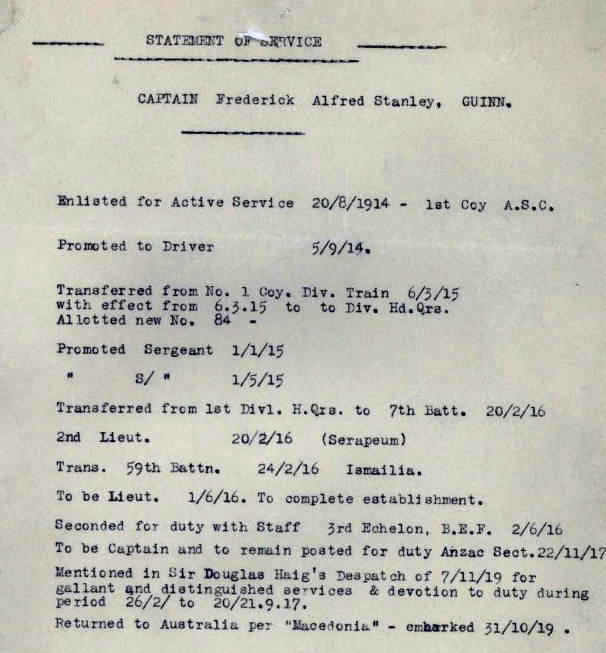 Above: His Statement of Service
For many years he enjoyed weekend rowing and was a regular at­tendant at all Club and social functions. Maintaining a close interest in the Club during his long membership, he, for many years generously donated trophies for the Guinn Pairs.
The obituary in the 1960-61 annual report noted that "Failing health during recent years made it difficult for him to visit the Club to which he had given so much, and had such happy associations."
Andrew Guerin (based on his obituary in the annual report)
October 2018