W M Greenland
Melbourne Rowing Club (VIC)
1873 – Intercolonial Men's Four Championship cox – First
Greenland coxed the crew and was most likely a relative of the Melbourne boatbuilder W T Greenland.
This 1873 crew recorded Victoria's first win in an intercolonial race. It includes some of the pioneers of our sport. The crew is also of interest as it was the first representative crew from several clubs. It was known as the Melbourne crew.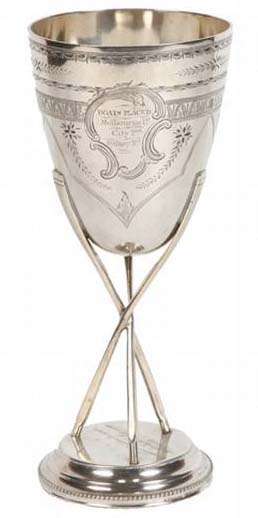 1873 Trophy
John Lang, in his book the Victorian Oarsman in 1919, recorded the importance of the race as follows: Victoria secured the first win with a non-club four (Melbourne, Melbourne University and Warehousemen). The other crews in the race were club crews, comprising two from Ballarat, a Sydney Rowing Club crew, and crews from Hobart Town and Geelong. The race was rowed over about four miles on the Lower Yarra - time, 25 min. 30 sec. This race is generally recognised as the first "official" Intercolonial match.
Andrew Guerin