Richard Green
NSW
1863 - Australia's First Professional Sculling Champion - def. Jim Candlish for a ₤400 stake.
1863 - World Professional Sculling Championship - def. by Robert Chambers (UK) in London.
Professional sculling and rowing in Australia were well established with the first professional rowing race reported as being in 1805. These were challenge races between Sydney watermen and crews from visiting ships. The Collector of Customs, Captain John Piper, had a good crew and challenged crews from three merchant vessels for the huge stake of 200 guineas.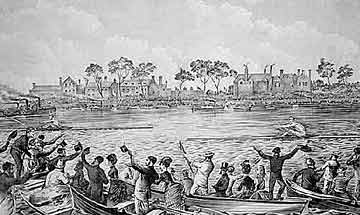 Regattas commenced by 1827 but professional sculling in the form which created World Champions did not commence until about 1850. A strong field of great scullers was created including Dick Green, John McGrath, Michael Rush, Elias Laycock and Edward Trickett.
Richard Green came from a boatbuilding family and, as chance would have it, the Green and Trickett properties were adjacent to each other in George Street, Greenwich in Sydney.
The Green's boats were moored with the boats used by the Tricketts in their quarrying business. When Ned Trickett was in his early teens, Green had made a name for himself in professional sculling both in Australia and in the UK.
Gordon Trickett in his book Ned Trickett Champion Sculler of the World concludes that:
"It was probably Dick Green, more than anyone else, who encouraged these three Trickett boys in their competitive rowing, and helped them develop their skills that would stand by them over the years to come. Ned's expertise and strength were clearly evident quite early to Dick Green who quietly and thoroughly coached him through the grind of skilful rowing."
The Sydney Morning Herald on 9th March 1950 on page 10 reports on his grandson but contains information on Richard Green:
FIFTEEN-YEAR-OLD Barry Green who will row in the State lightweight single sculls championship on the Nepean River on Saturday is the fourth generation of a family of great scullers.
Barry Green's great grand- father was Richard Green who is said to have paid ВЈ10 for the moulds of the first outrigger brought to Australia by James Edwards, of England, in 1855.
Richard Green won his first professional race in Australia that year and it was worth ВЈ125.
In 1858 Richard Green beat James Candlish in the first championship race rowed on the Parramatta River course.
Green paid several visits to England and won the championship regatta in 1863. [Editor: this is incorrect] There is a record of him beating all comers up to 1874.
Barry Green's grandfather, Richard, was not big enough to be a champion, but he won a lot of important sculling races.
His uncles Richard and Harry were both amateur champions of Australia. Another uncle Bob won a lot of important professional races.
Barry's father. Gus Green, was also a good sculler. Today he a one of the leading builders of racing shells in Australia.
On Saturday Barry will race in open company for the first time.
Steve Roll and Andrew Guerin - Feb 2018