Warwick Granowski
Mercantile Rowing Club (VIC)
8 October 1930 – 3 February 2007
1951 – Interstate Men's Eight Championship six seat – Second
1952 – Interstate Men's Eight Championship four seat – First
1953 – Interstate Men's Eight Championship four seat – First
1954 – Interstate Men's Eight Championship four seat – First
1955 – Interstate Men's Eight Championship four seat – Second
1954 winning King's Cup crew with Warwick standing back right
This article has been extracted from the notes prepared and used by John S Rowe when he delivered his Eulogy at the Funeral Service for Wizzer on Monday 12 February 2007 at The Anglican Parish of St John's, Toorak, supported by several hundred people.
A terrific example of an 'Elite Oarsman' who continued his work for, and supported Mercantile Rowing Club (in Dollars) for decades after his elite rowing years (1951 – 1955) were over.
Who can forget his warm welcoming smile when you met him? He was a stubborn, determined, shy, humble, gentle, inventive, strong, competitive, gregarious, perceptive, intelligent and generous man – although different elements could dominate on a given day especially his unique sense of humour. A born prankster.
He was a keeper of friends. In the 1940's Melbourne Grammar may have produced Barry Humphries, but Scotch College produced Warwick Granowski at the same time.
Almost constantly he had us all laughing and admiring his ingenuity, except perhaps those he embarrassed. It is on good authority that this aspect of his life began very early, "Wizzer", emerged when it became apparent his behaviour had distinct similarities to the comic strip character of that era, Wizzer – red hair, glasses, and an outrageous behaviour. Many of us have enjoyed those lively dinner parties at Julia and Warwick's – Wizzer did.
In the early years, after Sunday morning rowing, many of us had the opportunity to spend numerous Sunday afternoons at the Granowski home in Kooyong – a truly hospitable family. His sisters Pam and Judy were great hosts and companions for those tired rowers (and Mrs Granowski was always in proximity – in the kitchen). Wizzer, as usual, managed to provide the entertainment.
He made it quite clear last year that his racing years (1950 to 1955) at Mercantile Rowing Club were just the best. The luck of life found about ten us from various 1949 school crews joining the club in 1950 or soon after. For the next few years we enjoyed success far beyond our expectations. Warwick rowed in the 4 seat at Scotch College in 1949.
Warwick was a true champion.
He then rowed in Mercantile crews that won numerous State Championships, a Founders Cup (1950), four Grand Challenge Cups (1951-1954) and a Stewards Challenge (1954) at the Australian Henley Regatta. He was in five Victorian Kings Cup crews, winning in 1952-3-4 and second in 1951 and 1955. He was a quiet champion, humble in his own achievements. Adrian Monger telephoned from Perth on 12 February to remind us that Wizzer was a World Record Holder – winning the 1954 three mile Kings Cup Race in 14 minutes 14 seconds which stands unchallenged as the distance was changed to 2,000 metres. John Rowe calls Wizzer his lucky penny – John never lost a race when Wizzer was in the boat.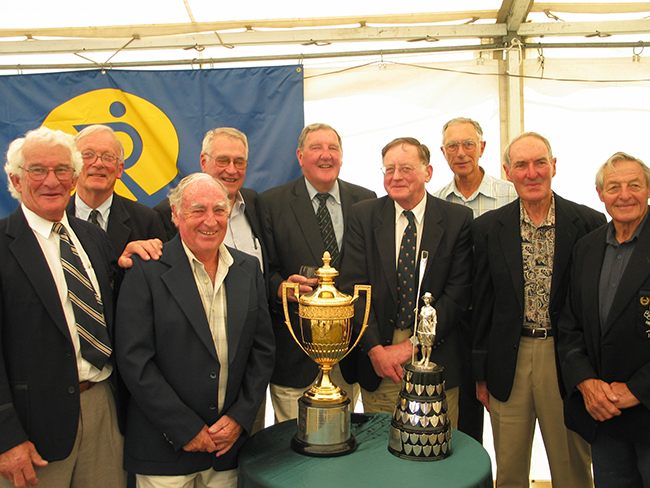 Above: 50 year reunion of his 1954 Victorian crew -Wizzer fourth from left
His interest in rowing and in Mercantile in particular was always strongly maintained.
He was also a great supporter of the annual Australian Henley Regatta, having had a string of good wins as listed earlier and he helped with the equipment and its preparation and also stored it at his engineering works, Warwick was a Vice President of Australian Henley at the time of his death.
Following the 1970 destruction of the Mercantile Boathouse by fire, Wizzer provided the fabricated steel for the new structure.
Throughout his life he was dedicated to the family engineering business through thick and thin. He took over the business following the death of his father when he was quite young. His skills and inventiveness gained him a wide reputation in Australia and overseas. He showed his determination in a very tough industry. In his earlier days he would use the factory to further his hobbies – inventing new gadgets, guns, car modifications, etc.
One day he arrived at the boathouse saying he had jacked up a small car and was working underneath – it fell on him. Without going into detail he extracted himself over some time. It was a Sunday, so it may have been some time before he would have been found. No mention was made of his injuries.
Looking back, Warwick was fundamental in the crew chemistry. He helped make our motto, "NO PRIZES for 2nd PLACE", a reality.
We cannot conclude this expose without mentioning just a few of the hundreds of stories about him. There are dozens of stories of his use of firecrackers or double bangers as they were called. At times his jokes appeared quite dangerous – but he actually was careful to avoid hurting anyone. Of these six stories, most are Wizzer acting alone, but sometimes with assistants. Some of those involved will be escorting Wizzer from the Church today!
The Rooster 1954 Kings Cup – Hobart. The crew was housed in the new partly finished Hotel Beltana. A rooster had woken our No. 2 man very early each morning and we had complaints from him at every breakfast. At the breakfast the morning after the celebratory dinner a messenger arrived at the head of the table and presented a large box tied with a ribbon to the No. 2 man. He opened the box and out flew the rooster – breakfast became a shambles – Wizzer at work. The No. 2 man was Lloyd Williams, a long time Mercantilian, who some year's later married Warwick's sister Pam.
Flash or gun powder. This was a standard stand-by weapon – ash trays at parties and restaurants would explode (minor ones though) as guests stubbed out their cigarettes. Wizzer would be close by with his trademark grin.
The bullet at Granowski's. A bullet ricocheted through the kitchen floor into the ceiling just missing Mrs Granowski. Yes, Warwick was testing out one of his latest handmade guns under the house. When firing into sand and dirt an unknown rock ricocheted the bullet. One of Wizzers rare accidents.
Golf Club at Lindisfarne, Tasmania. A post race party – cold night – roaring fire- many close knit couples dancing- the fire explodes (moderate but frightening) = a shambles ensues – YES – Wizzer on roof hand dropped one of his special little bombs down the chimney.
Bed on fire –Beltana Hotel – four in one bedroom – Granowski, Manton, Doyle and Rowe – three single beds and one double. Wizzer not happy that Rowe had the double bed but they were all sick of him complaining about being cold. So, to warm him up, lighter fluid sprinkled over blanket and set alight – Rowe awakes with Manton and Doyle dousing the flames – Wizzer supervising with that big grin.
The Steam Train –At the old Glenelg train terminus (Adelaide) no longer a service- The steam train is ready to return to Adelaide. Driver and Fireman relaxing nearby. Wizzer leads two assistants on board – with his mechanical knowledge he hi-jacks the train. The speed was slow, so the driver and foreman caught up and mutually the escapade was concluded.
The "Wizzer" element in Warwick was just a cover for a man with many talents and a dedication to his wife and family, his business and his many other interests and his many friends – ONE OF NATURES GENTLEMEN.
Warwick's Pall Bearers were all elite and champion oarsmen of the 50's who all rowed with him and some against him and all were his friends – he was carried out of the Church by C. Brian. Dawes, Brian. J. Doyle, P. Neil Everist, John P. Hall, Garth O.V. Manton, and W. Ian Wilson. Thanks to the organisation of the Rev. Helen Granowski, we filed out to the Organists rendition G & S music of "I am a Pirate King".
John Rowe 2007