Ron H Graetz
(1920-Feb 2017)
Murray Bridge Rowing Club (SA)
1946 - Interstate Championships Men's Eight four seat - Fifth
1947 - Interstate Championships Men's Eight stroke - Fourth
Life member Murray Bridge Rowing Club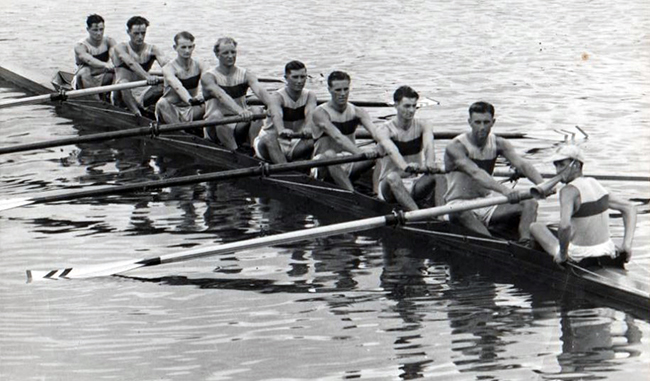 1946 Murray Bridge winning SA Championship crew
South Australian Ron had a lifetime association with the Murray Bridge Rowing Club. He was the son of Eph Graetz, a member of the famous "Cods " eight that represented Australia in the 1924 Paris Olympics. He was introduced to the Rowing Club by his parents at a very early age.
Ron was a great rower in his own right, representing South Australia in the King's Cup on several occasions. He stroked the SA King's Cup eight in 1947, and this was an achievement that he remembered with pride.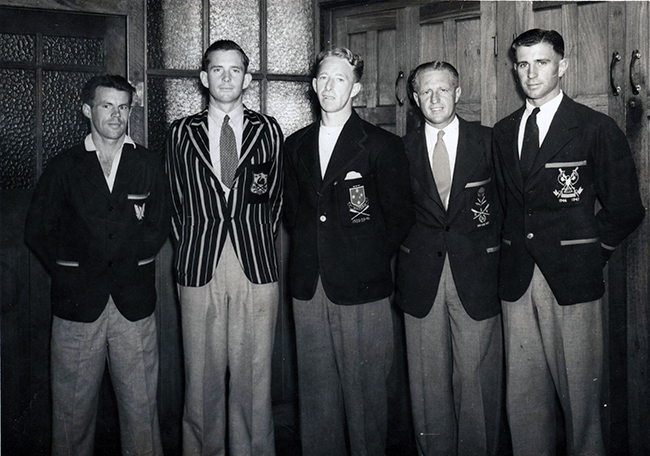 Ron Graetz on the right with the strokes of the other interstate crews in 1947
Ron was a significant contributor to the "Cods" documentary "Paris or the Bush". Despite failing health he attended the world premiere of the documentary in 2016 as a special guest.
Andrew Guerin and Chris McRae
April 2020