Conor Grace
Mercantile Rowing Club (VIC) then Melbourne University Boat Club (VIC)
Conor learned how to row at St Kevins College where he raced in Paul McGann's 1st Eight crew in 2011.
He joined Mercs the next year taking part in the Victorian Youth Cup.
But it was in 2013 that he excelled in the Under 21 Australian Trans-Tasman which won the Rusty Robertson trophy. He competed in the lightweight double and winning quad scull, with Luke Letcher and Wilson Mure which beat New Zealand and did very well in the single.
2014 saw Conor make the Australian Boat Race Eight and final of the under 23 single at the Nationals but 2015 was unfortunately marred with injury.
So, 2015-16 is the big season and the first in the senior ranks. Highlights already include: winning the LM4- at the Australian University Games, making the Australian Boat Race eight for the second year and the Mercs B eight smashing the record at the Head of the Yarra by 88 seconds. He is now looking forward to the Lightweight four and eight at the Nationals on top of sculling.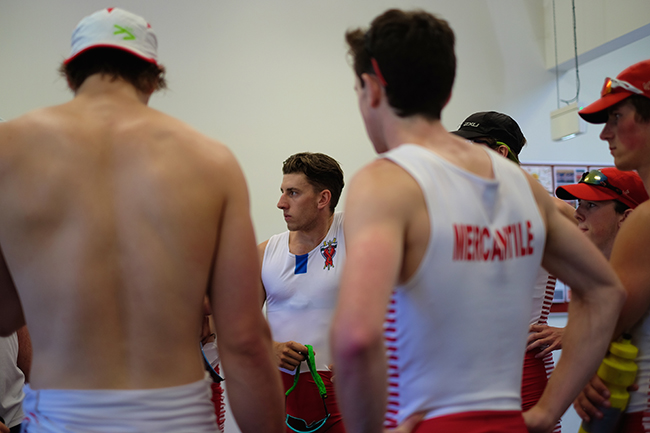 Record breaking Mercs B crew receiving final instructions before the race - Conor in the middle
Why rowing? The people, the discipline, waking with the City in Melbourne every morning and travelling.
Andrew Guerin Jan 2016