J A (Jack) Goulding
Sydney Rowing Club (NSW)
The following was extracted from the Sydney Rowing Club annual report of the 1956-57 season.
HONOUR BLAZER
This year the recommendation for the Honour Blazer was voted in favour of our old friend and Club man, Jack Goulding.
This was not only a very popular choice indeed but apart from this was a well-deserved honour. Jack's record goes back many years and we set out a few highlights of his amazing career in sculling, rowing and coaching.
Jack joined the Club at the age of 16 during the 1923-4 season. He won his first sculling race at the St. Ignatius' Regatta in 1925 by beating the New Zealand champion, Jerry St. Clair. In 1926 he rep­resented N.S.W. in the President's Cup held that year in Brisbane. At this period Jack mixed sculling with rowing winning the State Sculling title in 1930 and a few years later stroked the State winn­ing Champion Eight in record time-a record that was only beaten recently on a river that was in flood conditions. Friends of Jack will remember his two wins in the "grand" at the Henley-on-Yarra Re­gatta at this period. He raced Bobby Pearce innumerable times and was the one sculler who made Bobby Pearce look to his laurels.
Jack came second to Bobby Pearce in the Olympic trials for 1928, his name was also submitted for the 1932 Games. Unfortun­ately, owing to illness, he was forced to withdraw.
Jack started coaching immediately prior to the last war and on returning from hostilities he took up coaching again having great success with Sydney crews and was the coach for the N.S.W. King's Cup crew during the 1954 and 1955 seasons.
Jack has helped with the coaching of Gordon Lawson for the past few seasons, plus helping out with Sydney Grammar School.
It will be seen from the above that Jack is still actively engaged in rowing matters, but apart from his amazing rowing record he is a firm supporter of the Sydney Rowing Club through all its vicissi­tudes.
Editor's note - the above extract noted the esteem in which the great Bobby Pearce held for Jack Goulding. The image below is a note written to Jack's son Jim by Pearce which illustrates this esteeem.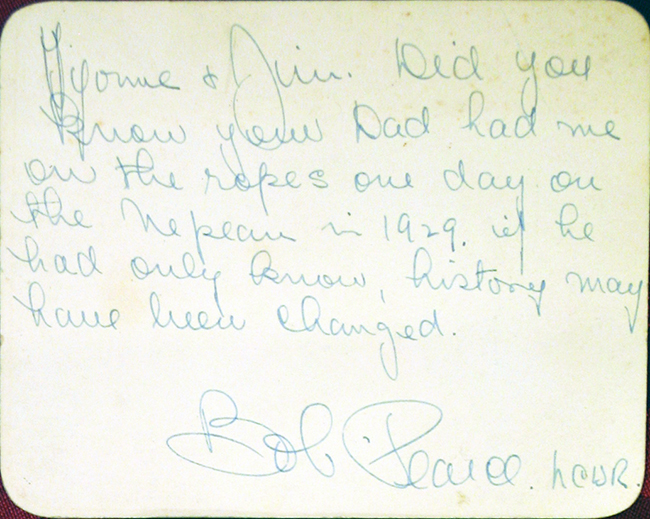 1926 – Interstate Men's Sculling Championships – Second
1930-1 – Australian Henley sculling champion.
1954 – Interstate Men's Eight Championship coach - Second
1954 – Interstate Men's Coxed Pair Championship coach - First
1955 – Interstate Men's Coxed Pair Championship coach - Second
1955 – Interstate Men's Eight Championship coach - Third
Jack always raced in the shadow of the great Bobby Pearce and in 1929 nearly defeated him over three miles. It was often stated that Pearce was vulnerable over 15 mile or one mile but impossible to defeat over 3 miles. They maintained a great friendship. It was stated in the press at the time that Goulding should have been sent to the Olympic Games in Los Angeles either as a partner for Pearce in the double scull or as a reserve for Pearce. Bad health in 1929-30 season left him out of the interstate championships and his place was taken by Haberfield's J R Scott who won the Interstate Sculling Championship. During his career, he not only had to deal with Pearce and Scott, but also Herbert Turner, Tipping of Nepean and the Drummoyne scullers Max and Jack Fisher. It would have been a great era of scullers.
Jack Goulding as the 1926 NSW sculler
Andrew Guerin
December 2020