Sir James A Gobbo AC CVO QC
Melbourne University Boat Club (VIC)
(22 March 1931 – 7 November 2021)
Sir James Augustine Gobbo, AC, CVO, QC was a distinguished Australian in many fields, including rowing.
Born in Melbourne during the Depression to Italian parents Antonio and Regina, Giacomo "James" Gobbo was a short term resident of Melbourne - his family returned to Italy in 1935. By the age of seven, the family came back to Melbourne, at which time he spoke no English. Despite this initial language impediment, and with parental encouragement, Sir James excelled academically. His catholic education included St Mary's Primary School, West Melbourne, later St Joseph's CBC, North Melbourne and then in 1944 Xavier College.
It was at Xavier that his interest in rowing began. He was a member of the Xavier College crew that won the 1948 Associated Public Schools Head of the River - it would take until 1999 before Xavier College again won this event.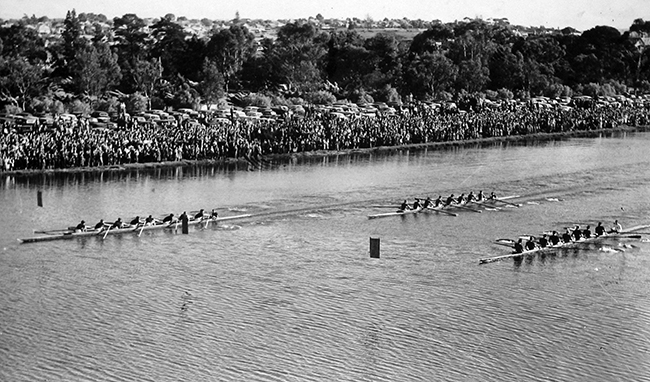 1948 APS Head of the River with Sir James in the three seat of the winning crew
After leaving Xavier College, he studied law at the University of Melbourne whilst living at Newman College. It was with Melbourne University that he competed successfully twice in the Australian University Championships in the men's eight, racing for the Oxford and Cambridge Cup. His 1952 crew included Roderick Carnegie, later Sir Roderick Carnegie, 1957 Oxford University Boat Club President and leader in the mining industry, and also John Button, later Senator John Button and Minister in the Hawke government.
During his time at Melbourne University, he was awarded a Rhodes Scholarship to study at Magdalen College, Oxford University. He gained a Master of Arts degree. Again he took this opportunity to pursue his passion for rowing, racing in The Boat Race for Oxford University Boat Club in 1954 and 1955, winning in 1954, the centenary Boat Race. The respect with which he was held, led him to be elected President of the Oxford University Boat Club in 1955. His crew contained Roderick Carnegie from his 1952 Melbourne University crew.

The four Australians in the 1954 Oxford crew
left to right: J A Gobbo, E V Vine, E O G Pain and J G McLeod
The five Australians trying out for the 1955 Oxford crew warming up in the snow
left to right: E O G Pain, E V Vine, J G McLeod, R H Carnegie and J A Gobbo
Despite a highly successful career as a barrister in Melbourne, Sir James found time to assist his club by being a Vice-President on two occasions in 1959-60 and 1963-64 and President in 1960-61.
Members of his family have also made great contributions to the sport as rowers, umpires and administrators. In particular, his daughter Flavia was also awarded a blue for rowing by Melbourne University and is currently deputy Chair of Rowing Australia.
Outside rowing, Sir James became a noted Queen's Counsel, then served on the bench of the Supreme Court of Victoria for 16 years (1978-1994), then the served as the 25th Governor of Victoria from 1997 - the first Governor to come from a non-English speaking background. His charitable work included many multicultural causes.
He was a distinguished, humble and charming man. He even had time to assist the author with rowing history, allowing me to copy some of his personal rowing pictures.
Rowing details
1947 - APS Head of the River, Fourth crew, 5 seat - Third (in metropolitan regatta- post war restrictions prevented a combined regatta)
1948 - APS Head of the River, First crew, three seat - First
1951 - Australian University Championships, men's eight, bow - Equal First with SUBC
1952 - Australian University Championships, men's eight bow- First
1954 - The Boat Race, Oxford University Boat Club, three seat - First
1955 - President, Oxford University Boat Club
1955 - The Boat Race, Oxford University Boat Club, bow seat - Second
1959-60 - Vice-President Melbourne University Boat Club
1960-61 - President Melbourne University Boat Club
1963-64 - Vice-President Melbourne University Boat Club
Andrew Guerin
November 2021
Sources:
Regatta programs
Xavier College Rowing Club images
Images from the Sir James Gobbo's collection
The Oxford and Cambridge Boat Race by Christopher Dodd, published by Stanley Paul 1983
The Age, 8th November 2021, 'Sir James Gobbo's rise from humble beginning to State Governor' by Tony Wright
Well Rowed University, The first 150 years, by Judith Buckrich, published by MUBC 2009