Drew Ginn OAM
Mercantile Rowing Club (VIC)
1993 – Interstate Men's Youth Eight Championship five seat – Second
1993 – Trans Tasman Series & Nations Cup – Men's Eight
1994 – Interstate Men's Youth Eight Championship six seat – First
1994 – Trans Tasman Under 23 – Men's Eight five seat
1994 – Nations Cup – Men's Eight five seat – Fourth
1995 – Interstate Men's Eight Championship three seat – First
1995 – World Championships – Men's Eight bow – Eleventh
1996 – Interstate Men's Eight Championship five seat – First
1996 – Olympic Games – Men's Coxless Four bow – Gold
1997 – Interstate Men's Eight Championship six seat – Third
1997 – World Championships – Men's Eight seven seat – Bronze
1998 – Interstate Men's Eight Championship six seat – First
1998 – World Championships – Men's Coxed Four three seat – Gold
1998 – World Championships – Men's Coxless Pair stroke – Silver
1999 – Interstate Men's Eight Championship six seat – Second
1999 – World Championships – Men's Coxless Pair bow – Gold
2000 – Interstate Men's Eight Championship – First
2002 – Interstate Men's Eight Championship seven seat – First
2003 – Interstate Men's Eight Championship seven seat – First
2002 – World Championships – Men's Coxless Pair bow – Fourth
2003 – World Championships – Men's Coxless Pair bow – Gold
2003 – FISA male rower of the year jointly with James Tomkins
2004 – Interstate Men's Eight Championship seven seat – Second
2004 – Olympic Games – Men's Coxless Pair bow – Gold
2004 – AOC Athletes Commission Member
2006 – Interstate Men's Eight Championship stroke – First
2006 – World Championships – Men's Pair bow – Gold
2006 – World Cup Poznan – Men's Pair bow – Gold
2007 – Interstate Men's Eight Championship stroke – First
2007 – World Cup – Men's Pair bow – Gold
2007 – World Championships – Men's Pair bow – Gold
2007 – FISA male rower of the year, jointly with Duncan Free
2007 – One of Harry Gordon's 100 Greatest Olympians
2008 – Interstate Men's Eight Championship stroke – Second
2008 – Olympic Games Men's Pair – Gold.
2010 – Inducted into the Victorian Rowing Hall of Fame
2012 – Olympic Games Men's Four three seat – Silver
2012 onwards – National Head Coach – Integration
1996 Podium, Drew on the right
Harry Gordon wrote of Drew: The illustrious Olympic career of Drew Ginn, winner of three gold medals, was ignited when a slot in the Oarsome Foursome coxless fours crew became available before the 1996 Atlanta Olympics. Andrew Cooper had withdrawn from the crew which had won gold in Barcelona in 1992, leaving James Tomkins, Mike McKay and Nick Green. Rowing selectors tried several candidates before settling on the 21-year-old. Ginn was a gifted athlete, having won school colours in four different disciplines at Melbourne's Scotch College. He had impressed the Foursome's coach, Noel Donaldson, when he went overseas with Australia's under-23 eight in 1994. After a few early settling-in problems with his older team-mates, Ginn became a valuable member of the Foursome crew, which went on to win gold in Atlanta.
Ginn and Tomkins, 10 years his senior, later teamed up, and won the 1999 pairs world championship. They were favoured for gold at the Sydney 2000 Games, but Ginn was forced to withdraw, a prolapsed disc in his back causing horrific pain. Tomkins rowed at short notice with an emergency, Matthew Long — and they won bronze. After two years of rehabilitation and recovery work, Ginn talked with Tomkins about trying again … and they agreed to give it a go. They rowed perfectly to win gold in Athens in 2004. Afterwards, with the 2008 Beijing Games ahead, Ginn linked up with Duncan Free, who had won bronze in quad sculls in 1996. They won two world titles together, then – despite further back pain for Ginn during the Games – went on to win Beijing gold in commanding fashion. Harry Gordon, AOC Historian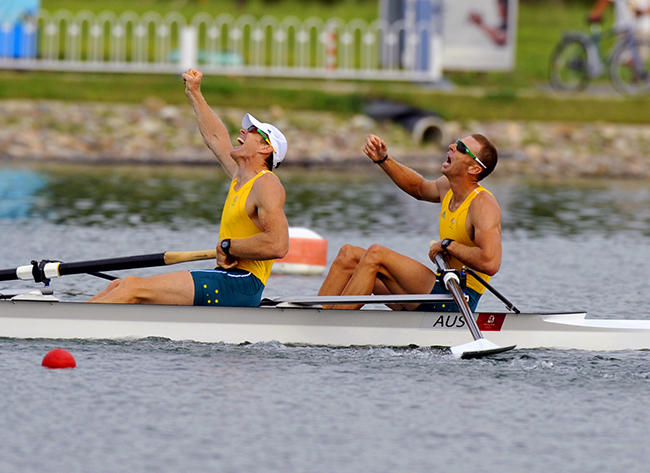 Drew's exceptional race in London against all odds - the picture tells it all
Harry Gordon's description of 2008 understates the situation. He endured enormous pain rowing at the Games and rowed only three times, heat, semi-final and final. No other in the boat work was undertaken. At each of these races, the team spare man was in the wings ready to jump in at the last moment. His journey back to Australia was painful and on his back. Following another operation after the Games and doctors orders never to row again, in 2010 he raced again in London and won a silver medal. He then continued his medal tally at the 2012 Olympic Games in London.
Andrew Guerin
Oct 2013