James S Gibson OAM
Tamar Rowing Club (TAS)
James is one of the key volunteers of Tasmanian rowing having participated at all levels. In addition to his sound administration of Tasmanian rowing, he has been a strong supporter of the Lake Barrington rowing course and key regatta organiser. It is the likes of James that make the sport of rowing great.
The biographical notes provided for his Australian Honour in 2019 provide insights into his great work.
James speaking as President of Rowing Tasmania in Hobart in 2019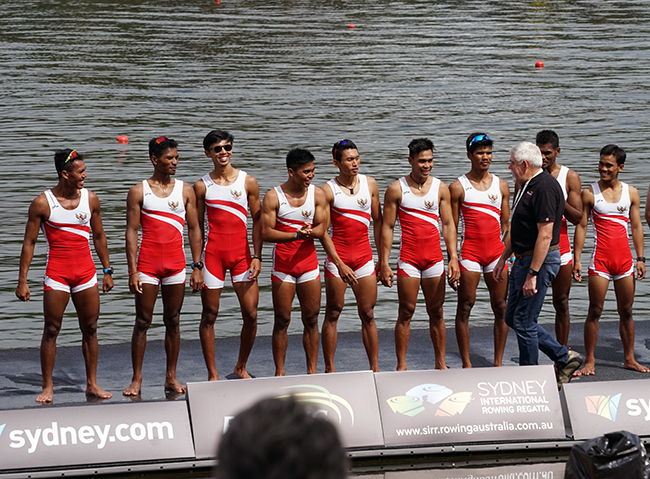 James presenting the National Championships lightweight eight medals in 2018
Rowing Tasmania
President, since 2013.
Financial Manager, 2003-2013.
Financial Manager and Member or Organising Committee, 2003, 2006, 2009.
Councillor, 10 years.
Former Provider, Probono Accounting and Financial Services.
Former Boat Race Official.
Member, since 1970.
Tamar Rowing Club
Former Chairman.
Former Treasurer.
Former Northern Tasmanian Rowing Association.
St Patrick's College Rowing Club
Former President.
Former Treasurer.
Institute of Public Accountants
President, 2001-2004.
Deputy President, 1999-2001.
Councillor, Tasmania Division Council, 1995-1999.
Member, since 1977.
Principal Accountant, Private Practice, current.
Awards and recognition includes:
Fellow, Institute of Financial Accountants, 2015.
Life Member, Rowing Tasmania, 2013.
Member of the Year, Institute of Public Accountants, 2004.
Fellow, Institute of Public Accountants, 1991.
Life Member, Tamar Rowing Club, 1988.
Andrew Guerin, June 2020