Peter M Gibbs
Mercantile Rowing Club (VIC)
Born 14 March 1943 and died 16th October 1985 aged 42 years.
Peter Murray Gibbs took up rowing at Scotch College and finished his school rowing racing in the three seat of the Scotch firsts in 1961. Unfortunately for Scotch that year, they finished narrowly behind Wesley in the final. He was also a Prefect and co-editor of Collegian (among other things).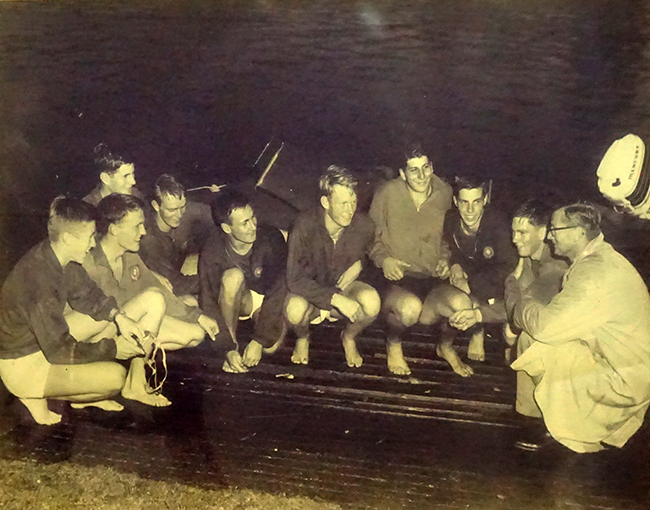 Above: The Scotch crew with coach Bob Aitken – Peter fourth from right
After school, Peter commenced his studies in Australia and overseas, initially in dentistry, and them in medicine. He managed to maintain some rowing and coaching whilst studying and duly graduated whilst managing a successful rowing career. He then practised in Australia, Scotland and New Guinea.
Peter joined Mercs in the 1961-62, straight out of school. This would have pleased his father Allen Gibbs, who was a successful senior oarsman at the Club and also an Old Scotch Collegian. This made Peter a third generation Mercantile member of the Gibb family.
His first race appears to have been, quite appropriately, at the Scotch Mercantile Regatta in 1962, in a maiden four with Graeme Boykett.
In the next season 1962-63, Peter won a series of maiden races including the four at Henley, Barwon, Colac and Scotch Mercantile. There may have been too much enjoyment at the Easter Regattas as he did not win there.
The next season took Peter to the junior level but with limited success. However the following 1964-65 season brought a string of successful junior eight wins at Yea, Albert Park, Ballarat, Henley and Barwon.
In the 1965-66 season and beyond, Peter's studies required a break from rowing although he always managed to maintain his Club interest.
He was a thoroughly Mercantile man and remained so for the balance of his life. In the 1967-68 season, he joined with Simon Newcomb in producing the Mercantilian, a thoroughly enjoyable magazine, even when read today. His involvement at the Club was such that his marriage was recorded in the 1968-69 annual report. His donation to the rebuilding fund also noted in the 1969-70 report. He derived much enjoyment from regular Thursday evening and Sunday morning outings and was instrumental in encouraging others to participate.
Peter loved his time at the Club and both studies and sadly work took him away from it. The bond between him and the Club and its members was as strong as it could possibly be despite his truncated rowing career. He was always fondly thought of and members speak of him as if he was an Olympic Champion. He was however, just one of those people who was a very strong thread in the fabric of the Club.
A boat was named in his honour and christened by his wife Susan. A perpetual trophy was inaugurated at the Scotch Mercantile Regatta in his honour for first boys crews.
Sadly Peter died far too young from lymphoma, leaving a young wife and three daughters.
His daughter Elizabeth rowed at Mercantile.
Andrew Guerin
September 2018