Allen Gibbs
Mercantile Rowing Club (VIC)
Born: 1906, died 1982 aged 76 years.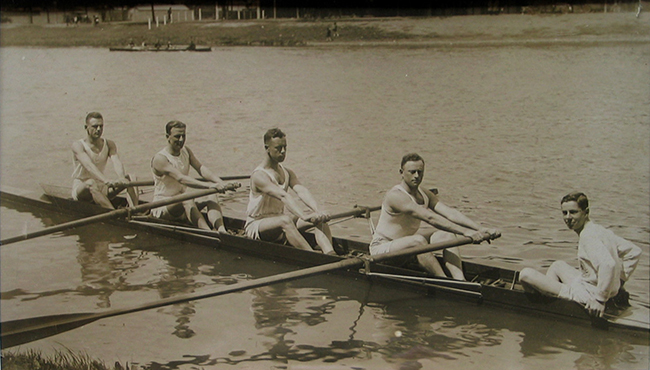 Allen Gibbs in the two seat of the winning Club senior four in 1928
Arthur Allen Gibbs (known as Allen) was born in Melbourne and schooled at Scotch College when in East Melbourne. Whilst rowing was a sport at the school, there is no record of him rowing during his school years which ended in about 1923. However his rapid rise in Mercantile in the early part of the 1924-25 season would indicate a rowing background from somewhere.
He joined Mercantile in the 1924-25 season and raced in the No 1 maiden eight throughout the season, albeit without success. It took until February 1925 until he won his maiden eights at Albert Park.
In the 1926-27 season, Allen started winning junior races, both fours and eights, at Footscray, Upper Yarra and ANA Holiday Regattas. He also won a Club race at the start of the season. The Club won the Junior Premiership that season for the first time.
It was at this time that he raced for services crews along with several other Mercantile members. It appears that they must have served in the equivalent of the current Defence Reserve Force.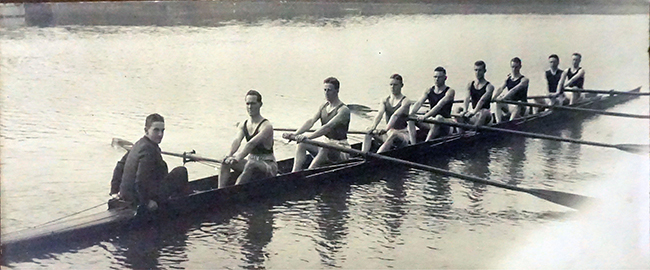 Above: IV AFA Crew 1926, winners of the Army Challenge Cup and Army v Air Force Cup – Gunner Allen Gibb in the seven seat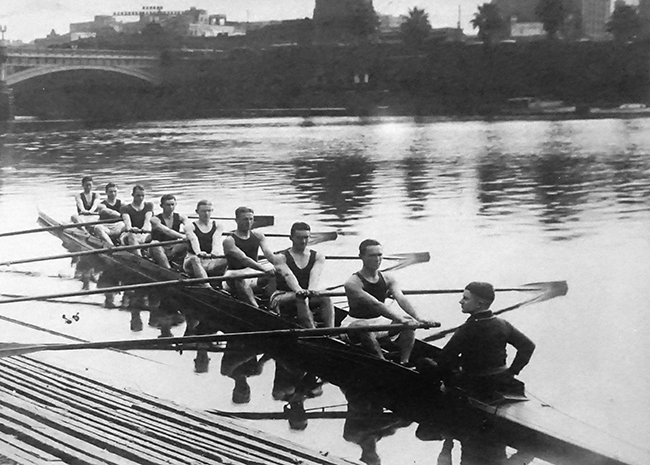 Above: 4th AFA Crew 1927 – winners of the United Services Challenge Cup – Gnr Allen Gibbs in the six seat
And by the 1927-28 season, Allen was racing in senior fours and eights. His first senior win was at Rutherglen in the senior fours. Then Allen appears to have taken off some years from competitive rowing returning some years later in 1932 to race in the senior ranks.
Allen was successful in the 1933-34 season in the senior eights at the VRA Regatta in the Gilbey Cup and also winning at Barwon. It was at this time that his family believed that he was selected for the King's Cup crew but had to withdraw due to a heart flutter.
Allen took on an administrative role in 1934-35 season being elected to the Committee and did not race that race that season. He returned to rowing the following season but without success.
There is a strong family connection for the Gibbs family with both Scotch College and Mercantile. Allen's uncle Frank Gibbs was a prominent Club member for many years as a successful oarsman and Captain.
Allen's son Peter raced for Scotch and Mercs in the 1960s. Peter's daughter also rowed for Mercantile and her children have also raced for Scotch and Mercantile.
Allen Gibbs was an accountant in private practice, and another of his sons has continued that practice.
Andrew Guerin
September 2018