Nicholas Garratt AM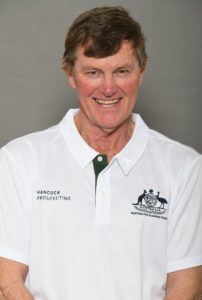 Rowing Australia reported on 18th July 2019 of the sudden death whilst coaching of Nick Garratt AM as follows.
It is with the deepest sadness that Rowing Australia announces to the rowing community the sudden passing of four-time Olympic rowing coach, and current ACT Academy of Sport and U23 Australian Rowing Team coach, Nick Garratt AM.
Nick was in Penrith with the U23 Australian Rowing Team, as part of his role coaching the U23 Australian Lightweight Women's Pair and U23 Lightweight Men's Double Scull, when he passed away suddenly on Monday 8 July.
Rowing Australia is working closely to support our current U23 athletes at this difficult time, with the team due to travel to the USA for the World Rowing U23 Championships in the coming week and also our current Senior Australian Rowing Team, many of whom have been coached by Nick.
Rowing Australia President, Rob Scott said, "We are all deeply shocked and saddened by Nick's sudden and untimely passing today.
"He was a passionate rowing coach who worked tirelessly to develop and support Australian rowers from grassroots to Olympic level. He was a greatly loved and admired member of our rowing family and we are all feeling this profound loss.
"Our thoughts are with Nick's family, his athletes and colleagues, both current and past, at this difficult time."
Chair of the Australian Olympic Committee, John Coates added, "This is a shock and the saddest of days for us all. Nick has given so much to rowing at every level and to the Olympic movement in Australia over many decades.
"Here he was, at 71, preparing the Australian Under 23 team for a world championship. That says so much about his passion for the sport and his willingness to help young people.
"At Olympic level, at national level and at club level, there are many hundreds of rowers, young and mature, who are in his debt as a coach and mentor."
One of six children, born in Perth, the 71-year-old's contribution to Australian rowing has been vast and he will be deeply missed across the country.
The 2018 Pathway Coach of the Year and current Head Rowing Coach of the ACT Academy of Sport, Nick coached male and female Olympic crews at the London 2012, Beijing 2008, Athens 2004 and Sydney 2000 Olympic Games as well as numerous Senior and Underage Australian crews.
In addition to his coaching of national team crews, Nick was also responsible for coaching Western Australia to a memorable King's Cup victory in 1999 at West Lakes in South Australia. He was the Head Coach of multiple New South Wales King's Cup crews, including overseeing New South Wales' winning of seven consecutive titles from 2008 to 2015.
He was also the Head Coach of Mosman Rowing Club for over a decade, Men's Head Coach, Rowing, New South Wales Institute of Sport, 2001-2005, Senior Coach, Rowing, Western Australian Institute of Sport, 1991-2001 and Head Coach, Haberfield Rowing Club, 1985-1991.
Nick coached his first Australian crew in 1995 at the World Rowing Junior Championships in Poznan, Poland. The West Australian saw his crews win their first medals though in 1996 at the World Rowing Junior Championships in Scotland. His Junior Men's Single Scull, Stuart Reside, claimed gold, while his Junior Men's Double Scull of Jonathan Fievez and Time Perkins also picked up gold medals.
The following year, success continued for Nick, when he coached Amber Bradley to a gold medal in the Junior Women's Single Scull at the 1997 World Rowing Junior Championships. He worked across Junior, Under 21, Under 23 and Senior Australian Rowing Teams during his entire career.
Nick's first Olympics as a coach was at the home Games of the Sydney 2000 Olympic Games, where he coached the Men's Quadruple Scull of Peter Hardcastle, Jason Day, Stuart Reside and Duncan Free, with the crew finishing in fourth place.
At the 2004 Athens Olympic Games, he coached Craig Jones to an 11th place finish in the Men's Single Scull, while Brendan Long and Peter Hardcastle finished 12th in the Men's Double Scull.
2004 Olympic Games with his double scull
Garratt coached five Mosman athletes onto the 2008 Beijing Olympic Games team – Peter Hardcastle, Tom Laurich, Daniel Noonan, Zoe Uphill and Amy Clay, with the latter two women combining with Kerry Hore and Amber Bradley in the Women's Quadruple Scull, coached by the West Australian, with crew placing sixth.
The London 2012 Olympic Games was Nick's fourth Olympic Games as a coach. He qualified the Australian Women's Eight through the final Olympic Qualification Regatta in Europe, with the crew finishing sixth overall at the London Games.
In 2016, Nick was appointed a Member in the General Division of the Order of Australia (AM) in the Australia Day Honours.