Mal Gardner
Richmond Rowing Club (VIC)
1932 - Interstate Men's Eight Championship four seat - First
1933 - Interstate Men's Eight Championship two seat - Third
In a newspaper report previewing the 1932 crew, Gardner was described as follows:
M Gardner - Richmond. Aged 24. height 5 ft 11 in. Weight 11.7. Commenced rowing 1928. He stroked novice four at Metropolitan Regatta 1929: stroked winning maiden eight at Rutherglen 1030; rowed No 4 in winning Richmond Champion Eight 1930. Is also a fine gymnast.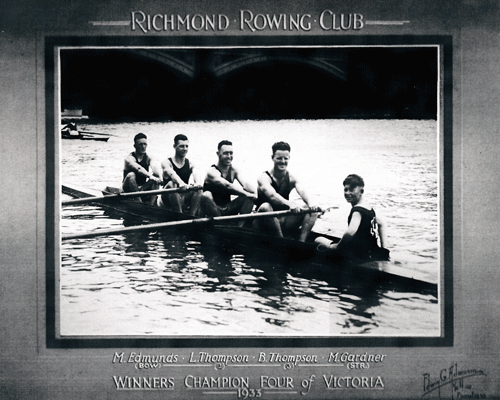 In the Richmond rowing club history reproduced on this website, the following heart felt story on Mal is offered.
Mal and the boys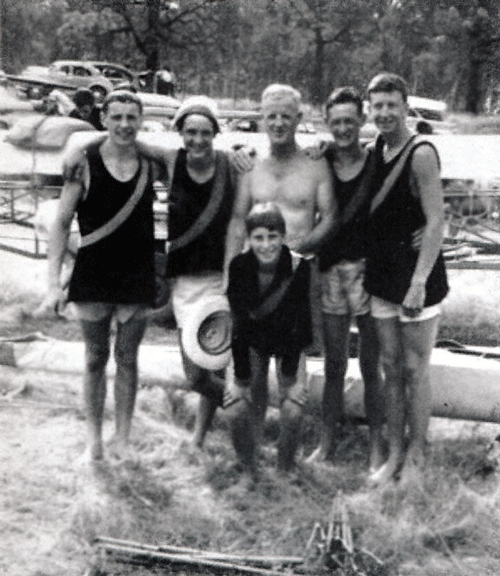 When I first arrived at the Club, I got some advice from a member called John:
"It takes a while to learn but believe me, it is worth the effort. Different people will coach you here and give you rowing tips. By all means, listen, and respect what they say but take particular notice of one man. His name is Mal. He is the only man who really counts in our club, our King's Cup oarsman, an incredible man. So if you get selected into Mal's crew, you are doing well. I hope you succeed."
During my first months at the club as a beginner, I had little contact with Mal. I often saw him with his four: training in the boat, in the gym, on the lawn outside the club - always together. There were several crews in the club but only one coached by Mal. I looked with envy on the chosen.
Springtime came to the river. It was time for the selectors to choose crews for the next season, a nervous time for rowers. The die was cast. I was placed in a new four with a powerful crew including John and...coached by Mal. This was a surprise, a great joy and the beginning of a long friendship. I had no idea how I earned such a distinction. The boys commented philosophically that Mal knew what he was doing, he could pick an oarsman.
From many training sessions one particular image of Mal comes to mind. It was a windy, wet and miserable evening. The temperature was barely above zero. Mal stopped at a jetty, holding his bike in one hand and a megaphone in the other, gave instructions shouting over the wind and storm. The megaphone was of little help. In spite of his close distance from the boat, we could hardly hear him.
"John, don't jerk the oar out of the water, and keep your head up. Two keep your legs down and reach out. The whole crew, more concentration, think of your work!"
He was right. We couldn't concentrate seeing his lonely silhouette against the dark grey background, hardly discernible from the pouring rain. He was thoroughly soaked and must have been freezing, a fact he completely ignored. And yet this seemingly pitiful figure emanated strength and will which left a lasting impression on us.
Much later we understood what he meant bu his 'nose' and whom he selected for his crews:'you are a terrible oarsman, but you have a heart in the right place' - he once said to one of the boys. And when h found this heart, he knew how to prepare it for a fight. Once, after a particularly exhausting session i forty degrees heat, he gathered us in the shade and asked if we had read Kipling's poems. We shook our heads - so listen to this - he lowered his voice to a whisper:
'...if you can force your heart, your nerve, and sinew
To serve your turn long after they are gone,
And so hold on when there is nothing in you
Except the will which says to them: Hold on!...'
Mal was no poet but when we stood there exhausted and sweaty, holding the oars in our hands, we thought that the master himself spoke to us in our language, directly to our hearts.
Andrew Guerin March 2018