Simon Gadsden
Mercantile Rowing Club (VIC)
1995 – World Junior Championships – Men's Coxless Four stroke – withdrew due to illness
1995 – Interstate Men's Youth Eight Championship bow - Fourth
1996 – Interstate Men's Youth Eight Championship six seat – Fourth
1996 – Nations Cup – Men's Coxless Four stroke - Eleventh
1997 – Interstate Men's Eight Championship bow - Third
1997 – Nations Cup – Men's Eight five seat – Fourth
1998 – Nations Cup – Men's Eight stroke – Gold
1998 - World Cup 3 Lucerne Men's Eight two seat - Fourth
2003-2011 - Director of rowing and first crew coach - Brighton Grammar School
2014 - Head coach of under 21 Australian team
2015 - World Under 23 Championships Women's Pair coach - Gold
2016 - World Under 23 Championships Men's Eight coach - Eighth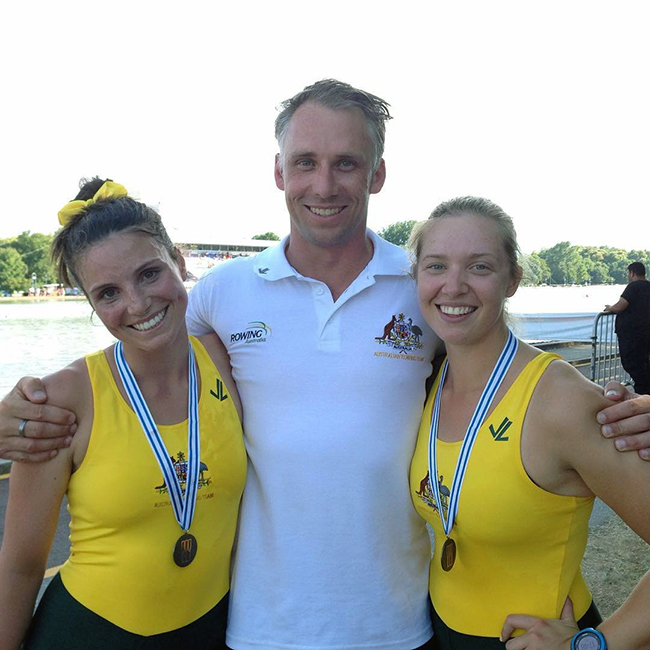 Simon and his gold medal wining pair - Addy Dunkley Smith, Simon and Kat Werry
At the time of writing this profile, Simon Gadsden isthe Head Coach of Mercantile. He has a long history of involvement with Mercantile, having rowed himself in the elite program, and became a member of the club in 1995.
Simon joined the Mercantile coaching team following four years as the State Talent Pathway Coordinator for Rowing Australia. In this position, Simon coordinated and oversaw the largest number of Victorian athletes on underage national teams in 2013 and 2014; coached one of the members of the Junior Men's Double in 2013 to 6th at the Junior World Championships; and also took on the position of Acting Senior Coach at the VIS in 2012.
In 2014, Simon took on the role of National Head Coach of the Australian Under 21 Team, leading them to victory against New Zealand and claiming the Rusty Robertson Trophy. This year, he was coach of the all-Mercantile Australian Under 23 Women's Pair competing at the Under 23 World Championships in Bulgaria which won bronze.
Simon was the Director of Rowing and First VIII Coach at Brighton Grammar from 2003 – 2011, and graduated from the school himself in 1994. Simon has a degree in Exercise Science, and extensive training in strength and conditioning training, and high performance coaching.
As an athlete, Simon has rowed for numerous state and national teams – representing Australia at the Junior and Senior B level, and Victoria in both the Youth Eight and Kings Cup crew. He also was the winner of numerous National Championship medals, and five titles.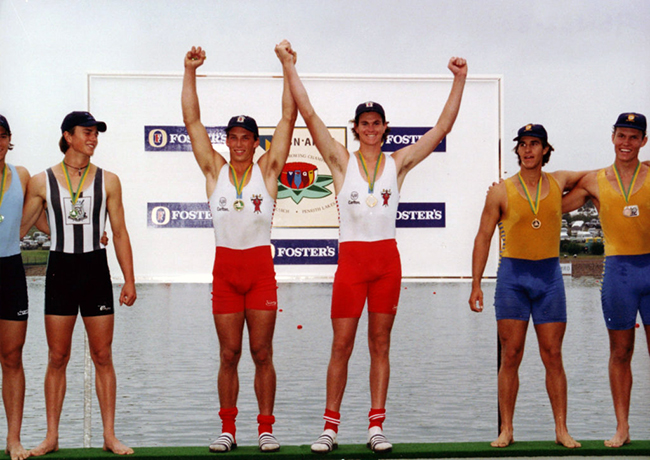 Below – Simon and Bill Tait win the under 23 pair at the 1996 National Championships
Andrew Guerin
2016