Peter Fraser
Banks Rowing Club (VIC)
Peter joined Banks Rowing Club 1956, at about the same time as his life long friends Brian Vear and Charlie Lehman, with whom he shared much time rowing and in rowing administration.
He competed in all classes from beginner onwards, including the following.
1959 and 1960 - Victorian Championship Junior 8's
1962 and 1963 - Banks club winning Senior 8
1962 - Henley Grand Challenge Cup Crew - Composite crew Banks/MUBC
1963 – Henley Grand Challenge Cup Crew – Banks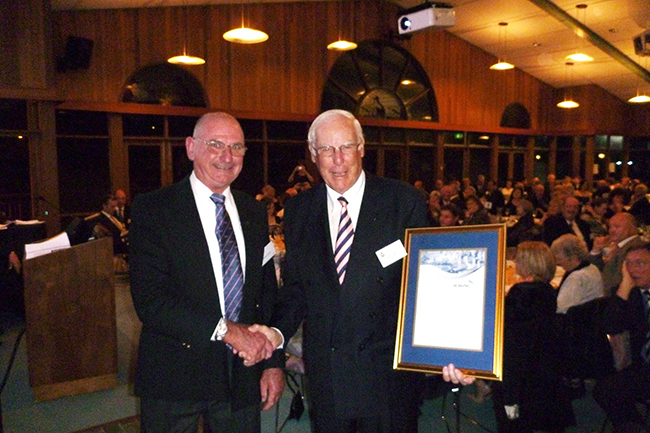 Charles Lehman receiving his Hall of Fame induction certificate from Peter Fraser
Peter's greatest work for the sport started after his rowing career finished. He became a significant administrator of the sport.
1960s - Club delegate to Rowing Victoria and Melbourne Amateur Regatta Association
1964 - 1970 - Club coaching
1964 - 1969 - Club Captain
1992 - 1997 - Club President
Life member Banks Rowing Club
Vice-President Banks Rowing Club
1998 - 2003 - President Rowing Victoria
2007-09 - Melbourne Amateur Regatta Association Committee
2009 - Melbourne Amateur Regatta Association Chairman
2002 - Organising Committee - World Masters Regatta which was largest regatta of its type in the world
2010 - 2015 - Chairman, Victorian Rowing Hall of Fame
2012 - Life membership of Rowing Victoria
2012 - Australian Masters Games - Chairman of the Organising Committee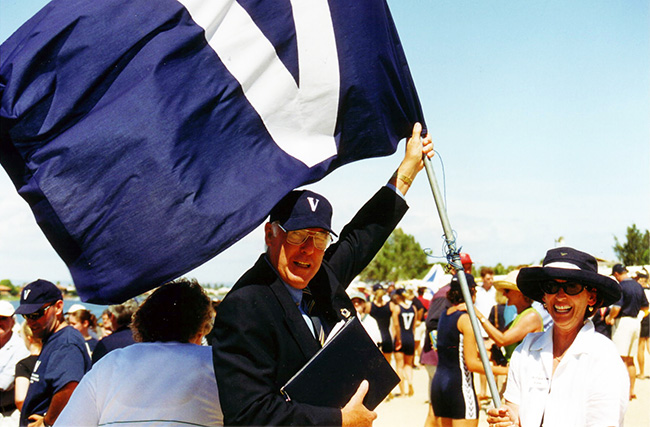 Peter Fraser as Rowing Victoria President literally flying the flag
These brief descriptions do not do justice to the valuable work undertaken by Peter. He was a very effective administrator of the sport, who always had the athlete in mind. He undertook this arduous work because he loved the sport and sought no recognition. The manner in which he did this work impressed most people. He was genuinely interested in the clubs and their members. He did not work around issues, he dealt with them. Banks Rowing Club, Rowing Victoria and the sport generally greatly benefited from his work.
He assisted the Melbourne Amateur Regatta Association Association to financially stabilise the Henley on Yarra Regatta and avoid decline.
Peter's work at Banks included the club re-entering the senior ranks and being included in the National Elite Development Programme. He upgraded the fleet to accommodate the program. He also led sponsorship and fundraising activities to enable the total fleet refurbishment.
His work at Rowing Victoria was even more significant. He led the incorporation of the association, created a Board structure and upgraded the office and staff. He was a key member of the organising committee of three National Championships, was a key organiser of numerous State Championship regattas, arranged sponsorship to enable regattas to be sustainable, generally improved the standard of regatta including improved medical supervision of regattas. Peter also engineered significant improvements to volunteer recognition.
Well rowed Peter.
Andrew Guerin, June 2020