John Foley
John Emmert (Pops) Foley
20 January 1926 – 28 April 2007
WA then Mercantile Rowing Club (VIC)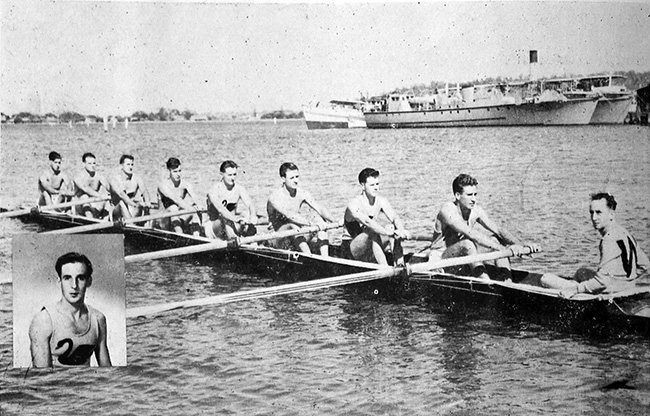 Above – 1950 WA crew stroked by John Foley
On Thursday 3 May 2007 at the Funeral Mass in Thanksgiving for the Life of John Foley at Our Lady of Good Counsel Church, Deepdene, there was a good gathering of his Mercantile colleagues. After the ceremony, fellow members of Mercantile and John's friends retired to the Foley residence where many pleasant (and funny) occurrences were remembered. Among these was the name 'Pops' which was coined with his arrival to row at Mercantile late 1955, to make up the crew numbers, as there were a good number of Mercantilians absent for training and competition in the 1956 Olympics. He was a few years older than the others, so that is how he acquired his Victorian nickname.
Following service in the RAAF, John completed an Economics Degree at the University of Western Australia and also took up the sport of rowing, representing Western Australia in the Kings Cup in 1949 (6) at 12s 1lb and 1950 (Stroke) at 11st 12lbs.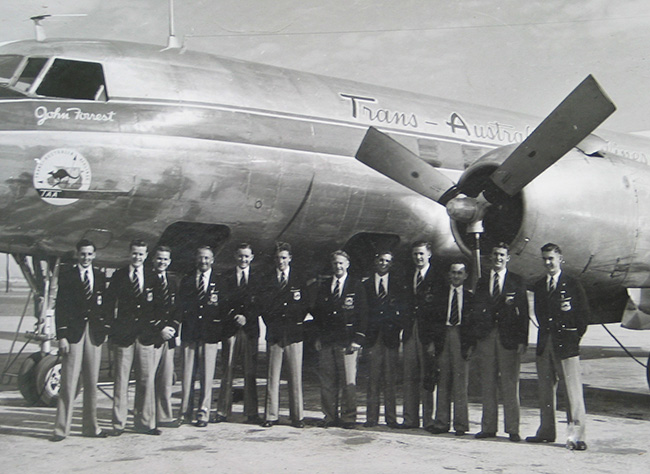 1950 WA crew depart for Victoria for the 1950 King's Cup
He then returned to the RAAF where he reached the rank of Wing Commander with his postings taking him all over Australia and seeing him coaching rowing in Queensland, ACT and at Penrith, NSW.
Then to Victoria, where his competition table reads:
19 November 1955 Melbourne Regatta – Open Vlll (3) win
10 December 1955 Upper Yarra – Open Vlll (3) win
30 January 1966 Albert Park – Open Vlll (3) win
11 February 1956 – Championship Vlll (3) win
25 February 1956 – Ballarat Open Vlll (3) win
03 March 1956 – Barwon Open Vlll (3) win
10 March 1956 – Henley Open Vlll (3) win
31 March 1956 – Mildura Open lV (3) win
Mildura – Open Pair (str)
02 April 1956 – Wentworth Open lV (3)
Wentworth Open Pair (str)
Wentworth Open Vlll (5)
10 November 1956 – Melbourne – Snr-Vlll (2) win
Melbourne – Snr-lV (str) win
15 December 1956 Championship lV (str)
17 October 1957 Upper Yarra Snr- lV (str)
Pops then coached a number of Mercantile crews including the winning Maiden Vlll at Henley in 1960, and then he played the big part in setting up the rowing program at Genazzano and coaching the girls.
On his retirement from RAAF in 1975 he joined RMIT as a Planning Officer until 1991. He rowed Tuesday, Friday and Sundays – was a loyal supporter of Melbourne Football Club and skied until he was 79.
John's keep fit rowing was in many crews with Mercantile members – most of whom he out-rowed! His last crews were with Ron Richardson in the double scull "Kamulla" and with Bill White in a coxless racing pair on Fridays (from which they had a couple of spills) –then early in the winter of 2006 the decision was taken that the landing was a bit slippery and dangerous so they then did their 'miles' in the Mercs Gym on the ergometers, bikes, weights and other torturous equipment.
The Sunday Morning Barrel boys have virtues that on their birthdays (most) shouted the bar. Sometimes the shout may be a little late but they get there. This February, sure enough, Pops arranged for Geraldine to shout the bar on his behalf for his 81st birthday in January 2007.
Of course, the Sunday Morning Barrel saw all the problems in rowing, politics and any other area solved.
Pops deafness, like at home, provided some mirth. Towards the last half of 2006, when he gave away his hearing aids, it was a 'one off' conversation – but our best laughs were when Paul Harding would start to tell one of his jokes, Pops would unwittingly boom in over the top and save the rest of the Bar.
James Harvey 2007