David Fleming
Mercantile Rowing Club (VIC)
David commenced his rowing at St Kevin's College where he rowed in the first crew in 2013 and 2014. St Kevin's were finalists in 2013. David was Deputy College Captain at St Kevin's College in his final year.
After leaving school, he raced for Mercantile in our under 21 group very successfully winning the National Champion Under 21 Four and finishing second in the Under 21 Pair.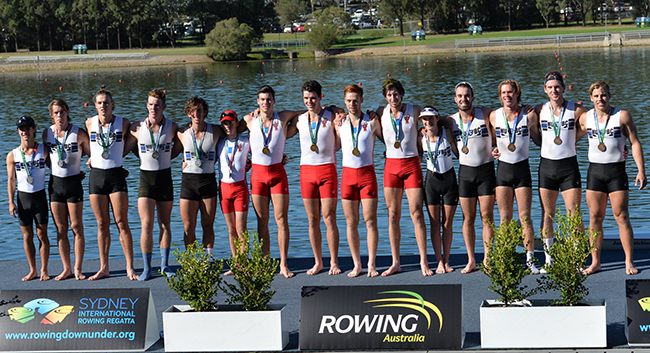 2015 National Championships under 21 four - David is in the middle of the Mercantile crew
2015 National Championships Mercantile with David in the stroke seat battling out gold and silver with Sydney University
During his final school years, David set his sights on an American Ivy League education. At that time, his older brother Alex was studying in the States at Brown University. As an aside, after graduation, David's brother Alex went on to also row with Cambridge in The Boat Race.
The admission process at Harvard is academically based but backing by the rowing team, who were keen to see him row, assists in the process. Fortunately for David, Harvard accepted his application. In speaking with David, he stressed on several occasions the great opportunities an Ivy League education can bring. He also made note of how well the academic and sporting endeavours of the University are managed and integrated. Both areas of endeavour place a great deal of stress on the students and there is unambiguous co-operation between the two sides of the university to make both sides work well. The Harvard Athletics website emphasises "Academic Integration & Competitive Excellence".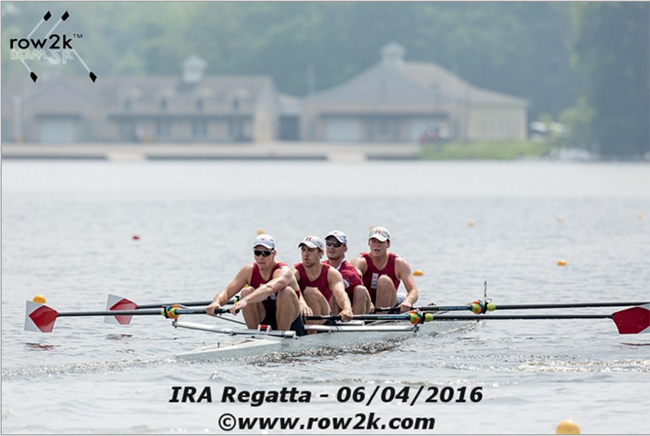 Above: A screen shot from IRA's in the Varsity Four – David in stroke seat
David has had a good start to his Harvard education finishing first year with good academic results and rowing in the fourth varsity crew. The crew finished second in the east coast races. The crew comprised only 50% Americans with quite a number of British rowers.
He is studying in a four year course which gives him opportunities to aspire to the second boat next year and the Varsity boat in later years. There are five junior varsity crews which are all of a high standard. This creates good competition between the boats and pushes all the rowers, particularly when they train side by side. Unlike other nationalities, the several Australian rowers in these boats enjoy far more banter amongst themselves than the other nationalities. I suspect that the Aussies stand out amongst the others.
The future? With David's course finishing in 2019, a slant at the 2020 Olympic team is a possibility. In the meantime, there may be under 23 Australian team possibilities. However as with many of the rowers who go to the States to study, other opportunities and pressures may get in the way of a return. Time will tell.
Andrew Guerin
July 2016