H R Alexander (Alec) Ferguson
Wesley College (VIC)
Alec was a boatbuilder for Wesley College from 1963 through to his retirement in 1982.
For many years Wesley College, Melbourne was the only school in the APS, and possibly Australia, to have a resident boat builder. Alec Ferguson or Fergie as he was widely known, was a skilled craftsman who hand-built many eights including: The EA Wells, The Alan and Clara Mitchell, The Seventy-Seven and The Fergie, three of which won the Head of the River race in Victoria. His winning Head of the River boat in 1977 still holds the Head of the River record time on the Barwon of 4:22:6 over 1500 metres. Not only did he build and maintain boats, he provided pastoral care and support for rowers.
Many Wesley College rowers have very positive memories and great admiration for Fergie and his contribution to Wesley Rowing.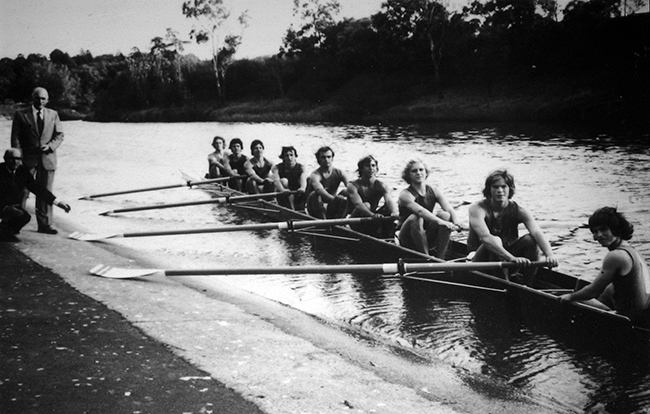 1977 Wesley College first crew with Alec kneeling on the left hand side of the image
Extracted from from Wesley College's Lion magazine (Edition 140, December 2020) page 26.
Andrew Guerin
January 2021