Barbara Fenner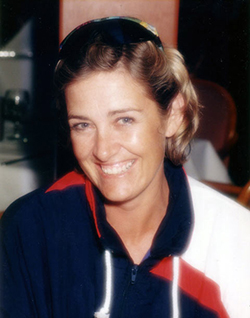 Melbourne University Boat Club (VIC)
Barbara has one of the most impressive records as a rower, coach, coaching educator, team manager, selector, administrator and rowing historian. She has no peer in her breadth of involvement and success.
This all started from a non-rowing background, being the daughter of a sheep and wheat farmer from a district better known for dusty football fields and droughts rather than a water based sport. Barbara "always found it odd that a farm girl from the desert who didn't learn to swim until she was 12 years old fell in love with rowing".
Barbara developed her scholastic achievements at Loxton High School and attended Melbourne University where her rowing began as a raw novice in inter-collegiate racing in 1976. This led to learning to row and her first race win in December 1977, the Victorian Championship elite fours. There was no going through the ranks with Barbara, and she was hooked on the sport.
It did not take long for this trail blazer of the sport to go from novice to national level being selected into the 1978 Australian team to race at the Lake Karapiro World Championships. She was assessed after this time as too small for the 1980 Olympic Four. The challenge to race lightweight was taken up by Barbara with great determination. Following her rowing career, she was to become Australia's first female coach at a World Championships, and with medals to show her worth. She also became a national selector for many years.
Barbara second from the left as an Australian lightweight rower at St Catherines Canada in 1982
Given her rowing commitments and course changes, Barbara spent many more years than she should training as both a teacher and as an exercise physiologist. Of interest is that Barbara started her university studies in veterinary science, but when the faculty asked her to choose between her course and rowing - she went with rowing and moved to the science faculty. This led to her exercise physiology and perhaps her true calling, teaching.
It is clear that Barbara revels in assisting in the growth of individuals and this comes through in her extensive coaching, her unsung work on the FISA Youth Commission, her highly successful talent identification program, and her development of courses and materials in coaching education.
When asked about her rowing highlights, she immediately mentions seeing rowers enjoy the sport and grow as people through sport. She mentions a poorly performing 14 year old student of hers whose self esteem was low. Through rowing, both her grades and self esteem improved rapidly, and she promised it was not due to her maths teaching!
Your correspondent was particularly impressed with her work in South Australia with the talent identification program she developed. It put South Australian rowers consistently in the medals and formed the basis of many Australian Junior Championship teams - many went on to be Olympians. In response to this statement, Barbara said that it gives her great pleasure to see where these rowers are today with their careers and families - their lives like hers, changed by rowing. Adding that "most athletes do not need financial or material rewards – they value the opportunity to become the best they can be."
When Barbara was coaching, there were very few coaching materials and word of mouth and being coached by others was how coaching wisdom was passed on. When she first was granted an Australian coaching appointment in 1987, the main support was a review of her training program. In her case Reinhold Batschi's feedback was that the program would kill the girls! Her exercise physiology background provided her with a good background provided her with the knowledge to prepare relevant but tough programs. One of her rowers commented that [S]he was a tough coach who got results and was as demanding on her crews as she was herself. A little story to prove this. In 1988 my Lightweight women's crew was due to fly out at midnight. So that we would be tired and not looking to eat on the flight the same afternoon she made us do hill sprints up Anderson St hill.
The lack of coaching materials led her to preparing coaching aids and pertinent documentation. And eventually this led to the inspired appointment of her as the National Coaching Education Director – a position which matched her teaching and scientific background. The Go Rowing books and videos were produced and distributed and are still used all over the world, interestingly with the most widely used being the Spanish version. Those of us with a memory going back a number of years, clearly recall her mobile Coaches Corner, a converted horse float at all major regattas. It was a joint venture with Howard Croker of Croker Oars.
Her devoted work on the FISA Youth Commission is perhaps her least understood work as it was not visible to Australians. Their responsibilities included event management at the Under 19 and Under 23 World Championships, analysis of data from these events, the inclusion of rowing in a modified event at the Youth Olympic Games, and supporting FISA's development program. The work at the grass roots level in developing countries with coach development gave her great pleasure. She tells the stories of two coaches developed through their support schemes who made a significant differences to the sport in their countries.
Before moving to New Zealand with husband Brad, Barbara was appointed general manager of the South Australian Rowing Association. In this role much was achieved, but the highlight was clearly her successful work in getting the substantial government grant to develop the West Lakes rowing course infrastructure, and then the implementation of the work. The building of the eight lane course with all water facilities created a world class course and a valuable asset for both South Australian and Australian rowing.
With so many positive changes to the sport over the past 40 years, are there any negatives? Barbara does bemoan the lack of growth of club rowing when schools, masters and high performance have blossomed. She hopes that clubs may be able to fund full time coaches to look after the rowers and arrest this situation.
It is difficult to summarise Barbara's contribution to the sport given it has so many successful parts. We are just lucky to have had such a motivated individual to improve our sport in so many key areas.
Barbara and Brad have now both retired to farming on a property near Clunes in Victoria where they maintain a strong continuing interest in the sport.
Main rowing record
1977 – Australian University Championships, women four – Second
1977 - Victorian Championship Women's Elite Four – First (her first win)
1978 – Australian University Championships, women pair – First
1978 – Interstate Women's Four Championship VIC two seat– First
1978 – World Championships – Women's Eight two seat – Eighth
1979 –Interstate Women's Four Championship VIC emergency
1980 – Interstate Women's Lightweight Four Championship VIC three seat - First
1980 – Canadian Henley – Women's Lightweight Four –Gold
1981 – Interstate Women's Lightweight Four Championship VIC three seat – First
1982 – Interstate Women's Lightweight Four Championship VIC stroke - First
1982 - Canadian Henley – Women's Lightweight Four –Gold
1983 – Victorian Fundraiser for Australian Team
1983-89 – Assistant Secretary Rowing Victoria Inc
1983-89 – Victorian selector
1984 – Interstate Women's Championship VIC manager
1984 – World Championships – team manager
1985 – World Championships – assistant team manager
1987 – Interstate Women's Four Championship VIC coach - First
1987 – Interstate Women's Lightweight Four Championship VIC coach - First
1987 – World Championships – Women's Lightweight Four coach – Fourth
1988 - Interstate Women's Lightweight Four Championship VIC coach – First
1988 – World Championships – Women's Lightweight Four coach – Silver
1989 – Interstate Women's Lightweight Four Championship VIC coach – Race not conducted due to a cyclone.
1989 - World Championships – Women's Lightweight Four coach – Fourth
1990 – Interstate Women's Lightweight Four Championship (SA) coach - Second
1991 – Interstate Women's Lightweight Four Championship coach - Third
1991 – Australian team to visit Canada – Women's Lightweight Four coach
1992 – Interstate Women's Lightweight Four Championship coach - Fourth
1992 – Trans Tasman Juniors Women's Four & Double Scull coach
1993 – Interstate Men's Youth Eight Championship co-coach – Third
1993 – Interstate Women's Lightweight Four Championship co-coach - Fourth
1993– Trans Tasman Juniors Men's Eight coach
1993 – World Junior Championships – Men's Coxless Four coach - Fourth
1993 – Trans Tasman Men's Eight coach
1994 – Interstate Men's Youth Eight Championship coach - Fifth
1994 – World Junior Championships – Men's Coxed Four coach – Bronze
1994 – Nations Cup – Men's Coxed Four coach – Ninth
1995 – Trans Tasman Juniors Men's Double & Quad Scull coach
1995 – Nations Cup - Men's Coxless Four co-coach
1995 – Nations Cup – Women's Lightweight Double Scull coach
1996 – Interstate Women's Lightweight Four Championship co-coach – Sixth
1996 – Interstate Women's Four Championship coach – First
1997-2000 – Selector for juniors and under 23
1997-2002 – National Director of Coaching Education
1998-2019 – FISA Youth Commission
2000 – Nations Cup & World Junior Championships – selector
2001 – World Junior and Under 23 Championships - Selector
2002-12 – World Championships – Selector
2004, 2008, 2012 – Olympic Games – Women's selector
Andrew Guerin 2013 (updated 2023)
Sources include:
Interview with Barbara Fenner May 2023
Author's own records