Joseph Fazio
Sydney Rowing Club (NSW) and Mercantile Rowing Club (VIC)
Began his rowing at St Josephs College NSW
1965 - NSW Champion Junior Eight
1966 - Riverview Gold Cup winning Sydney crew stroke
1966 - NSW Champion Four stroke
1967 - Australian Coxed Four bow – NZL tour
1968 - NSW Champion Four bow
1968 - NSW Champion Eight
1968 – Interstate Men's Eight Championship six seat – First
1968 - Olympic Games – Men's Eight six seat - Silver
1969 – Interstate Men's Eight Championship six seat – Second
1979 – Raced again in Victoria with Mercantile Rowing Club.
1968 Olympic eight - Joe in the six seat
His rowing career was almost cut short by a severe accident as a schoolboy which resulted in him having 4 vertebrae being fused. It is therefore remarkable that he was able to row, let alone win an Olympic silver medal.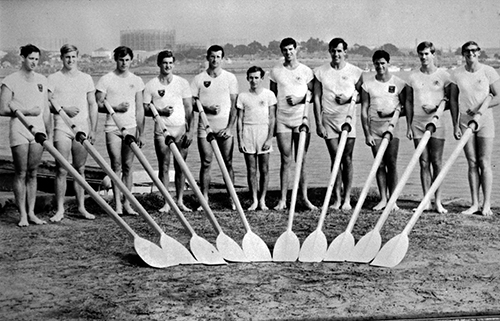 1968 Olympic eight in Sydney - Joe third from the right
He was a well liked, tough, successful and respected oarsman. Whilst often not of the physical stature of the rowers with whom he raced, he certainly was able to do his share. So much so that he raced in the six seat of his most successful crews demonstrating his great strength and skill.
His work life was varied but dominated by his work in the aviation industry. One of his businesses, which is perhaps best known to rowers, was his production of high quality shields. Many a rowing achievement has been recognised with such shields. He died after a long period suffering from dementia being tended to by his wife Di and children Dean and Kirsty.
He was a great oarsmen with many friends and so sadly missed.
Andrew Guerin
2011